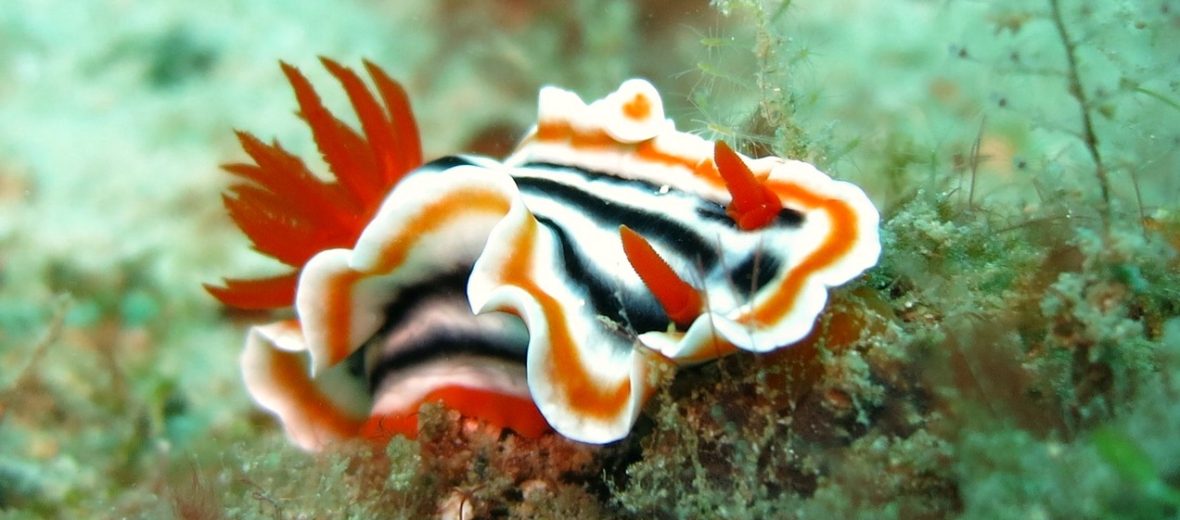 The nudibranch, aka sea slug, can be found throughout the shallower water of the world's oceans. Some nudibranchs can be found at depths of up to 8,200 feet. There are over 3,000 known species of nudibranchs. As a whole, the known global distribution of nudibranchs is listed as Least Concern by the IUCN. However, they do face the threats of habitat destruction, pollution, and climate change.
First the Stats…
Scientific name: Nudibranchia
Weight: Up to 3.3 lbs.
Length: Up to 12 inches
Lifespan: Up to 1 year
Now on to the Facts!
1.) There are 2 known species of nudibranchs that are capable of producing audible sound, which sounds like a wire tapping the side of a glass jar.
2.) Some of these critters are indeed poisonous and other use mimicry to pretend they're also poisonous, which goes a long way towards self defense.
3.) The poisonous ones actually consume toxins from the prey they eat and can store the stinging cells of hydrozoids, for instance, towards the rear of the nudibranch. They also ingest the toxins found in sponges, which renders these predators poisonous.
4.) The name nudibranch hails from the Latin word 'nudus', meaning 'naked' and the Greek word 'brankhia,' meaning 'gills.'
5.) The almost flower-like protrusions on their back are actually gills.
But wait, there's more on the nudibranch!
6.) They prey on ascidians, bryozoans, hydras, and sponges. Some are even cannibalistic and hunt their own kind.
7.) Being hermaphrodites (possess both male and female reproductive organs) both the males and females can lay eggs.
Did you know…?
1 species of nudi hunts the dangerous Portuguese man 0′ war. The blue sea dragon will ingest stinging nematocysts from the man o' war and use them as self defense.
8.) When 2 nudibranchs come across each other, they will connect with their genitals to exchange their male gametes, in order to fertilize their female gametes. In the end, both the male and female slither away pregnant.
9.) Besides being poisonous, these incredible creatures have the ability to contract their body, retract their gills, they can engage in "hedge hogging" of the papillae (small rounded protuberance extending from their body), secrete toxic or acidic substances and a really cool feature… body autonomy.
10.) With regards to autonomy, they can auto-amputate a part of their body which will regenerate itself afterwards, into a whole new nudibranch!
But wait, there's still more on the nudibranch!
11.) Some only need to eat during the first few weeks of life. Then they can store photosynthetic algae inside their bodies. Once they have enough food the algae present in their tissues provides ample energy from the light for the both the algae and the host.
12.) Like land snails, nudis will leave behind a chemical filled trail behind them that advertises their location and alerts others of potential dangers.
13.) They are preyed on only by sea turtles, crabs, other nudis, and humans.
Now a Short Nudibranch Video!
Be sure to share & comment below! Also, check out the Critter Science YouTube channel. Videos added regularly!
Want to suggest a critter for me to write about? Let me know here.
Think you know a lot about critters? Try your hand at these fun, free quizzes: