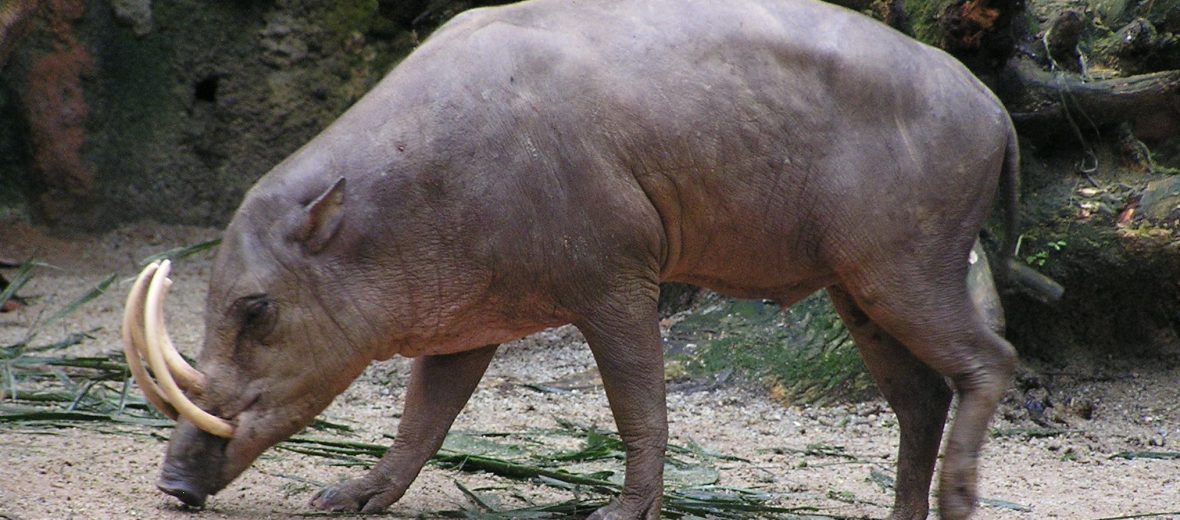 The north Sulawesi babirusa can be found in Sulawesi, Lembeh, Buton, and Muna, in Indonesia. They prefer tropical forest underbrush habitats, canebrakes, and can be found on the shores of lakes and rivers. With the threats of habitat destruction, at the hands of housing and urban development, as well as agricultural demands; hunting; trapping; and deforestation, due to the timber industry, these creatures are listed as Vulnerable by the IUCN. Their numbers are also decreasing.
First the Stats…
Scientific name: Babyrousa celebensis
Weight: Up to 200 lbs.
Length: Up to 3 feet
Height: Up to 2 feet
Lifespan: Up to 23 years
Now on to the Facts!
1.) The common and scientific names for these critters translates to "pig deer."
2.) These critters are social, but they do establish dominance hierarchies.
3.) Males tend to gather into bachelor herds, while females gather into herds with their young.
4.) Babirusas are diurnal (active during the day). With the predominant amount of their activity taking place during the morning and afternoon hours; resting during the mid day.
5.) Larger groups can often be found conglomerating around salt licks and wallowing areas.
But wait, there's more on the north Sulawesi babirusa!
6.) They are rather vocal and will communicate, in part, via growls, grunts, moans, screeches, and teeth chattering.
7.) A group of babirusas is called a drift, drove, passel, team, sounder, or singular.
Did you know…?
Those tusks grow continuously. If left unchecked (not worn down), they are capable of piercing their skull.
8.) Babirusas are Omnivores (eat both plant and animal matter) that consume a variety of berries, fruits, leaves, mushrooms, and nuts. They will also forage for insects and their larvae. Occasionally, they will also prey on small animals, birds, and in a pinch they will also eat carrion (dead animals).
9.) Babirusas are the fastest member of the swine family and are capable of running as fast as a deer.
10.) Females build a soft nest site on the ground, made from dry vegetation.
But wait, there's still more on the north Sulawesi babirusa!
11.) These swine breed year round. Females undergo up to a 166 day gestation (pregnancy) that yields up to 2 piglets.
12.) Piglets are born precocial (self sufficient).
13.) The piglets are able to stand and walk within minutes after birth, and begin eating solid food within 10 days.
14.) There are less than 10,000 mature, wild individuals remaining.
15.) These critters live in a Predator-free environment; sans their biggest threat… humans.
Now a Short North Sulawesi Babirusa Video!
Be sure to share & comment below! Also, check out the Critter Science YouTube channel. Videos added regularly!
Want to suggest a critter for me to write about? Let me know here.
Think you know a lot about critters? Try your hand at these fun, free quizzes:
Photo credit: Masteraah