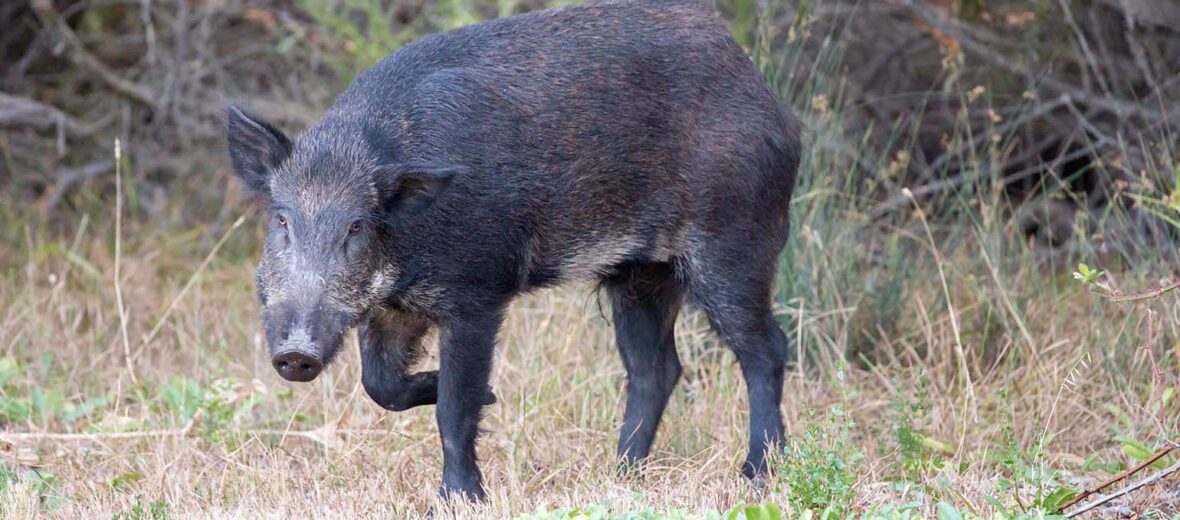 Believed to come from the wild European boar, escaped domestic pigs, or a combination of the 2 the feral pig, aka wild boar, is considered an invasive species and a general nuisance animal. These animals have a target on their heads due to the damage and disease they cause and spread. Feral pigs have been identified in 40 states in the United States and various locations around the world. Due to their wide spread populations, strong numbers, and invasive nature, these swine are listed as Least Concern by the IUCN.
First the Stats…
Scientific name: Sus scrofa
Weight: Up to 150+ lbs.
Length: Up to 6.6 feet
Height: Up to 4.1 feet
Lifespan: Up to 14 years
Now on to the Facts!
1.) Feral swine have been documented carrying up to 30 different bacterial and viral diseases and up to 37 zoonotic diseases (an infectious disease that has jumped from an animal to humans) that affect pets, wildlife, and even people.
2.) These swine live up to their name "pigs", as they eat nearly everything from vegetation to live animals.
3.) Alligators, bobcats, coyotes, dingos, golden eagles, and mountain lions all prey on wild pigs. While humans just kill them in an attempt to cull their numbers.
4.) They prefer areas near agricultural fields, brushlands, forests, riparian zones, and swamps.
5.) These swine can be found on every continent, sans Antarctica.
But wait, there's more on the feral pig!
6.) Females can breed at just 6 months old and can reproduce up to 2 times a year.
7.) Each brood consists of up to 15 piglets.
Did you know…?
A feral pig can run up to 30 mph!
8.) Feral pigs tend to be very aggressive. Especially when a sow is tending to her piglets.
9.) Sows (female pigs) travel in groups (called sounders) of up to 30 individuals, where males tend to travel in smaller bachelor droves.
10.) A group of pigs is called a drift or drove.
But wait, there's still more on the feral pig!
11.) Feral swine are typically nocturnal (active at night).
12.) Their jaws are incredibly powerful. They are able to crack hickory nuts and pecans. They also can crush bone and they tend to eat every part of the animal they kill, leaving nothing much behind.
Did you know…?
Feral pigs can transmit brucellosis, leptospirosis, pathogenic E. Coli, tuberculosis, salmonella, tularemia, vesicular stomatitis, porcine epidemic diarrhea, and influenza A., to name a few.
13.) The sense of smell outweighs their poor hearing and eyesight. They are able to detect smalls from up to 7 miles away! These beasts can also detect smells up to 25 feet underground!
14.) Consumption of vegetation accounts for up to 85% – 90% of their diet. The remaining 10% – 15% consists of animal matter. Up to 3% – 5% of their body weight is consumed per day.
15.) Jumping 3 foot tall fences is commonplace. Pens with 90° corners are easy for these pigs to escape as they simply pile on top of 1 another and then climb out.
But wait, there's still a little more on the feral pig!
16.) It is estimated by the USDA that feral hogs cost Americans alone up to $1.5 billion in damages and control costs each year.
Did you know…?
The javelina is often confused with being a pig or a boar. They are a totally separate species, called a peccary.
17.) Pig farmers fear feral pigs as they can infect their domestic populations with pseudorabies and swine brucellosis.
18.) Some groups have made a tourist business of hunting feral pigs with semi-automatic weapons and bows.
19.) Seeing as they are pigs, they are also very intelligent and learn quite quickly to avoid traps.
20.) All pigs are ultimately descendants of a common ancestor, the Eurasian wild boar. The term "wild boar" is most often used to describe the Eurasian wild boar from Europe or Asia.
Now a Short Feral Pig Video!
Be sure to share & comment below! Also, check out the Critter Science YouTube channel. Videos added frequently!
Want to suggest a critter for me to write about? Let me know here.
Learn more about all kinds of cool critters, right here!