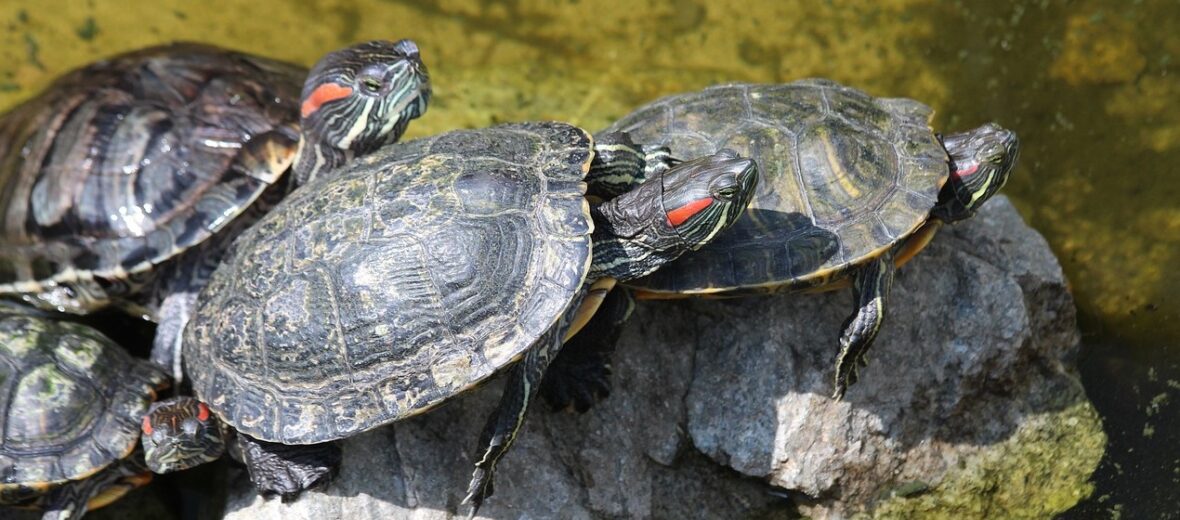 The red-eared slider, aka red-eared terrapin, is a semi aquatic turtle species that initially hails from the Mississippi River and the Gulf of Mexico regions. However, due to careless husbandry, thousands have been released into the wild, only to become an invasive species. Now feral populations can be found throughout the United States, Australia, Great Britain, Europe, South Africa, the Caribbean Islands, Bahrain, Israel, the Mariana Islands, Guam, and Asia. They are listed as Least Concern by the IUCN.
First the Stats…
Scientific name: Trachemys scripta elegans
Weight: Up to 8.5 ounces
Length: Up to 12 inches
Lifespan: Up to 40 years
Now on to the Facts!
1.) These turtles are a subspecies of the pond slider.
2.) They prefer areas with access to calm, warm water. Like bogs, ponds, lakes, and swamps.
3.) Red-eared sliders are diurnal (active during the day).
4.) Sliders are known for their posing as they sunbathe. They will scale a log or rock and typically stretch out their limbs to soak up as much of the sun's rays as possible. It looks rather comedic as their pose looks like they are sky diving.
5.) When the temperatures drop to 50°F and below, they will brumate (a type of hibernation, for reptiles).
But wait, there's more on the red-eared slider!
6.) The keen eyesight of these terrapins affords them the ability to see violet, ultraviolet, blue, green, and red light.
7.) Communication consists of vibrations, eye-rolling, touch, and body language.
Did you know…?
Red-eared sliders are on the list of the world's top 100 most invasive species. Which is why they should never be released into the wild.
8.) Fish, worms, snails, crayfish, tadpoles, aquatic insects, crickets, and aquatic plants are all on the menu for these turtles.
9.) Raccoons, skunks, foxes, wading birds, and storks all prey on juvenile sliders. Adults are only preyed on by alligators and crocodiles.
10.) Females can lay up to 30 eggs and can have up to 5 clutches a year! Hence why they can become invasive, if released in the wild.
But wait, there's still more on the red-eared slider!
11.) The red-eared slider is the world's most popular pet reptile.
12.) As pets, they pose a risk of the spread of Salmonella, if kept in dirty conditions. However, if they are kept clean and you wash your hands thoroughly, after touching them, then the risk is typically mitigated.
Now a Short Red-Eared Slider Video!
Be sure to share & comment below! Also, check out the Critter Science YouTube channel. Videos added frequently!
Want to suggest a critter for me to write about? Let me know here.
Learn more about all kinds of cool critters, right here!