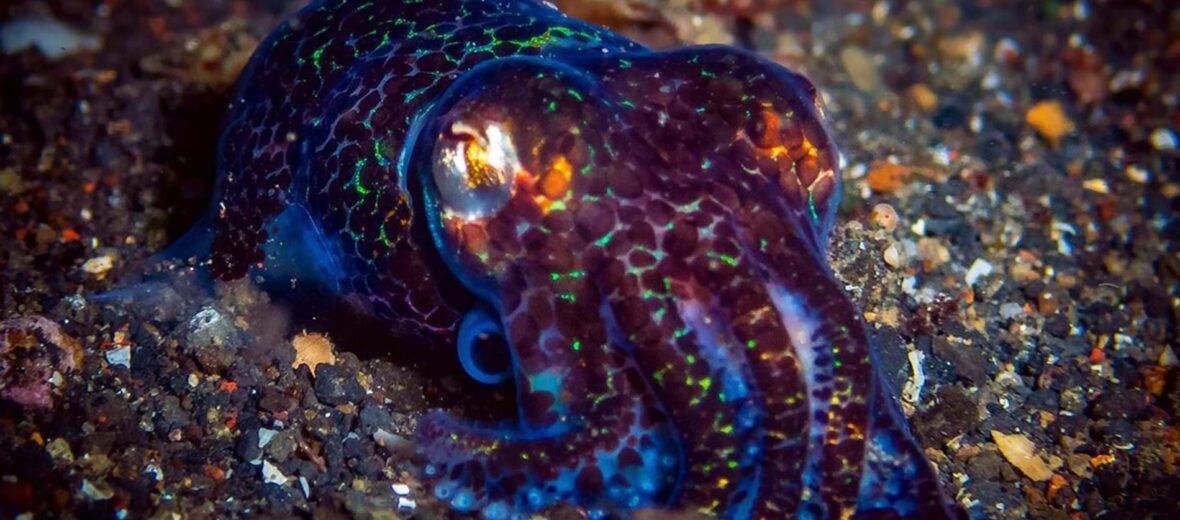 The Thai bobtail squid is not only the smallest known cephalopod but they aren't even squids at all, they're cuttlefish. These cute and tiny critters inhabit the Indo-Pacific waters off the coast of Thailand. They inhabit subtidal seagrass beds near the mouths of estuaries that are lined with mangroves. This species of cephalopod is listed as Data Deficient by the IUCN. However, their habitat (especially in Japan) has been severely degraded by human activities.
First the Stats…
Scientific name: Idiosepius thailandicus
Length: Up to .39 inch
Lifespan: Up to 10+ months
Now on to the Facts!
1.) The Thai bobtails prey on tiny crustaceans, fish, and annelids (worms).
2.) These critters are sexually dimorphic in that males are significantly smaller than females. Males only reach up to .27 inch long.
3.) Thai bobtail squids have a special glue gland on their dorsal body surface that they utilize to stick to underwater vegetation as well as other objects. This keeps them from being washed out to sea by the current.
4.) In an effort to better camouflage their planes, the U.S. Air Force has studied the reflective qualities produced by the symbiotic relationship bobtails have with bacteria to better improve aircraft camouflage.
5.) Bobtail squid can also produce ink, as a means of distracting a Predator. What is really cool is that this ink is produced in the shape of the creature's body.
But wait, there's more on the Thai bobtail squid!
6.) Bobtails are nocturnal (active at night).
7.) During the day, these diminutive critters bury themselves in the sand or hide in the sea grass. Seeing as everything wants to eat them.
Did you know…?
The Thai bobtail squid has an asymbiotic relationship with a bacteria called Vibrio fischeri that it then uses to create bioluminescence in an effort to hide its own shadow.
8.) Females have a small gland in their reproductive tract that injects a special type of bacteria into her egg mass that acts as an anti-fungal agent.
9.) The female will lay several clutches of up to 400 eggs, during her lifetime.
10.) These creatures have 8 suckered arms and 2 tentacles. They also lack a cuttlebone, inherent in most cuttlefish.
Now a Short Bobtail Squid Video!
It's about the Hawaiian bobtail, but the same general specifics apply.
Be sure to share & comment below! Also, check out the Critter Science YouTube channel. Videos added frequently!
Want to suggest a critter for me to write about? Let me know here.
Learn more about all kinds of cool critters, right here!