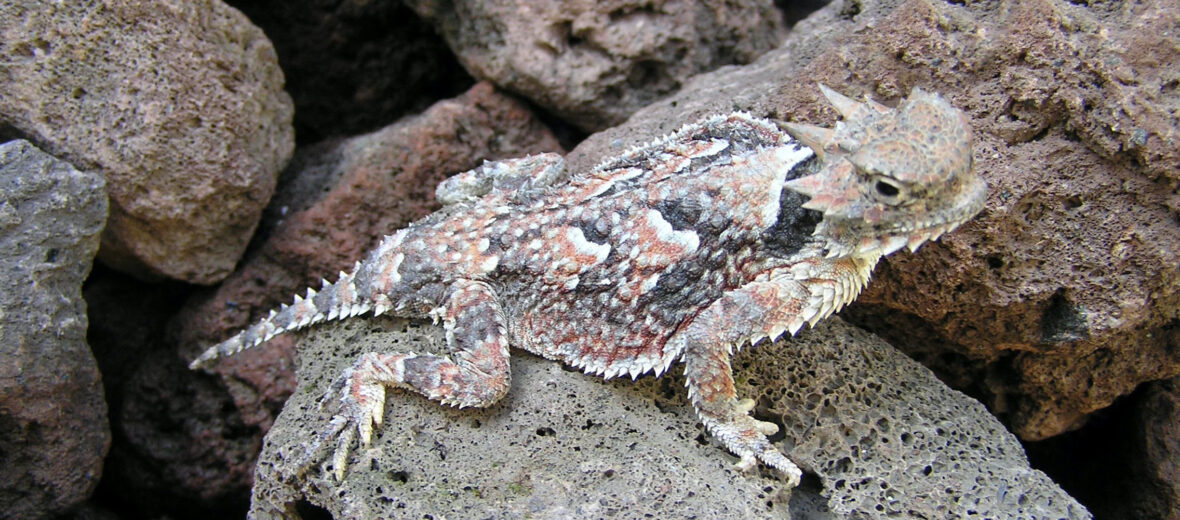 The desert horned lizard, aka horny toad, calls southeastern Oregon, California, western Arizona, Nevada, Utah, Mexico, northeastern Baja California, and northwestern Sonora their home. They prefer the shrub coverings and understories of the Mojave and Sonoran deserts. There are 14 known species of horned lizards. The desert horned lizards are listed as Least Concern by the IUCN. However, most other species are listed as Threatened to Critically Endangered. This is due to habitat destruction, over collection, human disturbance, and predation from domestic dogs and cats. This article is on special request from Marla.
First the Stats…
Scientific name: Phrynosoma platyrhinos
Weight: Up to .19 lb.
Length: Up to 3.75+ inches
Lifespan: Up to 8 years
Now on to the Facts!
1.) These horned lizards are considered cathemeral (active both day and night).
2.) Like other lizards, they are solitary and only come together to mate.
3.) 1 of their defenses is superb camouflage. They will also bury themselves in the sand to hide from predators.
4.) They prey on red harvester ants, crickets, grasshoppers, flies, ladybugs, beetles, worms, meal worms, and will occasionally eat plant matter.
5.) Predators include: dogs, wolves, hawks, snakes, and roadrunners.
But wait, there's more on the desert horned lizard!
6.) Horned lizards are generally peaceful and calm. But have been known to try and stab handlers with their cranial horns, when picked up.
7.) Desert horned lizards breed from April – June. They can also produce up to 2 clutches each year.
Did you know…?
If threatened, these lizards will puff themselves up, to look larger and more ominous. If that doesn't do the trick, they have the ability to squirt blood from ducts in the corner of their eyes at their attacker. They can eject blood up to 3 feet away!
8.) Females produce up to 16 eggs that hatch in around 60 days.
9.) Even though they are sometimes called horny toads, they are indeed lizards, which are reptiles, and not amphibians.
10.) Not all horned lizards can squirt blood from their eye ducts.
But wait, there's still more on the desert horned lizard!
11.) Rain harvesting is performed by these lizards. This is where they will adopt an arched posture, with their head down. The rain water trickles from their back and head, to their mouth, where it is consumed.
12.) They communicate via various body languages. Curling the tail down between their legs, head bobbing, push-ups, and a 3-legged position where 1 hind leg is raised off the ground with their back facing their predator.
Now a Short Desert Horned Lizard Video!
Be sure to share & comment below! Also, check out the Critter Science YouTube channel. Videos added frequently!
Want to suggest a critter for me to write about? Let me know here.
Learn more about all kinds of cool critters, right here!