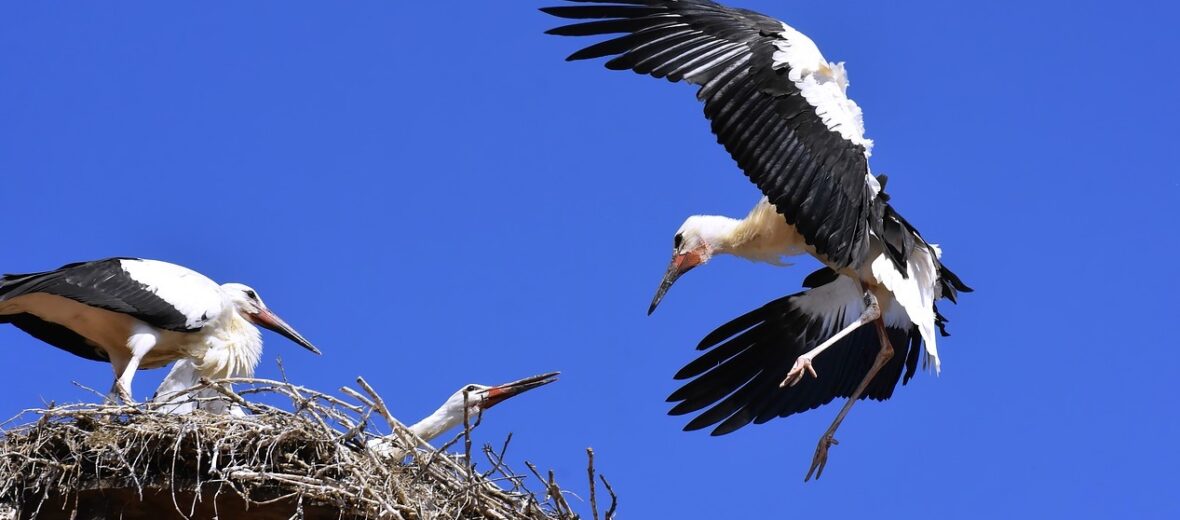 The white stork is a migratory bird found in Asia Minor, Europe, the northern parts of Africa, and in the Middle East. They migrate as far as central and southern Africa, eastern Middle East, and western India. They can migrate over 12,400 miles from Europe and Asia to Africa, the Middle East, and India. Migrating birds can gather into groups of thousands of birds! Fortunately, due to their strong numbers and an increasing population, these birds are listed as Least Concern by the IUCN.
First the Stats…
Scientific name: Ciconia ciconia
Weight: Up to 7.4 lbs.
Length: Up to 3.8 feet
Wingspan: Up to 7.1 feet
Lifespan: Up to 35 years
Now on to the Facts!
1.) They prey on insects, spiders, scorpions, amphibians, reptiles, fish, small mammals, and small birds.
2.) White storks get the black coloration in their plumage as a result of pigment melanin and carotenoids, found in the food they eat.
3.) These storks are diurnal (active during the day).
4.) Social by nature, they can be found in flocks of up to 50 individuals.
5.) They prefer large meadows and marshlands with plenty of trees, but are also satisfied with a roof, tower, or steeple in which to build their nest.
But wait, there's more on the white stork!
6.) White storks are monogamous (mate for life).
7.) Females lay 2 – 5 eggs with intervals of approximately 2 days apart.
Did you know…?
It has been said, for many years, that white storks bring babies. The most popular date for weddings in Sweden is during the midsummer celebration, which takes place in June. As a result of the celebrations, lots of babies are born 9 months later, when the storks return from Africa. Hence the correlation.
8.) There are 2 known subspecies of white stork: the African white stork, found in North West & Southern Africa and the European white stork, which hails from Europe.
9.) When the male and female storks meet in their nest, they will greet each other by clattering their beaks.
10.) Young storks communicate via whistles, croaks, and whines when requesting food. They also engage in clattering.
But wait, there's still more on the white stork!
11.) Their nest measures around 6.6 feet across!
12.) They have little fear of humans, as they tend to build nests on rooftops of buildings.
Did you know…?
This stork is featured in 2 fables of the ancient Greek story-teller Aesop: 'The Farmer and the Stork' & 'The Fox and the Stork'.
13.) In Hebrew, this stork is called "chasidah", which translates to "kind" or "merciful".
14.) These storks are large, but are not as large as the marabou stork.
15.) Many white stork nests have been around for over 100 years! That's some sturdy craftsmanship for a bird.
Now a Short White Stork Video!
Also, check out the Critter Science YouTube channel. Videos added frequently!
Want to suggest a critter for me to write about? Let me know here.
Learn more about all kinds of cool critters, right here!