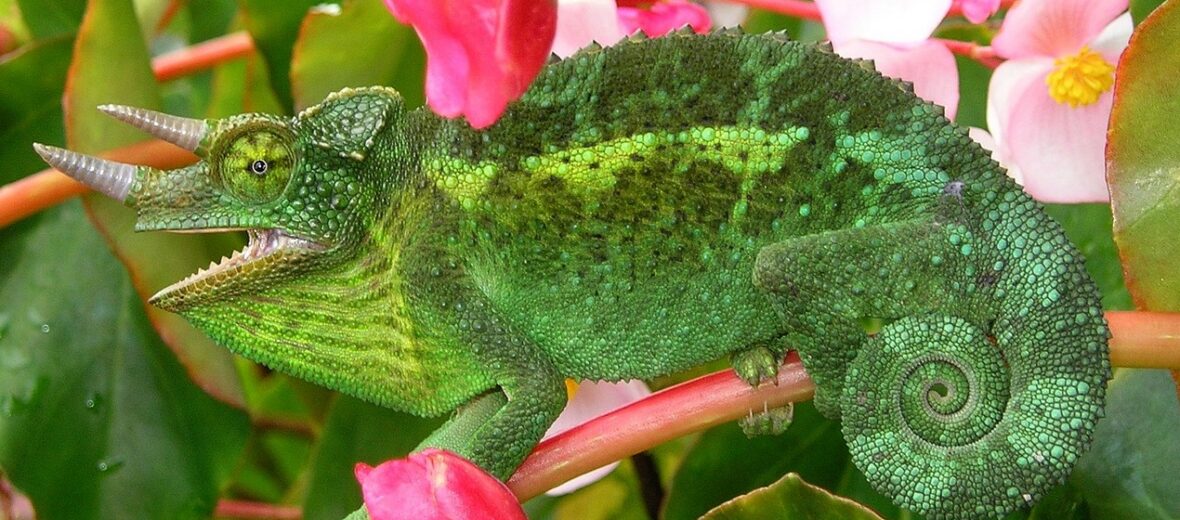 The bizarre and prehistoric looking Jackson's chameleon, aka Kikuyu three-horned chameleon or 3 horned chameleon, can be found in south-central Kenya, northern Tanzania, and they have been introduced to Hawaii and California. They prefer woodlands and montane forests. There are 3 subspecies of these chameleons: The Jackson's, dwarf Jackson's, and the yellow-crested Jackson's. Fortunately, for now, these chameleons are listed as Least Concern by the IUCN; as their populations are stable.
First the Stats…
Scientific name: Trioceros jacksonii
Weight: Up to 5.3 ounces
Length: Up to 13 inches
Lifespan: Up to 10+ years
Now on to the Facts!
1.) While absent in females, the males possess a horn on the nose, known as the rostral horn and 2 horns above the eyes called preocular horns.
2.) In the wild, these reptilian critters can live at altitudes of up to 8,000 feet!
3.) Like all chameleons, Jackson's are solitary. Only coming together to mate.
4.) Fighting for breeding rights typically involves color displays and posturing. But no actual fights ever break out.
5.) They get their namesake from the English explorer and ornithologist Frederick John Jackson, who was serving as the 1st governor of Kenya at the time they were discovered.
But wait, there's more on the Jackson's chameleon!
6.) Just like other chameleons, these critters are diurnal (active during the day).
7.) Their eyes can rotate up to 180° and can see in 2 directions at once (ophthalmic vision). Just not as well as when they focus both eyes on the same target.
Did you know…?
The chameleon doesn't typically change color to blend in with their surroundings. They change according to mood. For instance, they may turn almost jet black when highly stressed.
8.) They possess zygodactylous feet (2 toes pointing inward and 3 toes pointing outward in each of their legs). This affords them a great grip when navigating the branches of trees and shrubs.
9.) Males have a Hemi penal bulge at the base of their tail. This indicates the presence of male sexual organs. Females lack this bulge.
10.) Just like other arboreal (tree dwelling) chameleons, these creatures have a prehensile tail that is used to grip branches.
But wait, there's still more on the Jackson's chameleon!
11.) Males use their horns for display and for fending off other rival males.
12.) These predators eat slugs, snails, caterpillars, worms, butterflies, various insects, lizards, geckos, amphibians, small birds, and sometimes smaller chameleons.
Did you know…?
They get their water from drinking droplets off of leaves.
13.) Females are ovoviviparous (give birth to live young) that birth up to 30 young!
14.) Newborns are completely independent at birth. There is no parental care at all.
15.) The young are born at up to 2.36 inches long.
But wait, there's a little more on the Jackson's chameleon!
16.) Spiders, snakes, birds, and even adult chameleons prey on the young. Adults are preyed on by snakes, monkeys, birds, shrews, parasites, and large spiders.
17.) Jackson's chameleons communicate via hissing, gaping (opening their mouth in a threatening manner), and body posturing.
18.) Shedding occurs throughout their life. They typically take between a few hours to a few days to shed, depending on their age and the humidity.
Now a Short Jackson's Chameleon Video!
Also, check out the Critter Science YouTube channel. Videos added frequently!
Want to suggest a critter for me to write about? Let me know here.
Learn more about all kinds of cool critters, right here!