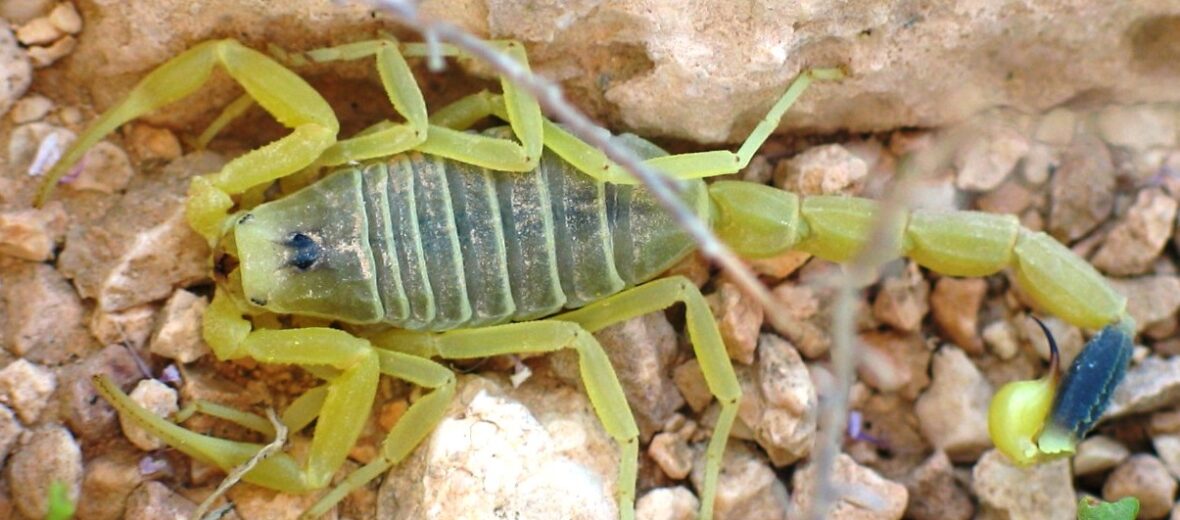 The deathstalker scorpion, aka Palestine yellow scorpion, Omdurman scorpion, and Naqab desert scorpion, is one of the world's most deadly scorpions. These lethal arachnids can be found in numerous locations around Africa and Asia. This scorpion prefers dry desert and scrubland areas. They are known for their highly aggressive nature and overall bad attitude. They have absolutely no qualms about stinging, if they feel threatened.
First the Stats…
Scientific name: Leiurus quinquestriatus
Length: Up to 4.5 inches
Lifespan: Up to 6 years
Now on to the Facts!
1.) They prey on earthworms, spiders, centipedes, and other scorpions; including each other.
2.) Like other scorpions, the deathstalker is nocturnal (active at night).
3.) Due to a component in their venom, chlorotoxin has been researched as a combatant of tumors in humans.
4.) Their venom is a cocktail of neurotoxins including: chlorotoxin, charybdotoxin, scyllatoxin, and agitoxins.
5.) Envenomation by a deathstalker scorpion is typically always considered a medical emergency; even with antivenom therapy, as its venom is quite resistant to treatment and usually requires a large dose of antivenom to treat the afflicted.
But wait, there's more on the deathstalker scorpion!
6.) Like many other scorpion species, a deathstalker's courtship ritual involves grasping each other by the pedipalps and "dancing", aka performing a "promenade à deux" by making circular movements back and forth. This lasts several minutes.
7.) After their mating ritual, the male drops his spermatophore on the ground and moves the female in the right position so that her genital opening is on the top of the spermatophore. This allows for the sperm to enter the female. When finished, both scorpions separate.
Did you know…?
Their venom can cause respiratory and cardiovascular dysfunction which has the ability to severely damage the body. It has been recorded that some people experience pancreatitis after envenomation and even anaphylaxis. Most deaths are from pulmonary edema.
8.) The babies are born live after up to 277 days of gestation.
9.) Females birth up to 85 scorplings.
10.) After birth, the babies will crawl onto mother's back and remain there until their 2nd molt.
Now a Short Deathstalker Scorpion Video!
Also, check out the Critter Science YouTube channel. Videos added frequently!
Want to suggest a critter for me to write about? Let me know here.
Learn more about all kinds of cool critters, right here!