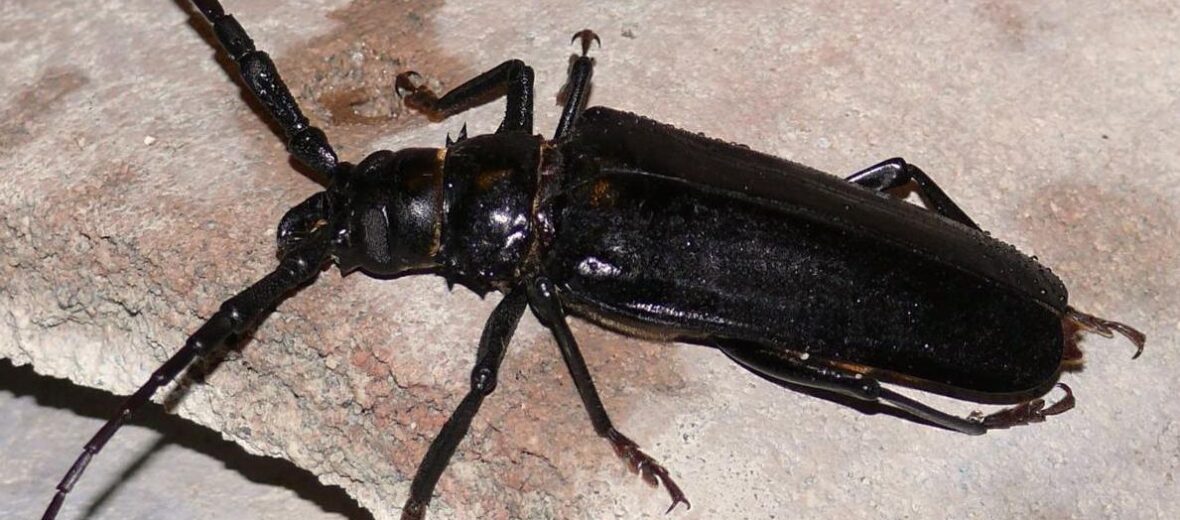 If you live or have lived in the southwestern United States, you may have seen a very large black beetle, at night, called the palo verde beetle. These are among the largest insects in North America. The giant walking stick insect is #1. In case you were wondering. And if you thought the adult beetles were impressive, you should see the grubs. Palo verdes are not listed with the IUCN. Their numbers are stable and they are actually considered a pest insect.
First the Stats…
Scientific name: Derobrachus hovorei
Weight: Up to 1 ounce
Length: Up to 3.5+ inches
Lifespan: Up to 3 years (larvae) | Up to 1 month (adult)
Now on to the Facts!
1.) The palo verde beetle spends most of its life in a fossorial (underground) state, as a 5 inch long grub. Told you they were impressive.
2.) Their adult phase is meant solely to reproduce.
3.) They are considered a pest insect because of the damage they cause to palo verde roots, which subsequently then causes disease to the tree.
4.) The adults emerge only during the monsoon season, which lasts from about June – August.
5.) Not only are they large, but they can fly too. A double whammy for those who are scared of insects.
But wait, there's more on the palo verde beetle!
6.) They are also known as the palo verde root borer or palo verde borer beetle.
7.) Even though similar species live throughout the southwest and into Mexico, only the true palo verde beetle lives in Arizona.
Did you know…?
These large bugs have quite the painful bite and will readily do so, if handled improperly. The bite is only painful, as these insects do not produce venom and are not poisonous to consume.
8.) Roadrunners, owls, coyotes, bobcats, house cats, and dogs all eat these beetles. Domestic cats and dogs tend to just eviscerate them.
9.) Coatis, skunks, and bears eat the grubs.
10.) Beetles are, by far, one of the most successful group of animals on earth. They make up nearly 1/3 of all described animal species.
But wait, there's still more on the palo verde beetle!
11.) If you leave your porch light on, you might encounter 1 or more of these giants as they exhibit phototaxis (attraction to light).
12.) Unlike cicadas, who's grubs tend to consume decaying roots, the palo verde grubs bore into living roots. Thus causing damage to trees in the form of disease and root rot.
13.) The palo verde beetle is a member of the longhorn beetle family.
Now a Short Palo Verde Beetle Video!
Be sure to share & comment below! Also, check out the Critter Science YouTube channel. Videos added frequently!
Want to suggest a critter for me to write about? Let me know here.
Learn more about all kinds of cool critters, right here!