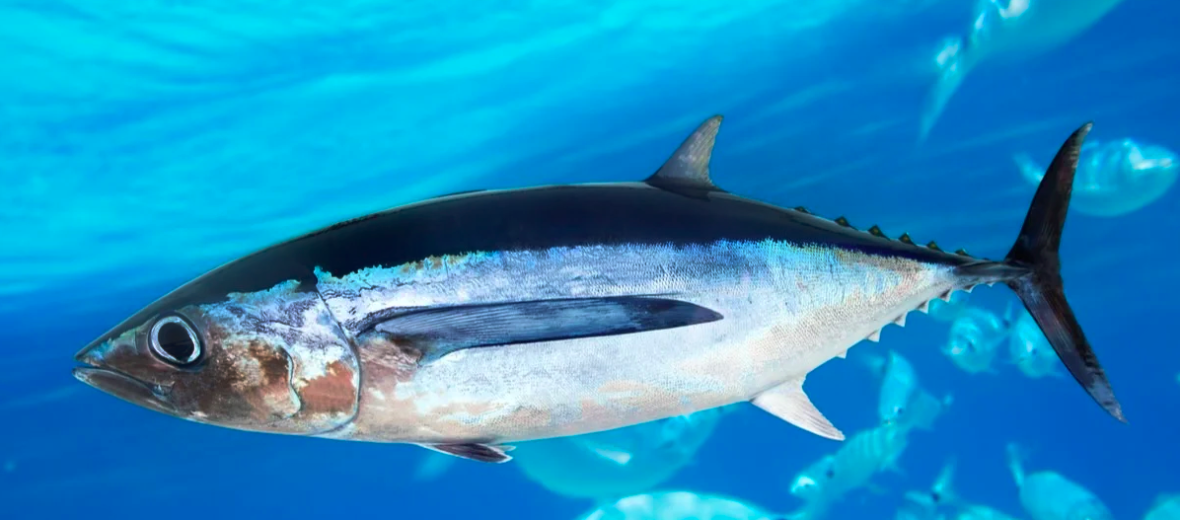 The albacore, aka longfin tuna, can be found globally, in the Atlantic, Indian, and Pacific Oceans; as well as the Mediterranean Sea. They prefer temperate and tropical waters. These fish inhabit the epipelagic (uppermost layer of water) and mesopelagic zones (middle layers of water). There are 6 known subspecies of albacore. Due to the methods in which fisheries incorporate to catch huge hauls of these fish (pole-and-line, longline, gillnet, troll, purse-seine, and mid-water trawl) many other types of sea life get caught and perish. Even though albacore are extensively fished, and their numbers decreasing, they are still listed as Least Concern by the IUCN. But they are on the cusp of being Near Threatened.
First the Stats…
Scientific name: Thunnus alalunga
Weight: Up to 73 lbs.
Length: Up to 4 feet
Lifespan: Up to 12 years
Now on to the Facts!
1.) Albacore fish belong to the mackerel family.
2.) These fish are highly sought after for their white meat and are even sometimes called "chickens of the sea".
3.) Schools of albacore can reach up to 19 miles across.
4.) Anchovies, pilchards, sardines, crustaceans, and squids are all preyed on by albacore.
5.) They need to consume 25% of their body weight, in food, a day, in order to meet their metabolic needs.
But wait, there's more on the albacore!
6.) Albacore are preyed on by sailfish, rays, sharks, other tuna species, and humans.
7.) These fish often school together with skipjack, yellowfin, and bluefin tuna.
Did you know…?
Albacore can swim at speeds of up to 50 mph!
8.) This species of fish is heavily migratory and travels long distances to reach the best spawning grounds and to quench their never-ending hunger.
9.) Mating takes place in sub-tropical and tropical waters, during the summer months.
10.) Females release up to 3,000,000 eggs in 2 batches, up to 2 days apart.
But wait, there's still more on the albacore!
11.) Eggs hatch up to 48 hours after being laid.
12.) Fry stay in the general area where they were born for about a year before moving on.
13.) These fish are considered a top Predator that aids in controlling the balance of life in the open ocean.
Now a Short Albacore Video!
Be sure to share & comment below! Also, check out the Critter Science YouTube channel. Videos added frequently!
Want to suggest a critter for me to write about? Let me know here.
Learn more about all kinds of cool critters, right here!