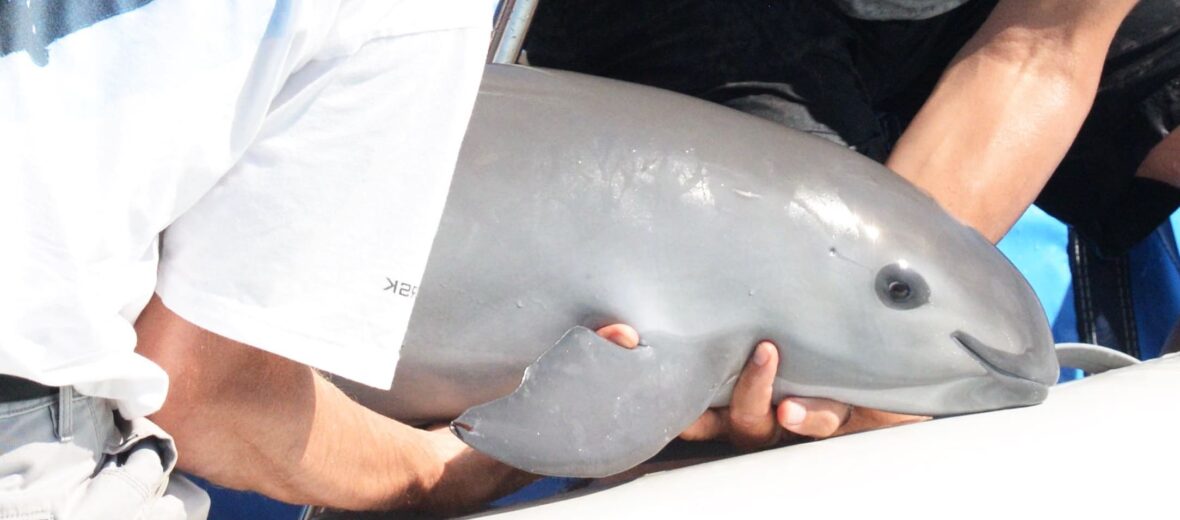 The vaquita, aka Cochito, Gulf of California porpoise, Gulf of California harbor porpoise, gulf porpoise, or desert porpoise, is the smallest known cetacean with the smallest range; as well as being the most endangered of all known cetaceans. These beautiful porpoises are not only at risk of extinction, but there are only an estimated 18+ individuals remaining in the wild. The IUCN lists these amazing creatures as Critically Endangered, and their population is decreasing. Thanks to overfishing, illegal fishing, bycatch (getting caught in long lines and gill nets), pollution, and habitat destruction. At this rate, it won't be long until they're gone forever.
First the Stats…
Scientific name: Phocoena sinus
Weight: Up to 95 lbs.
Length: Up to 4.9 feet
Lifespan: Up to 20 years
Now on to the Facts!
1.) Their scientific name translates to "porpoise of the gulf".
2.) These porpoises were first identified in 1958, based entirely on skull samples found by University of California scientist Kenneth Norris. Later, they were observed in the wild, in 1985.
3.) Vaquitas can only be found in the upper Gulf of California, aka the Sea of Cortez.
4.) They have, by far, the smallest range of any cetacean.
5.) Their preference for shallow, muddy water that is less than 490 feet deep and less than 16 miles off the shoreline puts them directly in harm's way. Unfortunately, that's where the abundance of food happens to be.
But wait, there's more on the vaquita!
6.) Vaquita means "Little cow" in Spanish.
7.) They prey on teleost fish, squid, and crustaceans.
Did you know…?
Being slow swimmers, vaquitas can only achieve speed bursts of up to 13.77 fps. (feet per second).
8.) While most porpoises have a single calf every year, vaquitas birth a single calf every 2 years.
9.) Vaquitas are the only known porpoise that can tolerate not only warm water, but large temperature fluctuations.
10.) These porpoises are shy and hard to document, since they only breach the surface to take a breath, then submerge again; disturbing the water only slightly.
But wait, there's still more on the vaquita!
11.) Like other cetaceans, vaquitas utilize echolocation to communicate, find food, and navigate the murky water.
12.) Some species of fish produce a specific sound that attracts the porpoises and thus they might not utilize echolocation to find these fish.
13.) In an attempt to save the vaquitas from going extinct, the UNESCO declared the upper Gulf of California a Biosphere Preserve in 1995. However, merely 1 year later, the IUCN bumped up their status to Critically Endangered.
Did you know…?
You can help save this animal from going extinct! Click here to help.
14.) A group of porpoises is called a pod, school, herd, crowd, or shoal.
15.) These porpoises are polygynous (1 male mates with multiple females).
But wait, there's still a little more on the vaquita!
16.) Females birth a single calf after up to an 11 month gestation (pregnancy).
17.) 1 study showed that boats from just a single fishing port in the upper Gulf accounted for the fatal bycatch of up to 84 vaquitas each year. That was an annual death for up to 15% of the total vaquita population!
18.) Even though laws have been put in place to protect these wonderful creatures, laws and enforcement are simply too weak to deter illegal fishing.
Now a Short Vaquita Video!
Be sure to share & comment below! Also, check out the Critter Science YouTube channel. Videos added frequently!
Want to suggest a critter for me to write about? Let me know here.
Learn more about all kinds of cool critters, right here!