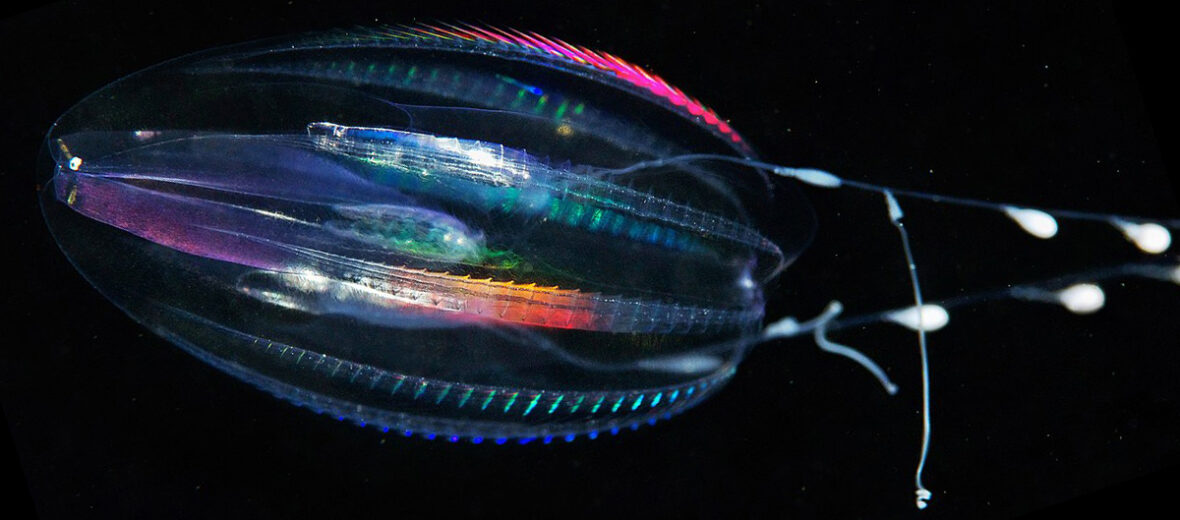 The Ctenophore, aka comb jelly, is a marine invertebrate. They are part of the plankton family and there are also pelagic (open ocean) species as well. Even though they resemble jellyfish, they are not zoologically related to jellies. This is because they lack nematocysts (stinging cells). Instead, they use specially evolved sticky cells that are used to snag prey items. They have 8 rows of cilia which resemble the teeth of a comb. This article is on special request.
First the Stats…
Scientific name: Ctenophora
Length: Up to 4.5 feet
Lifespan: Unknown
Now on to the Facts!
1.) There are 150 known species of Ctenophores.
2.) They are the largest marine creatures which swim via cilia (comb-like hairs).
3.) The coastal varieties have strong bodies that are able to withstand waves and particles of sediment. The deep-sea species are so delicate that they cannot be collected for fear of disintegration.
4.) They primarily live on the surface of the ocean, however some can be found in deep water.
5.) Their mouth is at one end of a pole like structure. The other end is a statocyst that serves as a balancing organ.
But wait, there's more on the Ctenophore!
6.) These bizarre critters don't have a respiratory, circulatory, excretory, or even a skeletal system.
7.) They have 2 retractable tentacles. These tentacles are fringed with tentilla (small tentacles). Then those have colloblasts (sticky cells).
Did you know…?
Ctenophores are hermaphrodites that have eggs and sperm produced on 2 separate sides. Their fertilization is performed externally.
8.) When they feast the prey is liquefied in the pharynx by a special enzyme and muscle contractions. The soupy remains pass through their canal and is digested by nutritive cells. The leftovers are pushed out through their anal pore or the mouth.
9.) Many of these deep water species are bioluminescent.
10.) Most of these species are not only gelatinous zooplankton but they comprise a large proportion of the entire planktonic biomass throughout the world.
Now a Short Ctenophore Video!
Also, check out the Critter Science YouTube channel. Videos added frequently!
Want to suggest a critter for me to write about? Let me know here.
Learn more about all kinds of cool critters, right here!