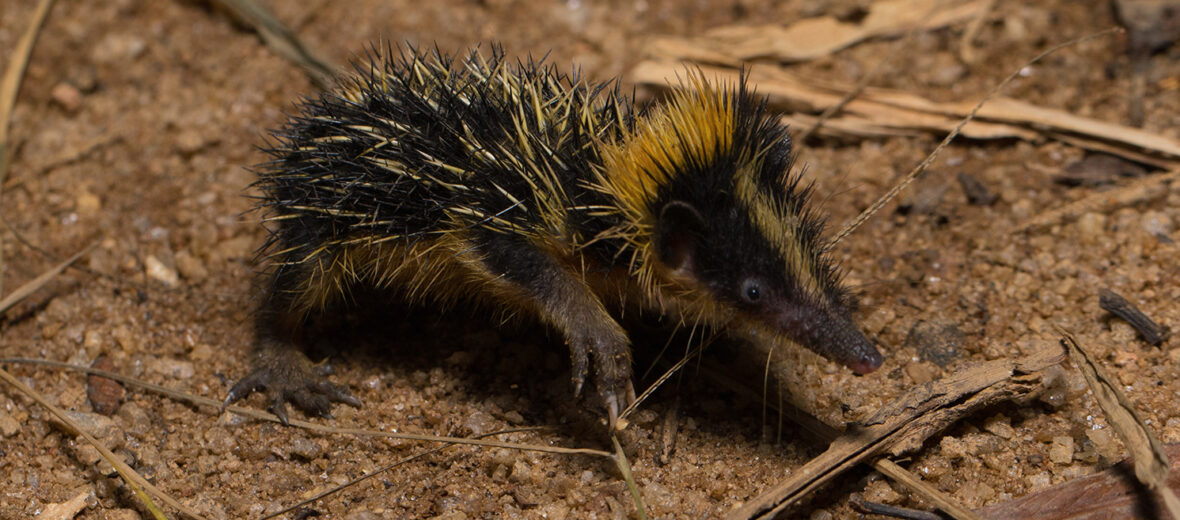 Endemic to the eastern parts of Madagascar it's the lowland streaked tenrec. These critters look like a cross between a hedgehog and a shrew. But they are neither, even though there are 2 species of tenrec with the name hedgehog in their namesake. Finding their way to Madagascar millions of years ago, the tenrec has since been cut off from the rest of the world. This has led to their unique evolution into the specialists they are today. There are other species of tenrec but this article will be covering the lowland streaked tenrec. These critters are listed as Least Concern by the IUCN. This article is on special request from my friend, Ryan.
First the Stats…
Scientific name: Hemicentetes semispinosus
Weight: Up to 7.05 ounces
Length: Up to 7.5 inches
Lifespan: Up to 2.7 years
Now on to the Facts!
1.) These tenrecs are predominantly diurnal (active during the day).
2.) The tenrec is a vermivorous (eats worms) creature, with quite the appetite.
3.) They are social animals that gather into groups of 20 or more.
4.) Chief predators are snakes, birds of prey, and fossa. Plus humans will eat them.
5.) Being burrowers, these unique critters will have a complex array of burrows that they share with each other.
But wait, there's more on the lowland streaked tenrec!
6.) Members communicate through stridulating special quills. What other critter uses stridulation? If you guessed a cricket, you're correct! Tenrecs are the only mammal in the world to communicate via stridulation.
7.) When faced with an opponent or predator, the tenrec will raise the quills surrounding their neck. If necessary, they will try to prick the opponent with their quills, while simultaneously and violently bucking their head. They also emit 'crunch' and 'putt-putt' sounds.
Did you know…?
Lowland tenrecs are able to adjust their body temperature to that of the surrounding air, to a degree. If it gets cold enough they will retreat to their burrows to enter into a torpor (hibernation) state for a period of time.
8.) Most mammals have separate opening for each bodily function. Tenrecs have a cloaca, which is a single intestinal, reproductive, and urinary opening,
9.) Lowland tenrecs mate in September – December, typically in October. The female gives birth to up to 11 young.
10.) In case you were wondering how the heck the female can give birth to bundles of joy covered in sharp quills, newborn lowland tenrecs lack spines. They start to develop them during the first day after birth.
Now a Short Lowland Streaked Tenrec Video!
Also, check out the Critter Science YouTube channel. Videos added frequently!
Want to suggest a critter for me to write about? Let me know here.
Learn more about all kinds of cool critters, right here!