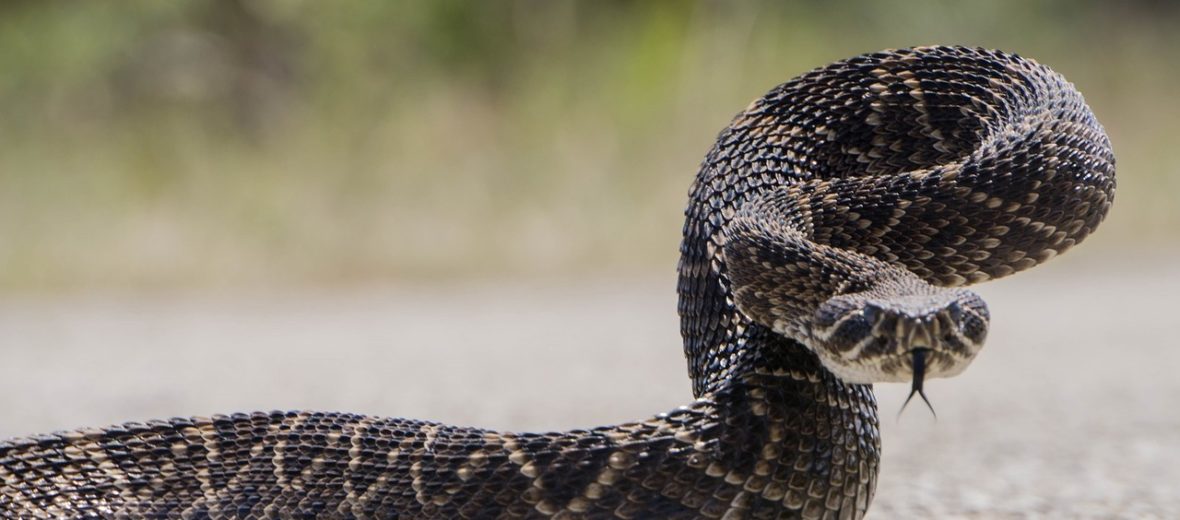 The western diamondback rattlesnake lives in deserts, forests, grassy plains, rocky hillsides and even along the coastline. They live at elevations from below sea level up to 6,500 feet. They can be found in Arizona, California, New Mexico, Texas, and Oklahoma; as well as northern Mexico. They go by several names: western diamond-backed rattlesnake, Arizona diamond rattlesnake, desert diamond-back, desert diamond rattlesnake, adobe snake, coon tail, buzz tail, fierce rattlesnake, spitting rattlesnake, Texan rattlesnake, Texas diamond-back, and Texas rattler. Talk about an identity crisis. There are 13 known species of rattlesnakes in Arizona alone!
First the Stats…
Scientific name: Crotalus atrox
Weight: Up to 10 lbs.
Length: Up to 7 feet
Lifespan: Up to 20 years
Now on to the Facts!
1.) Diamondbacks are pit vipers, containing a loreal pit (heat sensing pit) on each side of their head. These heat sensing pits can sense temperature variances of less then a degree!
2.) They spend the hottest part of the day in rock crevices, under shrubs, or in burrows made by other animals.
3.) Another cool thing is that they often share burrows with desert tortoises. This gives the snake a shady place to rest and the tortoise gets an armed guard.
4.) Hawks, eagles, owls, roadrunners, kingsnakes, coyotes, bobcats and foxes are their main predators. Did you also know that deer, antelope, cows, and horses see them as a threat and will trample them?
5.) Mice, rats, gophers, young rabbits, ground dwelling birds, lizards, and other small critters make up their diet.
But wait, there's more on western diamondback rattlesnake!
6.) The rattle of the rattlesnake is made up of a protein called keratin (it's what your hair & nails are made out of). A new tail segment is added every time a rattlesnake sheds. However, you really can't tell a snakes age by counting the segments, since the segments can break off and snakes shed at different rates.
7.) Their fangs have internal channels attached to the snake's venom glands located in the front region of their upper jaw.
Did you know…?
A rattlesnake can shake its rattle back & forth more than 60 times per second. It's so fast that it can make a hissing sound when shaken at full speed.
8.) The western diamondback's venom contains mainly hemolytic type enzymes, these are elements which destroy blood coagulants, causing massive internal bleeding, massive clotting, extensive tissue damage (necrosis), and swelling at the bite location. The venom is used not only to kill prey but also to help with digestion.
9.) These rattlesnakes are mostly nocturnal (active at night) but can also be crepuscular (active at dawn and dusk).
10.) Mating typically occurs in the fall, and the females give birth to upwards of 25 young, which can be up to 12 inches long. The young are fully venomous at birth.
11.) Another fun fact is that they, like all snakes, smell using their tongues. They flick their tongues out, capture microscopic particles on it, then bring it back into their mouths and smear these particles into what is called a Jacobson's organ (located in the roof of their mouth). This organ gives them details about their environment.
Now a Short Western Diamondback Rattlesnake Video!
Also, check out the Critter Science YouTube channel. Videos added frequently!
Want to suggest a critter for me to write about? Let me know here.
Learn more about all kinds of cool critters, right here!