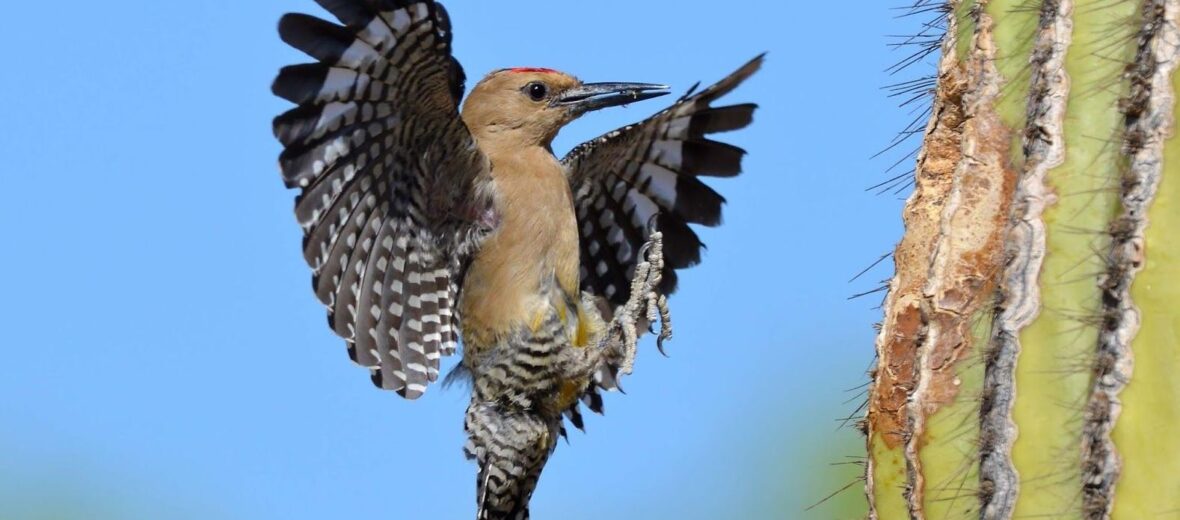 One of the noisier woodpeckers of the desert areas, it's the Gila woodpecker. They are very common and easily found in and around groups of saguaro, or other giant cacti. They also live in trees along desert rivers, and have moved into towns and suburbs. The holes they carve out in giant saguaro cacti are later used as nesting sites by many other birds, like owls, martins, and kestrels.
First the Stats…
Scientific name: Melanerpes uropygialis
Weight: Up to 2.3 ounces
Length: Up to 10 inches
Wingspan: Up to 16 inches
Lifespan: Up to 8 years
Now on to the Facts!
1.) The male Gila woodpecker mainly looks for food on the trunk and main branches of the saguaro cactus. The female spends her foraging time on the periphery and diseased areas.
2.) These woodpeckers are Omnivorous (eat both animal and plant matter).
3.) They eat insects, fruit, seeds, berries of shrubs and mistletoe, nectar from flowers, small lizards, earthworms, eggs, even the young of smaller birds. Occasionally they will drink the nectar from hummingbird feeders.
4.) When a pair of these Woodpeckers carves a nest hole in a saguaro cactus, they usually won't use it for several months. They first let the hole dry out and the inner pulp of the cactus to form a solid casing around the cavity they excavated. This cavity is called a boot.
5.) Aggressive behaviors include head-swinging, exaggerated bowing, and loud calls.
But wait, there's more on the Gila woodpecker!
6.) Gila woodpeckers can be found from southeast California, southwest Nevada, southern Arizona, southwest New Mexico, to central Mexico.
7.) Predators of the Gila woodpecker are snakes, coyotes, bobcats, hawks, housecats, and foxes.
Did you know…?
Woodpeckers will loudly bang on metal chimneys and pipes to state their territories and to attract a lady friend. You can hear this sound from a block away.
8.) Woodpeckers have very strong head and neck muscles so they are able to withstand the shock of pecking into trees and other materials. They also have a special fluid encased brain that prevents them from getting concussions from multiple strikes into hard surfaces.
9.) Females lay 3 – 4 white eggs from early April – late May.
10.) Gilas are listed as Least Concern by the IUCN.
Now a Short Gila Woodpecker Video!
Also, check out the Critter Science YouTube channel. Videos added frequently!
Want to suggest a critter for me to write about? Let me know here.
Learn more about all kinds of cool critters, right here!