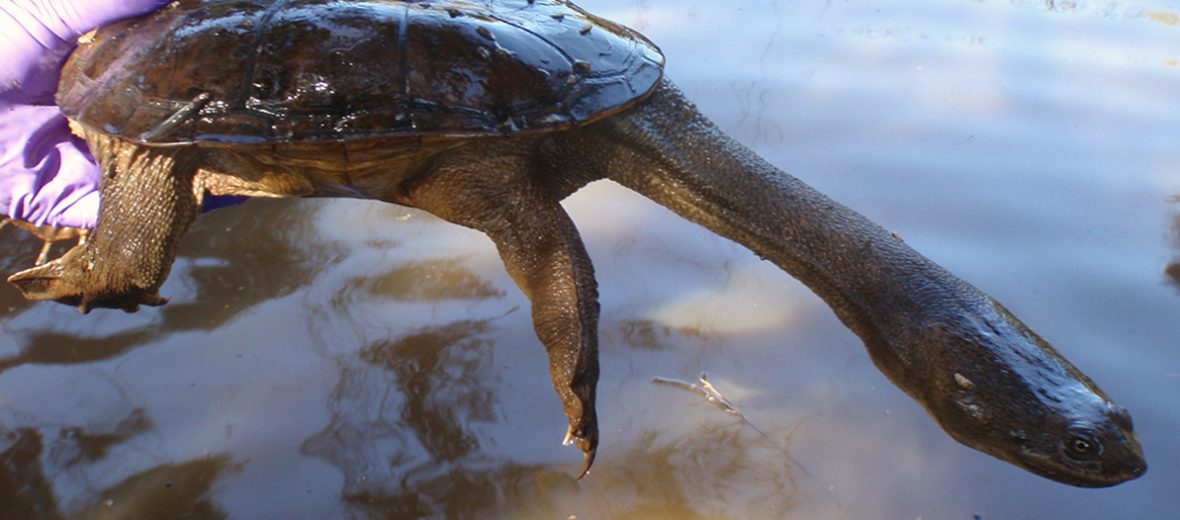 Living in and around the creeks, rivers, and freshwater & brackish water ponds along the Great Ocean Road, it's the snake-necked turtle, aka eastern long-neck turtle. You can find them in southeastern Australia, west of Adelaide to New South Wales, Victoria, and north to the Fitzroy River of Queensland. These turtles are aptly named for their long necks that can be up to 75% as long as their shell! Snake-necked turtles are an Endangered species due to pollution and habitat loss. This article is on special request by Ryan.
First the Stats…
Scientific name: Chelodina longicollis
Weight: Up to 1.8 lbs.
Length: Up to 9.84 inches
Lifespan: Up to 37+ years
Now on to the Facts!
1.) These turtles are sexually dimorphic in that the females are larger than male's plastrons and are shaped differently.
2.) Snake-necked turtles shed their shell and their skin as they grow. When swimming, the shed skin looks like a web-like slime around their body, head, neck, and legs.
3.) Snake-necks are Diurnal (active during the day).
4.) Like other reptiles, they are Ectothermic (their body temperature is dictated by the surrounding temperature).
5.) They eat a variety of invertebrates, like insects. They also eat fish, plankton, tadpoles, frogs, and crayfish.
But wait, there's more on the snake-necked turtle!
6.) Snake-necked turtles are polygynandrous (promiscuous) in that they mate readily and with multiple partners.
7.) These unusual turtles catch prey by using what is known as a strike-and-gape action. They lower their hyoid bone to decrease water pressure and create a vacuum, sucking in their prey.
Did you know…?
When threatened, they can spray a pungent, stinky musk that can hit targets up to 3 feet away!
8.) When their environment gets too dry they sometimes estivate. This means they begin a long state of Torpor (dormancy). When they estivate, they usually burrow into fallen leaves and debris on the forest floor, for an extended length of time, until the rains return.
9.) Females lay up to 24 hard-shelled eggs that hatch in up to 150 days.
10.) Unlike most turtles, temperature does not dictate gender.
But wait, there's still more on the snake-necked turtle!
11.) Males are sexually mature at up to 8 years old, whereas females are mature at up to 12 years.
12.) Captive snake-necked turtles are easily tamed and will even take food from their keeper's hands.
13.) Their predators are goannas, water rats, ravens, white-bellied sea eagles, and dingoes.
Now a Short Snake-Necked Turtle Video!
Be sure to share & comment below! Also, check out the Critter Science YouTube channel. Videos added regularly!
Want to suggest a critter for me to write about? Let me know here.