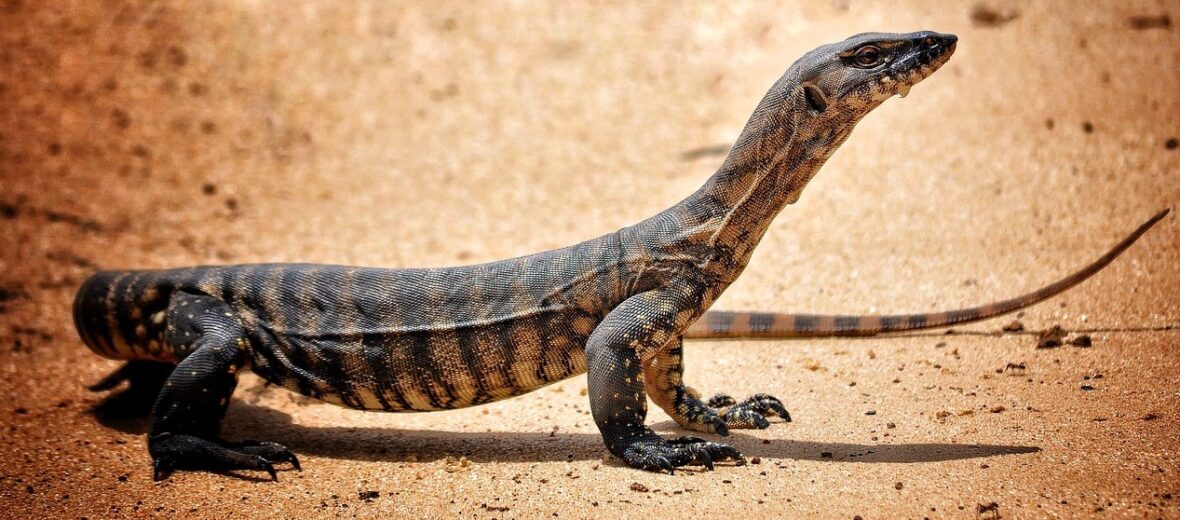 The goanna, also known as a monitor lizard, is a close relative of the Komodo dragon and one of the largest lizards in the world due to length and weight. There are 25 species of goanna that are found in the Northern and Eastern parts of the Australian continent. They are typically fast, aggressive, and pack quite a bite. In captivity, most handlers use thick gloves to handle them. Not all goannas are huge. Pygmy goannas can be smaller than the arm of a typical adult human. The smallest of these lizards, the short-tailed monitor (Varanus brevicuda), reaches only 8 inches! The average goanna reaches about 4.6 feet in length and 13+ lbs.
First the Stats…
Scientific name: Varanidae
Weight: Up to 200 lbs.
Length: Up to 8.5 feet
Lifespan: Up to 15 years (in captivity)
Now on to the Facts!
1.) Just like snakes, their long, forked tongue is used for detection of potential prey. Tongue flickering collects scent molecules from the air and gives them a better understanding of their environment. They then bring in their tongue and glide it past their Jacobson's organ (an olfactory organ that helps decipher smells and tastes) to gain information about their surroundings.
2.) The body of a goanna is covered with scales which can be green, black, brown yellow, or red, depending on the habitat. Their coloration provides camouflage and helps to regulate heat. Goannas can also be covered with stripes, dots, circles, and blotched patterns.
3.) They are Carnivores. They eat insects, other lizards, small mammals, and eggs.
4.) Some goanna eat fish and all are known to eat carrion (dead & decaying animals).
5.) Goannas typically swallow their prey whole.
But wait, there's more on the goanna!
6.) These lizards are unable to regrow their tail if damaged.
7.) The goannas are diurnal (active during the day) and live a variety of lifestyles. Some are arboreal (spend all or part of their lives in trees), some live on the ground (terrestrial), and some are aquatic.
Did you know…?
The bite of some species of these lizards causes tissue swelling, blood clotting, intense pain, and in some cases septicemia. These reactions are caused by toxic saliva!
8.) Although they typically move about on all 4 legs, they can sprint on their hind legs.
9.) When threatened or cornered, they inflate the flaps the skin on their throat and produce a deep hissing sound to appear more threatening.
10.) Goannas will defend themselves ferociously using their tails, claws, and teeth!
Now a Short Goanna Video!
Also, check out the Critter Science YouTube channel. Videos added frequently!
Want to suggest a critter for me to write about? Let me know here.
Learn more about all kinds of cool critters, right here!