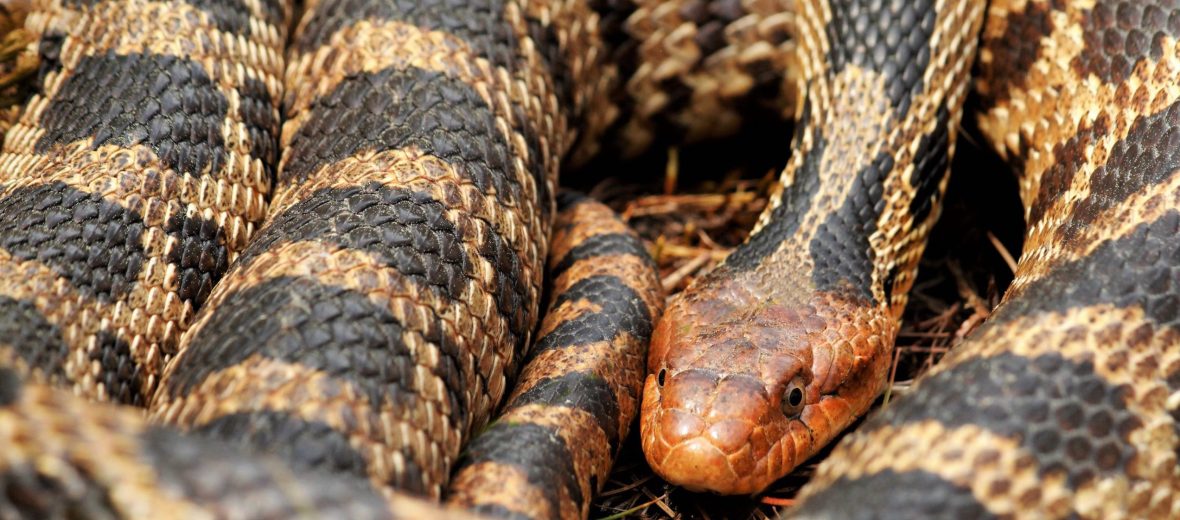 The eastern fox snake can be found around the northeastern portion of Canada and the United States, near the Great Lakes region. They prefer to dwell in forest edges, prairies, meadows, fields, open woodlands, pastures next to streams, marshes, and other wetland habitats. Due to stable numbers and no major threats, these snakes are listed as Least Concern by the IUCN. However, they are Endangered in Canada.
First the Stats…
Scientific name: Pantherophis gloydi
Weight: Up to 4.9 lbs.
Length: Up to 5.5 feet
Lifespan: Up to 20 years
Now on to the Facts!
1.) These snakes are non-venomous colubrids (constrictors).
2.) They spend most of their lives in burrows. However, they are skilled climbers and swimmers.
3.) Eastern fox snakes are diurnal (active during the day).
4.) During the cold winter months, they will brumate (hibernation for reptiles) in old or abandoned structures, burrows, and crevices.
5.) Like gopher snakes, if threatened, they will puff up and wiggle their tail in leaves to sound like a rattlesnake. They will also coil and sometimes even strike.
But wait, there's more on the eastern fox snake!
6.) Generally speaking, fox snakes are peaceful and actually docile.
7.) A group of snakes is called a bed, den, knot, nest, or pit.
Did you know…?
Their constriction is quite powerful and measures around 14 PSI+/-.
8.) The eastern fox snake preys on mice, rats, voles, moles, gophers, and even birds.
9.) Breeding season lasts between May – June.
10.) Females lay up to 29 eggs that hatch in up to 60 days.
11.) Skunks, raccoons, and foxes all prey on fox snakes.
Now a Short Eastern Fox Snake Video!
Be sure to share & comment below! Also, check out the Critter Science YouTube channel. Videos added frequently!
Want to suggest a critter for me to write about? Let me know here.
Think you know a lot about critters? Try your hand at these fun, free quizzes: