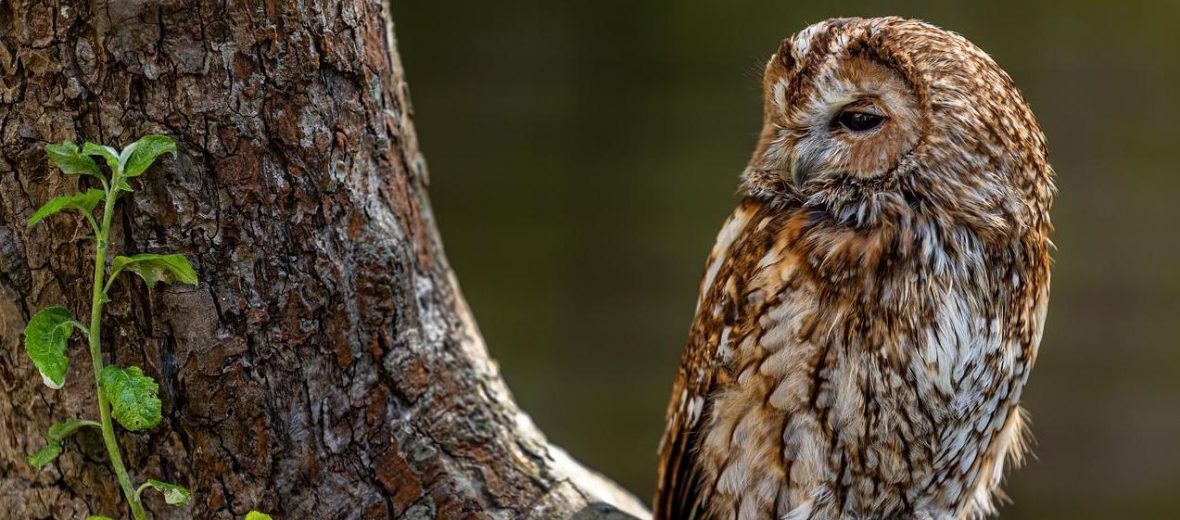 The Tawny owl, aka brown owl, can be found throughout the bulk of Europe, portions of Asia, and also north Africa. They prefer temperate coniferous forests, deciduous forests, riverine forests, taiga (swampy coniferous forests), parks, big gardens with old growth trees, open landscapes with woody patches, and lines of trees in open agricultural settings. Due to their stable, global populations, these birds of prey are listed as Least Concern by the IUCN. Their estimated numbers total nearly 3,000,000!
First the Stats…
Scientific name: Strix aluco
Weight: Up to 1.8 lbs.
Length: Up to 15 inches
Wingspan: Up to 39 inches
Lifespan: Up to 27 years
Now on to the Facts!
1.) Tawny owls are primarily nocturnal (active at night), but can exhibit periods of daylight activity.
2.) Tawnies are very territorial birds that readily defend their territory throughout the year.
3.) Territories are denoted by hooting calls.
4.) The male's call is somewhat of a quavering 'hoo…ho, ho, hoo-hoo-hoo-hoo' or 'whooooh uk whooooook'. The female's call is similar to the male's but is a bit hoarser, less clear, and slightly higher in pitch, described as 'cher oooOOooo' proceeded by a 'chro cher-oooOOooo cooEEooooo'.
5.) Hunting takes place via perch and while in flight.
But wait, there's more on the Tawny owl!
6.) Although highly uncommon, a group of owls is called a stare or parliament.
7.) Tawny owls prey on rats, mice, voles, moles, gophers, birds, amphibians, insects, reptiles, and occasionally even fish.
Did you know…?
Due to their serrated feathers, owls can fly almost totally silently, even when beating their wings.
8.) These owls, like so many others, are monogamous (mate for life).
9.) Nest sights are typically made from tree hollows or old buildings.
10.) The mating ritual consists of the male calling and displaying potential nesting sights, until the female decides on a suitable location.
But wait, there's still more on the Tawny owl!
11.) Females lay up to 5 eggs that hatch in up to 29 days.
12.) A hatchling owl is called an owlet or a fledgling.
Did you know…?
Like other owls, they can turn their heads up to 270°. They have evolved this ability since their eyes cannot move in their sockets.
13.) The Tawny owl's eyesight isn't much better than a human's. However, their asymmetrically placed ears afford them superb hearing. This is typically how they hone in on their prey. Their hearing is up to 10x better than ours.
14.) Unfortunately, dependence upon hearing their prey has its downfall. If there is prolonged and especially loud rain, these owls have a very difficult, if not impossible, time hunting and extended periods of rain can lead to starvation.
15.) The Tawny owl has sometimes been viewed as a bad omen due to its nocturnal lifestyle and almost creepy sounding call.
16.) Hawks, eagles, and buzzards all prey on these owls.
Now a Short Tawny Owl Video!
Be sure to share & comment below! Also, check out the Critter Science YouTube channel. Videos added frequently!
Want to suggest a critter for me to write about? Let me know here.
Think you know a lot about critters? Try your hand at these fun, free quizzes: