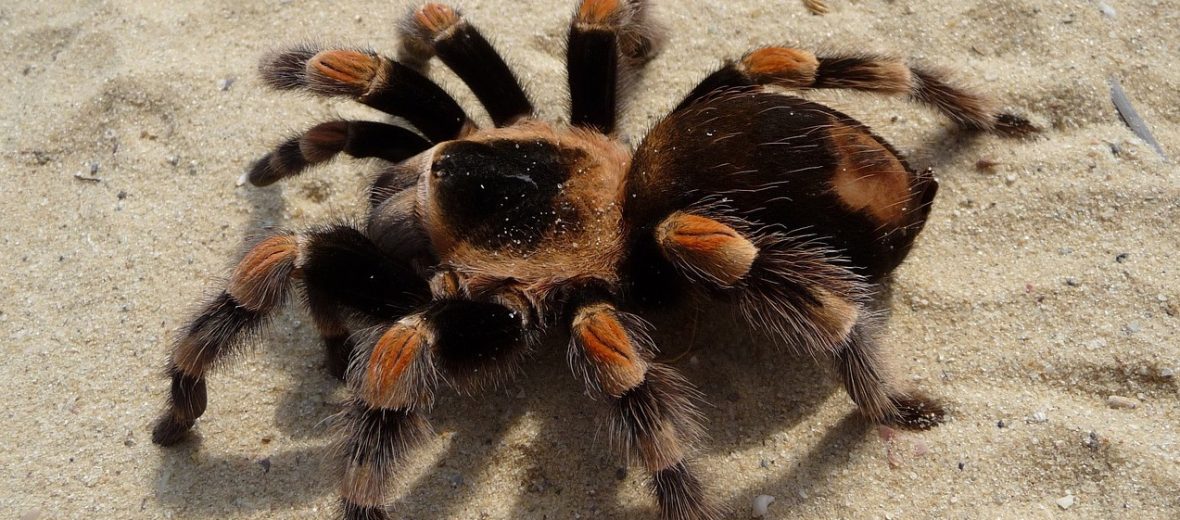 The red-knee tarantula, aka Mexican red-knee tarantula, hails from the Mexican state of Guerrero, on the Pacific side of Mexico. They prefer hilly, deciduous, tropical forests. These tarantulas are known to make great pets because they are not only attractive, but very docile, and have a low toxicity to their venom. Unfortunately, due to habitat destruction; vehicle strike (being hit by vehicles); habitat division – due to roads; hunting; trapping; and climate change – resulting in flooding, these beautiful arachnids are listed as Near Threatened by the IUCN. Their wild populations are also decreasing.
First the Stats…
Scientific name: Brachypelma smithi
Weight: Up to .5 ounces
Length: Up to 3 inches, with up to a 6 inch leg span
Lifespan: Up to 30 years
Now on to the Facts!
1.) These tarantulas were first described by Frederick Pickard-Cambridge in 1897 as Eurypelma smithi. They were later transferred to the genus Brachypelma by Reginald Pocock in 1903.
2.) Like so many other known tarantulas, red-knees are nocturnal (active at night).
3.) Red-knee tarantulas prey on insects, other arachnids, and even baby rodents.
4.) These terrestrial (spend their lives on the ground) tarantulas also burrow, making them fossorial (spend all or part of their lives underground).
5.) The burrow of this arachnid can have up to 2 chambers. 1 chamber for molting and 1 for resting and eating. The burrow extends upwards of 3x the spider's length, or more.
But wait, there's more on the red-knee tarantula!
6.) The bite of any tarantula can be painful, but most known tarantulas yield bites that are as painful as a bee sting. While still others can be medically significant. Pterinochilus murinus, Lampropelma nigerrimum, and some others can deliver bites that can cause severe muscle spasms.
7.) Like so many other tarantulas, silk is spun but not to ensnare prey. It is typically spun to line their burrow and aids in prey detection. When a prey animal walks across the silk, vibrations are felt which alert the tarantula to the potential of a meal.
Did you know…?
The singer Billie Eilish owns a tarantula species known as a green bottle blue (Chromatopelma cyaneopubescens).
8.) Birds, lizards, and coatis all prey on these critters.
9.) Females lay up to 40 eggs in a silken sac. The spiderlings hatch in up to 4 weeks.
10.) Like other arachnids, these critters are sexually dimorphic, in that males are substantially smaller than females.
11.) These tarantulas can run at speeds of up to 18 mph.
Now a Short Red-Knee Tarantula Video!
Be sure to share & comment below! Also, check out the Critter Science YouTube channel. Videos added frequently!
Want to suggest a critter for me to write about? Let me know here.
Think you know a lot about critters? Try your hand at these fun, free quizzes: