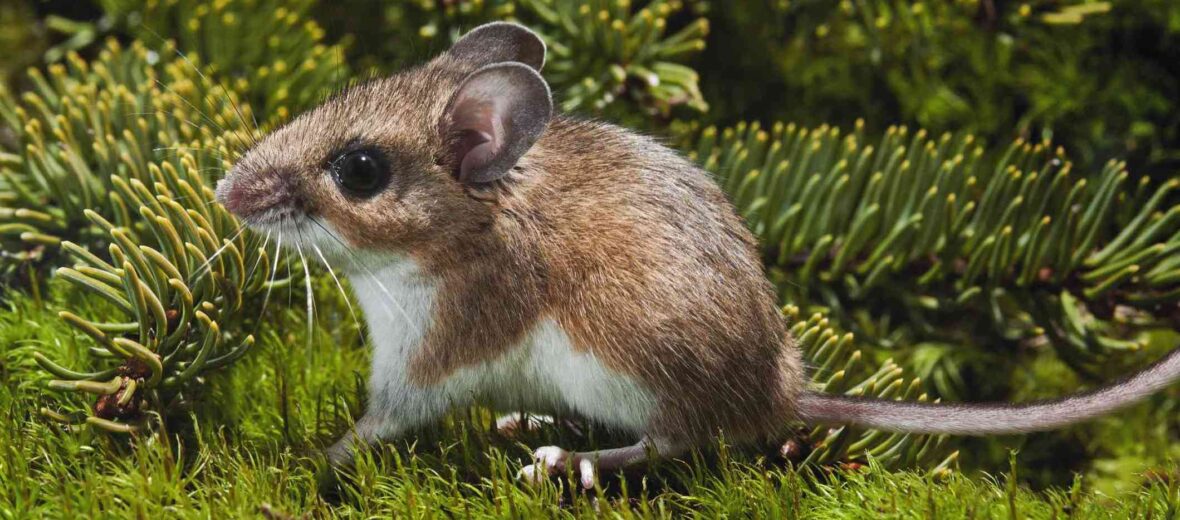 The deer mouse, aka North American deer mouse or eastern deer mouse, is the most widespread of any rodent or even mammal in North America. These rodents can be found from northern Canada, down through the United States, into Mexico and Central America. They tend to prefer woodlands, prairies, and bushes, but have evolved to tolerate a wide variety of habitats, like northern boreal forests, alpine regions, deserts, grasslands, brushlands, agricultural fields, southern montane woodlands, and arid upper tropical habitats. Due to their stable numbers, wide-spread populations, and potential for being a vector and carrier of infectious disease, these critters are listed as Least Concern by the IUCN.
First the Stats…
Scientific name: Peromyscus maniculatus
Weight: Up to .72 ounce
Length: Up to 3.8 inches, plus up to a 4.13 inch tail
Lifespan: Up to 8 years
Now on to the Facts!
1.) Deer mice are very social critters. They hang out in groups that consist of an adult male, adult female, and numerous offspring.
2.) During colder winter months, they will enter into Torpor (lowered body temperature, heart rate, breathing rate, and metabolic rate) and huddle together in large groups to stay warm.
3.) Nests are built on or near the ground either by self construction or by taking up residence in an existing, abandoned burrow.
4.) The deer mouse is Nocturnal (active at night).
5.) Dear mice feast on fruits, flowers, nuts, seeds, and a variety of invertebrates, like insects. They also have been documented engaging in coprophagy (eating their own poop). This is necessary to their health. Deer mice who don't eat some of their feces eventually become sick, for lack of nutrition obtained.
But wait, there's more on the deer mouse!
6.) They are preyed on by hawks, owls, snakes, short-tailed shrews, foxes, minks, weasels, bobcats, coyotes, cats, and dogs, to name a few.
7.) A group of mice is called a colony, horde, mischief, nest, or trip.
Did you know…?
These mice can be a vector and carrier of emerging infectious diseases like hantaviruses and Lyme disease.
8.) They exhibit different mating habits, based on locale. Some are polygynous (1 male mates with multiple females) while others are polygynandrous (promiscuous – males and females mate with several partners).
9.) Females can breed all year long and can even breed while suckling the previous litter's pups.
10.) Gestation (pregnancy) lasts up to 30 days and yields up to 11 pups.
But wait, there's still more on the deer mouse!
11.) Pups are born Altricial (blind and helpless) but are weaned in just 35 days.
12.) Sexual maturity is reached at a mere 49 days for males and 35 days for females!
Did you know…?
Like pack rats, these mice are known for hoarding. A single cache of food might contain up to 1 pint of reserves.
13.) They get their name from the color pattern of their fur, which resembles a white-tailed deer.
14.) Communication consists of vocalizations, like squeaks, shrieks, trills, and sharp buzzing noises. It also consists of posturing, chemical signals, and social grooming.
15.) These little critters can swim and climb quite well.
But wait, there's still a little more on the deer mouse!
16.) Their whiskers afford them the ability to detect subtle temperature changes and are also used to assist in feeling their way around at night.
17.) Constantly keeping themselves clean and their ease of husbandry make these mice well suited as laboratory mice – much to their dismay.
Now a Short Deer Mouse Video!
Be sure to share & comment below! Also, check out the Critter Science YouTube channel. Videos added frequently!
Want to suggest a critter for me to write about? Let me know here.
Learn more about all kinds of cool critters, right here!