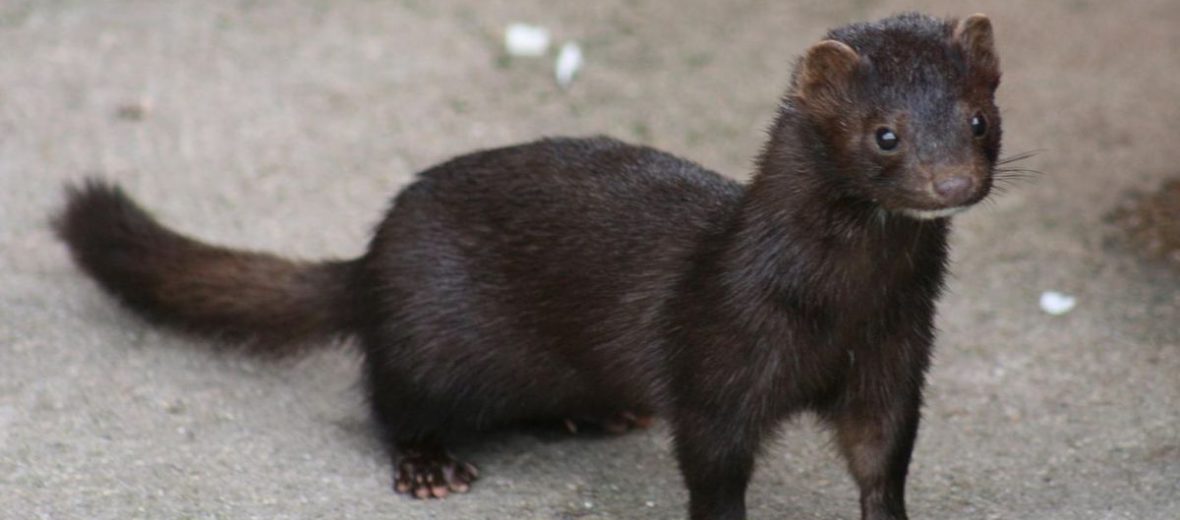 There are 2 recognized species of mink in the world; the American and the European mink. We will be talking about the American mink in this article. These aggressive critters are members of the Mustelid family, along with weasels, stoats, skunks, badgers, and even beavers, to name a few. They prefer to live near ponds, rivers, lakes, streams, swamps, and marshes; primarily if they have dense vegetation. Habitat destruction, water pollution, and disease are the 3 main factors affecting their survival today. Previously, hunting for their fur, by humans, was their number 1 threat. Today, American minks are listed as Least Concern by the IUCN.
First the Stats…
Scientific name: Neovison vison
Weight: Up to 3.5 lbs.
Length: Up to 18 inches, plus a 9.7 inch tail
Lifespan: Up to 10 years
Now on to the Facts!
1.) American minks have webbed feet and an oily fur. This allows them to swim very well and prevents themselves from getting soaked.
2.) Minks are nocturnal (active at night).
3.) They will often create up to a dozen dens for retreat and sleeping!
4.) The American mink is a strict carnivore preying on amphibians, reptiles, fish, small mammals, crustaceans, birds & their eggs, aquatic insects, earthworms, and snails.
5.) These critters are diminutive but fierce. They do not tolerate another male in their territory at all, but often are more receptive to females.
But wait, there's more on the American mink!
6.) American minks have excellent vision, smell, and hearing. All senses are used for detection of prey and predators.
7.) Owls, foxes, lynx, wolves, bobcats, coyotes, and humans are their main predators.
Did you know…?
American minks are able to swim up to 1.8 mph and run up to 4 mph.
8.) Minks breed from April – May. But females, in the wild, will go through delayed implantation. This is where the female will not become pregnant till the environmental conditions are right.
9.) Due to their larger size, American minks were shipped over seas to Europe and Asia, to fur farms. These brutal conditions and practices that took place in order to obtain fur were recently banned. However, the owners of mink farms just released hundreds of American minks into the wild. This has drastically affected the population of European minks.
10.) Females can birth up to 10 kits, but typically only birth up to 5.
Now a Short American Mink Video!
Also, check out the Critter Science YouTube channel. Videos added frequently!
Want to suggest a critter for me to write about? Let me know here.
Learn more about all kinds of cool critters, right here!