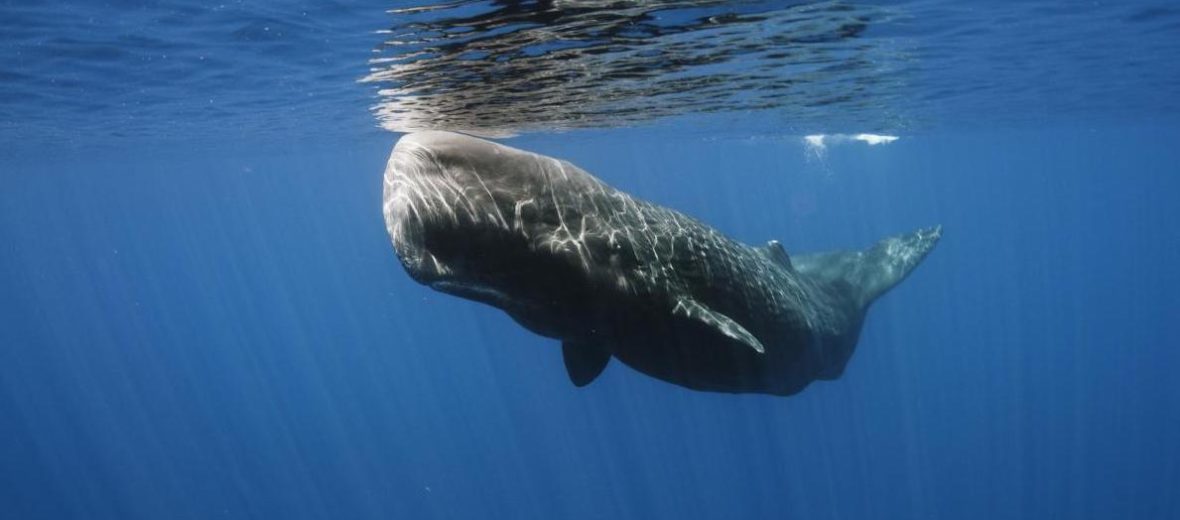 The oceans of the world provide sanctuary to nearly 90 known species of dolphins, porpoises, and whales; like the giant sperm whale. Their name comes from the spermaceti organ (contains a waxy liquid called spermaceti and is used in the production of sound) which is located in its oversized head. This organ was previously used by commercial companies for the production of a variety of products like motor oil additives, transmission fluid, pharmaceuticals, and detergents back in the whaling times. However, it's still occasionally used as a fixative in perfumes today. Spermaceti is Latin for "Whale seed". There are an estimated 200,000 sperm whales alive today. Even though most whaling has ceased, some countries still engage in the practice of whaling, despite bans. Thus the sperm whale is listed as Vulnerable by the IUCN.
First the Stats…
Scientific name: Physeter macrocephalus
Weight: Up to 130,000 lbs.
Length: Up to 45+ feet
Lifespan: Up to 70 years
Now on to the Facts!
1.) Sperm whales have the largest brain of any animal on earth. Their brains can weigh up to 17 lbs!
2.) These giants can eat up to a ton of food in a single day!
3.) They prey almost exclusively on squid; even going after giant squid. They also feed on octopus and fish. The giant squid tend to fight back though. Hence the scars on their bodies and faces that are often seen.
4.) Their primary Predator is the orca. However, false killer whales and pilot whales also have been documented hunting calves.
5.) The sperm whale can dive to depths of 3,000+ feet. This is the deepest of all whales.
But wait, there's more on the sperm whale!
6.) Only their lower jaw has teeth. These teeth fit perfectly into holes in the upper jaw.
7.) Males tend to be solitary, but can sometimes be seen in small pods. Females travel in pods of up to 20 whales, which include calves.
Did you know…?
Members of this species keep in touch via songs and clicks. Even if a pair of whales seems to be making the exact same clicking sound, the recipient(s) of their sounds can tell the 2 whales apart.
8.) If you ever happen to lay witness to a beached sperm whale, be sure to give it some distance, as these corpses have a tendency to explode! This is due to gasses released inside the whale during decomposition. Eventually these gasses find their way out via an explosion that can spew odoriferous entrails to great distances.
9.) Unfortunately, deep-sea oil & gas exploration causes a multitude of issues for sperm whales and other sea mammals, like water pollution from hydrocarbons, hearing loss, and increased risk of boat strike by ocean vessels.
10.) Males fight for breeding rights but do not form harems.
But wait, there's still more on the sperm whale!
11.) Females birth just 1 calf every 4 – 20 years. The newborn calf measures up to 14 feet long and weighs in at about 1 ton!
Did you know…?
The loudest sound pressure ever recorded was from that of a sperm whale click. This sound measured 235 (dB re 1 μ Pa)! That is equal to the the sound level you'd get from being only 3 feet from a Saturn rocket launching! It is thus believed that these giants use sound to stun or even kill their prey.
12.) Sperm whales can swim up to 28 mph. Their typical swimming speed though is just 4 mph.
13.) Sperm whales actually fertilize the oceans with their feces (poop), that floats upward and is then eaten by phytoplankton.
14.) A sperm whale's heart weighs up to 275 lbs.!
Now a Short Sperm Whale Video!
Also, check out the Critter Science YouTube channel. Videos added frequently!
Want to suggest a critter for me to write about? Let me know here.
Learn more about all kinds of cool critters, right here!