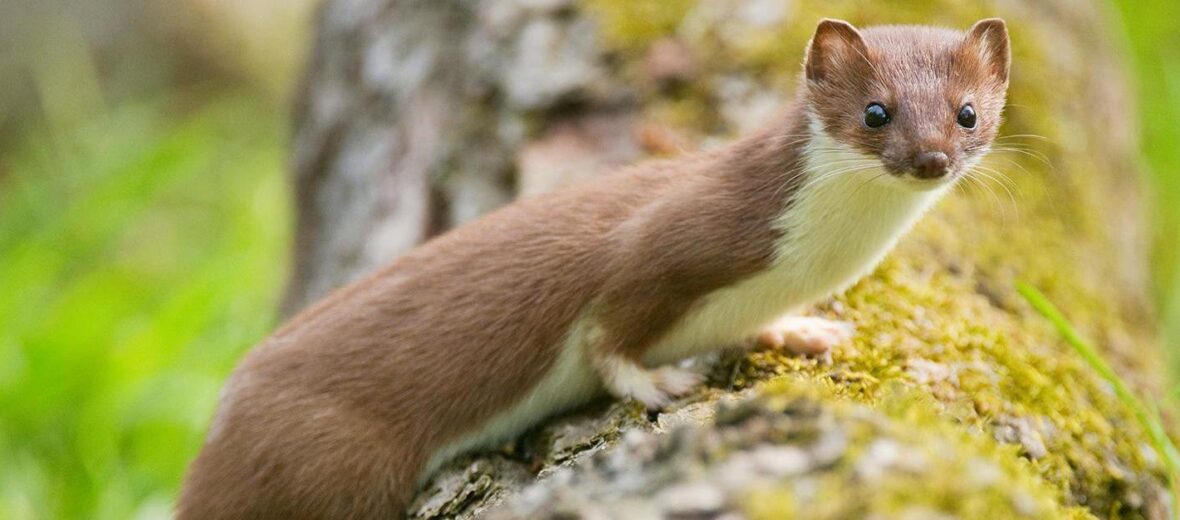 The stoat (aka short-tailed weasel, Bonaparte weasel, and ermine) is a ferocious predator of animals small and large; well, large in comparison to the stoat. These little Mustelidaes are tenacious, quick, and deadly to boot. They are also equally as cute. Stoats can be found in North America, Asia, Europe, and now New Zealand—where they are considered an invasive species. They dwell in sandy, dry areas like hedgerows, dry ditches, fallow land, and embankments. These little critters are listed as Least Concern, by the IUCN.
First the Stats…
Scientific name: Mustela erminea
Weight: Up to 9.1 ounces
Length: Up to 13 inches
Lifespan: Up to 6+ years
Now on to the Facts!
1.) In the winter, they will lose their normal darker coats for a lighter or white coat, for camouflage.
2.) These critters are crepuscular (active at dawn and dusk).
3.) They can see in color but not in as broad a spectrum as humans.
4.) Stoats are primarily terrestrial (spend most of their time on the ground) but can also easily climb trees.
5.) Male stoats will mark their territory via urination, defecation, and scent marking.
But wait, there's more on the stoat!
6.) If startled, threatened, or cornered, they are able to spray a stinky musk at their would-be attacker; like the skunk, but not nearly as bad.
7.) After killing a rodent, they will typically steal their once occupied burrow. They will also occupy multiple burrows.
Did you know…?
The stoat's preferred method of killing is to sort of hypnotize their prey with a war dance. Then they pounce on their wooed prey and kill them with a powerful bite to the back of the neck.
8.) They communicate via hisses and singing.
9.) The stoat is not only skilled at land travel, they can also swim with the greatest of ease.
10.) Being carnivores, they feed on rodents (including rabbits much larger than they are), eggs, insects, fish, amphibians, and reptiles.
But wait, there's still more on the stoat!
11.) Even though they engage in mating during May. Females undergo delayed implantation, where she wont become pregnant for several months later, when the environment is right for raising her young.
12.) Females usually birth between 5 – 15 kits at a time. However, they will typically have only 1 litter during their lifetime.
Now a Short Stoat Video!
Also, check out the Critter Science YouTube channel. Videos added frequently!
Want to suggest a critter for me to write about? Let me know here.
Learn more about all kinds of cool critters, right here!