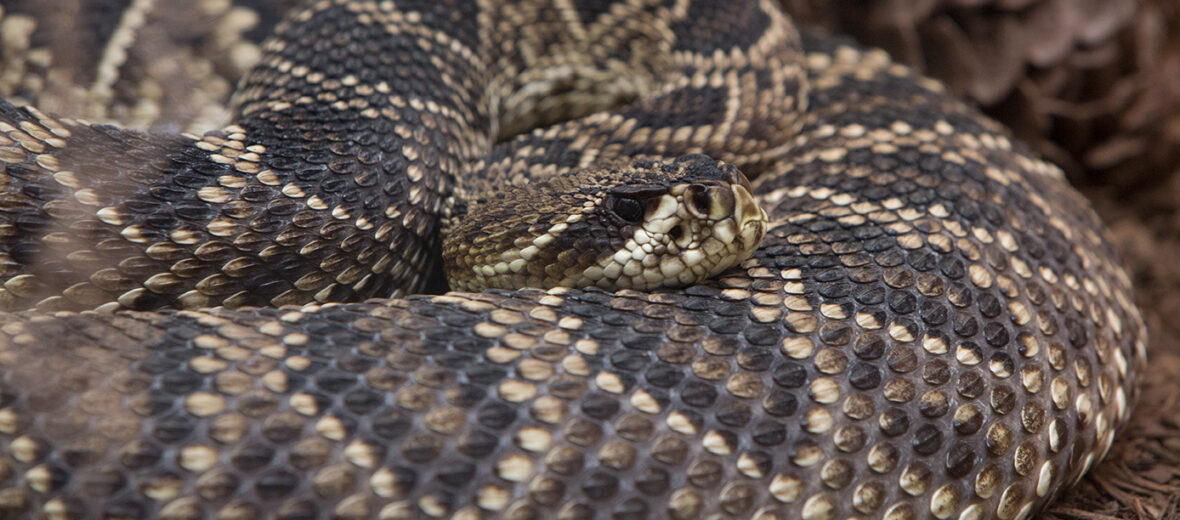 The eastern diamondback rattlesnake, North America's largest venomous snake species, can be found in North Carolina, Florida, Mississippi, Louisiana, and Alabama, in the United States. These vipers prefer dry pine forests, pine and palmetto flatwoods, sandhills, coastal maritime hammocks, grass-sedge marshes, swamp forests, cypress swamps, mesic hammocks, xeric hammocks, sandy mixed woodlands, salt marshes, and wet prairies. Due to their numbers, these venomous snakes are listed as Least Concern by the IUCN. But their numbers are decreasing due to habitat destruction and more.
First the Stats…
Scientific name: Crotalus adamanteus
Weight: Up to 15 lbs.
Length: Up to 8 feet
Lifespan: Up to 20 years
Now on to the Facts!
1.) They go by many common names: eastern diamond-backed rattlesnake, eastern diamondback, diamond-back rattlesnake, diamond rattlesnake, common rattlesnake, and diamond-back.
2.) Eastern diamondbacks are typically terrestrial (spend their lives on the ground) but they have been seen climbing trees, as high as 30 feet, in search of prey.
3.) These snakes are also excellent swimmers, capable of crossing large expanses of water.
4.) The eastern diamondback rattlesnake will brumate (hibernation for reptiles) in hollow logs, among tree roots, and in mammal burrows, like those made by gopher tortoises. Sometimes they can even be seen sharing the tortoise burrow with the tortoise. Talk about a great guard dog.
5.) When threatened, these vipers will raise the anterior half of their body off the ground in a sort of S-shaped coil and will rattle their tail.
But wait, there's more on the eastern diamondback rattlesnake!
6.) Diamondbacks can strike up to 2/3 their body length!
7.) Most will retreat backwards, if encroached upon. But, if cornered, they can and will strike repeatedly!
Did you know…?
Untreated bite victims have up to a 20%+ chance of death! Each bite can contain up to 1,000 mg (1 gram) of venom! The toxin in their venom, called hemotoxin, kills red blood cells and also causes tissue damage (necrosis).
8.) A group of these snakes are called a den, pit, bed, nest, or knot. Although, they are most often solitary. Congregations have been documented.
9.) Like all pit vipers, they are born live and precocial (totally self sufficient). The baby snakes are born fully loaded with venom and ready to take on the world.
10.) Rabbits, rats, mice, birds, and large insects make up their diet. With the insects being eaten, as juveniles.
But wait, there's still more on the eastern diamondback rattlesnake!
11.) Eastern diamondbacks are polygynandrous (promiscuous) and the males will mate with several females.
12.) Females gestate (are pregnant) for up to 7 months, baring up to 21 live young.
13.) Mom will protect her young up until their first shed cycle, which is up to 20 days. After that, they will leave mom and start life on their own.
14.) The eastern diamondback rattlesnake can have fangs as long as 1 inch!
15.) Some other threats to these vipers is over-collection for the skin trade and the horrible rattlesnake roundups that are held throughout the southern parts of the United States. This involves collecting, in a very harsh manner, thousands of rattlesnakes, in order to be abused and eventually killed, for human entertainment. And they call them animals. Please don't ever support these roundups. They are truly horrible!
Now a Short Eastern Diamondback Rattlesnake Video!
Be sure to share & comment below! Also, check out the Critter Science YouTube channel. Videos added frequently!
Want to suggest a critter for me to write about? Let me know here.
Learn more about all kinds of cool critters, right here!