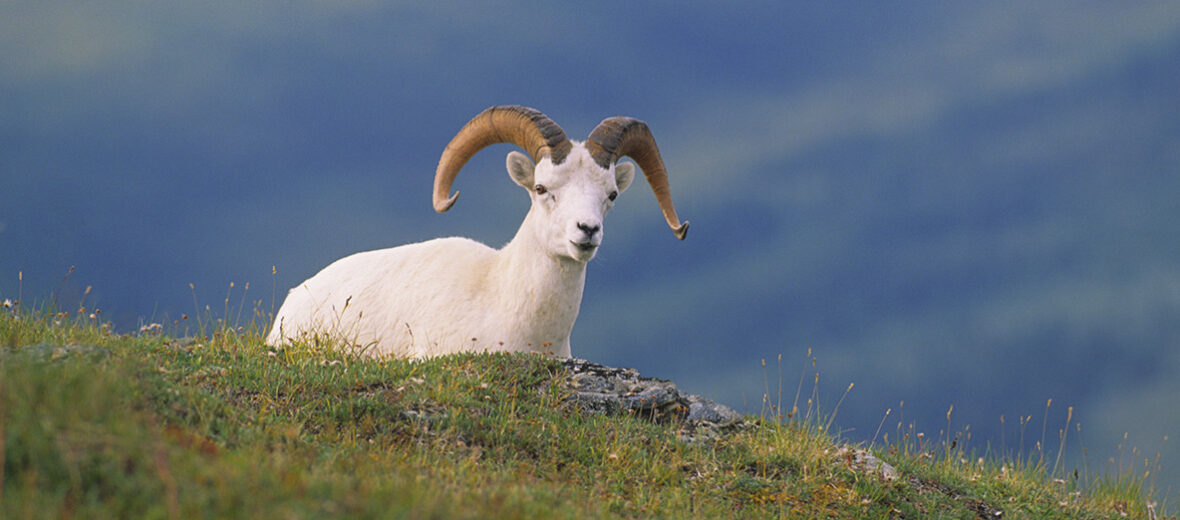 The Dall's sheep, aka thinhorn sheep, can be found in the northwestern parts of Canada and Alaska. They can be seen at altitudes of up to 6,500 feet. These sheep prefer mountain slopes and alpine meadows. There are 2 subspecies of these sheep: the Dall's and the Stone's sheep. Even though they are listed as Least Concern by the IUCN, they are still threatened by habitat destruction and disease, brought about by the agricultural industry.
First the Stats…
Scientific name: Ovis dalli
Weight: Up to 150 lbs.
Length: Up to 4.6 feet
Height: Up to 3 feet, at the shoulder
Lifespan: Up to 20 years
Now on to the Facts!
1.) Dall's sheep are diurnal (active during the day).
2.) They are gregarious (live in loosely organized communities) and dwell in separate groups of bachelors (rams) and ewes (females). The 2 groups only come together during breeding season.
3.) Even though some populations tend to be sedentary, males occupy up to 6 different ranges during the year and females inhabit up to 4.
4.) Groups of these sheep are called drifts, folds, herds, droves, flocks, trips, or
mobs.
5.) They are strict herbivores (eat plant matter) that consume shrubs, grasses, sedges, willows, lichens, and mosses.
But wait, there's more on the Dall's sheep!
6.) Males are polygynous (single male mates with multiple females).
7.) The mating season lasts from November – December.
Did you know…?
During the rut, the rams will butt heads and kick each other. In order to prevent head injuries, they have several sections of air cushions in their heads, which help absorb the impact. A true air head.
8.) Lambs are born from May – June after about a 175 day gestation (pregnancy).
9.) The lambs are weened in just 3 – 5 months.
10.) Another name for a lamb is a lambkin. How cute is that?
But wait, there's still more on the Dall's sheep!
11.) You can tell their age by the number of ridges on their horns.
12.) Brown bears, grizzly bears, coyotes, wolves, wolverines, and eagles all prey on these sheep.
Now a Short Dall's Sheep Video!
Be sure to share & comment below! Also, check out the Critter Science YouTube channel. Videos added frequently!
Want to suggest a critter for me to write about? Let me know here.
Learn more about all kinds of cool critters, right here!