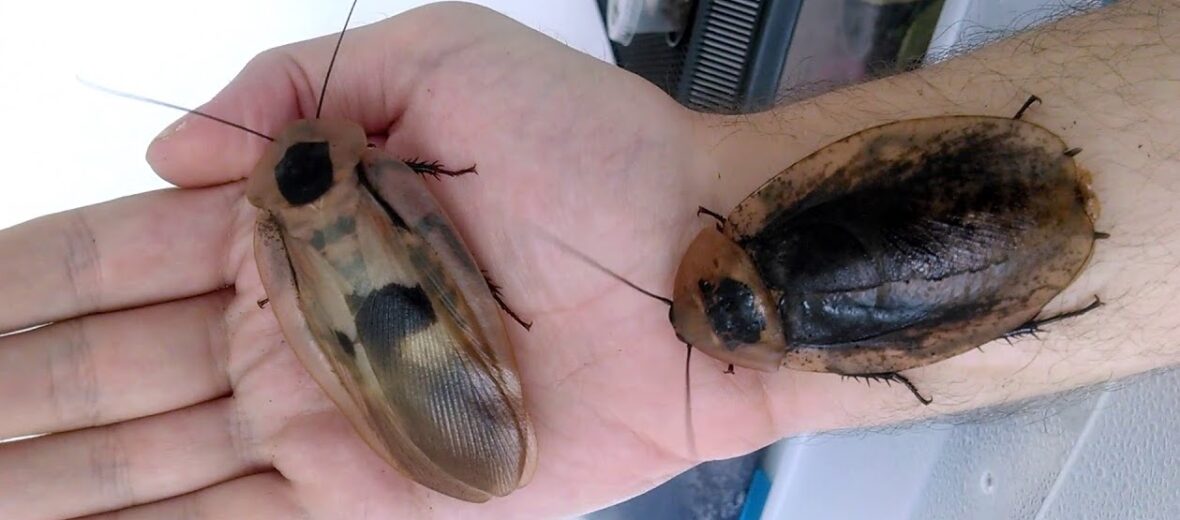 Ranking up there with the largest known cockroaches in the world, the giant cave cockroach is a sight to behold, for sure. And they fly too. Giant cave roaches are closely related to the 1st winged insects that lived during the Carboniferous coal forests around 200 million years ago. These giants can be found in South America and prefer caves, rotting logs, hollowed out trees, and in between the cracks of rocks in forested areas. They are a beneficial species that is not considered a pest.
First the Stats…
Scientific name: Blaberus giganteus
Weight: Up to 5/6th ounce
Length: Up to 3.5 inches
Lifespan: Up to 2 years
Now on to the Facts!
1.) Like other cockroaches, these big critters are nocturnal (active at night).
2.) They are Omnivores (eat both plant and animal matter) and scavengers that do their part in keeping caves and the forest floor clean of decaying plant matter, carrion, fruit, bat guano (bat poop), and seeds.
3.) Their predators are birds, reptiles, amphibians, and some mammals.
4.) When they are exposed to infection or various microorganisms, they will produce specific proteins in their fat stores that will allow them to fight off the invader.
5.) They also engage in a host-microbe relationship. This means that their waste is broken down by a certain bacteria that later transforms into important amino acids which benefit the cave roach. The bacteria is called Blattabacterium.
But wait, there's more on the giant cave cockroach!
6.) 2 chemicals are released during mating: The sex pheromone is released by the female and is used for attracting mates that are a long distance away. The male then produces an aphrodisiac sex hormone from his tergal glands that gets the female in the mounting mood.
7.) Females lay there eggs in an external ootheca.
Did you know…?
The wings of a cave roach can reach up to 6 inches!
8.) The young hatch from the ootheca in about 60 days.
9.) Newly hatched cave roaches go through several instars (molts) before reaching adulthood.
10.) They undergo hemimetabolous metamorphosis. Which just means that their change into adults is very gradual.
Now a Short Giant Cave Cockroach Video!
Be sure to share & comment below! Also, check out the Critter Science YouTube channel. Videos added frequently!
Want to suggest a critter for me to write about? Let me know here.
Learn more about all kinds of cool critters, right here!