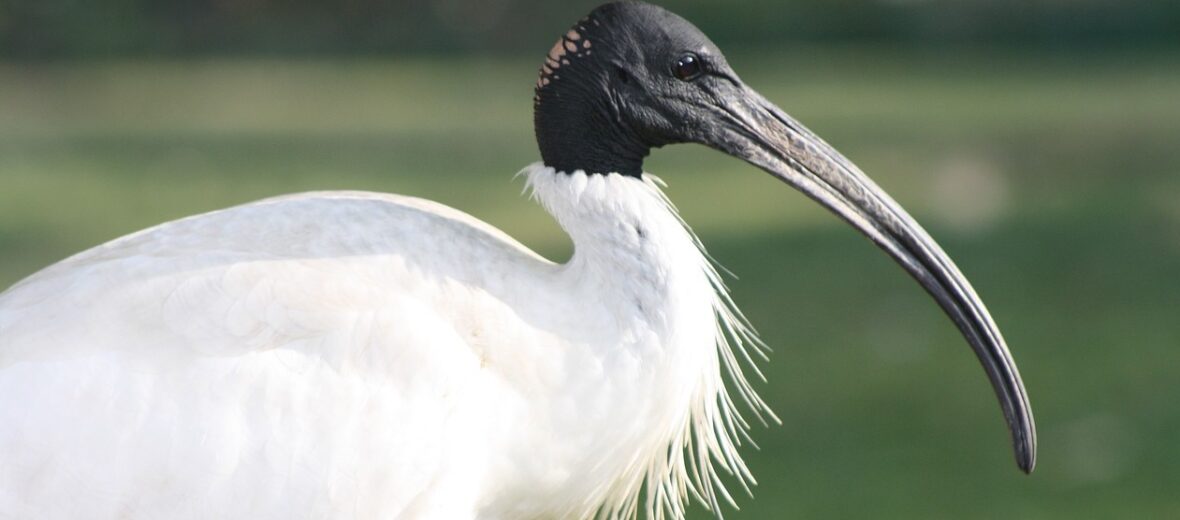 The ibis belongs to a group of long-legged wading birds that inhabit wetlands, forests, and plains. "Ibis" derives from the Latin and Ancient Greek word for this group of birds. There are 28 known species of ibis that can be found all around the world; especially in the southern hemisphere. Water pollution, with pesticides, unregulated hunting, and habitat destruction are the major threats for ibises.
First the Stats…
Scientific name: Threskiornithinae
Weight: Up to 3.3 lbs.
Height: Up to 2.5 feet
Wingspan: Up to 3 feet
Lifespan: Up to 20 years
Now on to the Facts!
1.) The ibis is an Omnivore (eats plant and animal matter). Its diet consists mostly of various animals, such as fish, frogs, shellfish, crabs, small reptiles, worms, bugs, and small mammals. But they've also taken on a scavenger's lifestyle, eating trash.
2.) They do a great job of removing pest insects from agricultural fields.
3.) Having a long, curved bill helps with the removal of food from the mud. Their nostrils are located at the base of the bill. Due to this feature, the ibis can breathe even while its bill is submerged in the water.
4.) Foxes, cats, snakes, and large birds of prey feast on ibises.
5.) Except during the breeding season they aren't very vocal birds. They can produce various wheezing and squeaking noises.
But wait, there's more on the ibis!
6.) They live, nest, and roost in colonies that can consist of 100s or even 1,000s of birds.
7.) The female lays 3 eggs in a nest located in the surrounding trees, bushes, or on cliffs. Both parents participate in the incubation of the eggs which lasts 20 – 30 days.
Did you know…?
They are known as bin chickens or tip turkeys due to their scavenging habits. This is due to the fact that it's a lot easier for them to feed from trash left by humans than in their normal wetland environment.
8.) Males gather in large groups in their colonies prior to breeding to attract a female. They perform several elaborate displays that involve group flights, preening, bathing, head shaking, and bill popping. During group flights, males spiral up and down near the colony just to show off.
9.) Typically, during mating season, the face and throat, which are usually featherless, will turn a deep red color.
10.) The ibis is Diurnal (active during the day).
Now a Short Ibis Video!
Also, check out the Critter Science YouTube channel. Videos added frequently!
Want to suggest a critter for me to write about? Let me know here.
Learn more about all kinds of cool critters, right here!