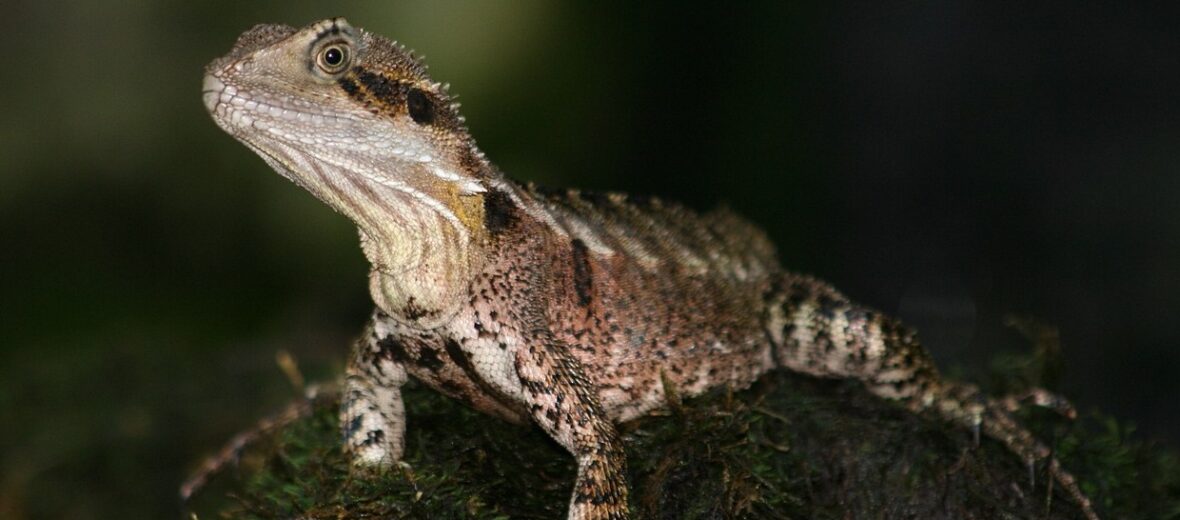 The Australian water dragon is found in eastern Australia from Victoria northwards to Queensland. There are numerous types of water dragons. We are just focusing on the Australian one. This species is protected in Australia. Wild specimens cannot be collected from the wild and a permit is required in most states and territories to keep this species in captivity. And sorry, but I'm not really going to teach you how to train your water dragon. It's just a fun title. Unfortunately, you'll have to learn to train it yourself.
First the Stats…
Scientific name: Intellagama lesueurii
Weight: Up to 2.2 lbs.
Length: Up to 3 feet (2/3 of that is its tail)
Lifespan: Up to 20 years
Now on to the Facts!
1.) An Australian water dragon's tail is wedge shaped like an oar to help them swim through the water with ease.
2.) If danger is sensed, a dragon can dive under water and remain there for up to 90 minutes!
3.) Water Dragons are Omnivorous (eat both plant and animal matter).
4.) The Australian water dragon brumates (hibernation for reptiles) during winter.
5.) These dragons have been observed sleeping in the water. They just leave their nostrils above the water and snooze away!
But wait, there's more on the Australian water dragon!
6.) These Ausie lizards can also eat in the water too.
7.) Like bearded dragons, water Dragons communicate by inflating their throat pouches, bobbing their heads, doing push-ups, and waving their arms. This is part of a territorial behavior that males show off during the breeding season.
Did you know…?
Australian water dragons have been around for about 20 million years.
8.) The Eastern Water Dragon has been adopted as Penrith City Council's official logo.
9.) If they really want to take off, they will stand on their hind legs and run!
10.) Water Dragons form part of the Chinese Horoscope.
Now a Short Australian Video!
Also, check out the Critter Science YouTube channel. Videos added frequently!
Want to suggest a critter for me to write about? Let me know here.
Learn more about all kinds of cool critters, right here!