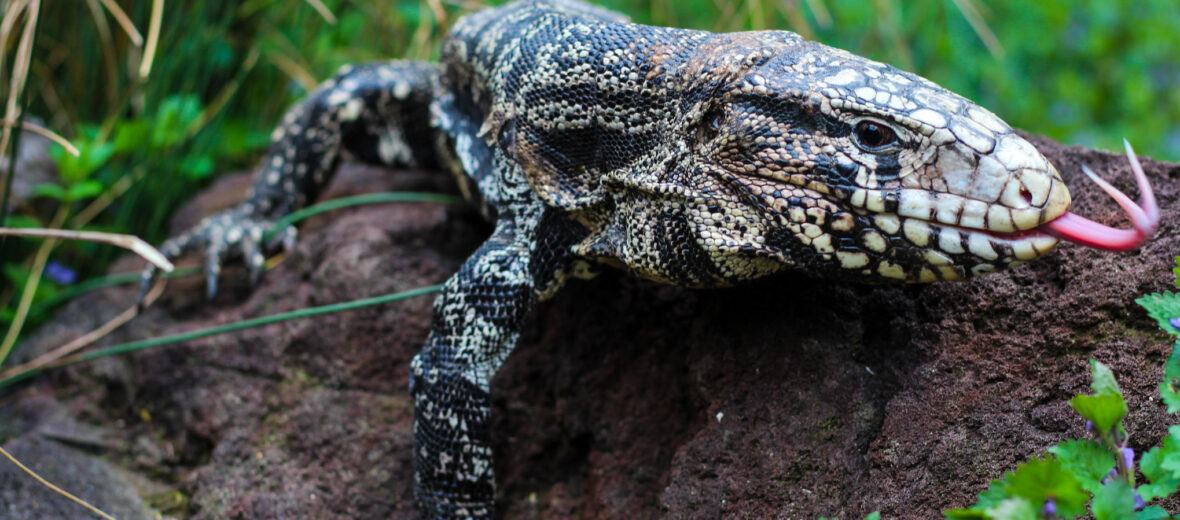 The Argentine black and white tegu is just 1 of 7 known tegu species. These large lizards are found throughout a large part of South America and have been introduced to North America, where they have become an invasive species. They prefer woodlands, Savannas, tropical rain forests, semi-deserts and agricultural areas. Due to their wide spread and stable numbers, these lizards are listed as Least Concern by the IUCN. The only threats they face are hunting and trapping for their skin and meat. These lizards breed readily in captivity, so they aren't at risk of over-collection for the pet trade.
First the Stats…
Scientific name: Salvator merianae
Weight: Up to 20 lbs.
Length: Up to 5 feet
Lifespan: Up to 20 years
Now on to the Facts!
1.) They also go by the names black and white tegu, huge tegu, and Argentine giant tegu.
2.) Black and white tegus are often kept as pets due to their high intelligence, friendly disposition, and ability to be house broken. That's right. You can actually potty train these lizards.
3.) These lizards can engage in caudal autonomy (ability to drop their tail) if attacked.
4.) Their tail is also used as a defensive weapon by whipping it at attackers.
5.) Tegus are solitary. They only come together to breed.
But wait, there's more on the Argentine black and white tegu!
6.) Tegu lizards are diurnal (active during the day).
7.) Younger tegus tend to be arboreal (spend their lives in trees), due to the fear of predation. Older tegus are terrestrial (spend their lives on the ground).
Did you know…?
These critters can run, for short distances, at speeds of up to 17 mph! They also can run bipedally (on their hind legs).
8.) During colder winter months they will brumate (hibernation for reptilies).
9.) If threatened, they will gape (open their mouth), huff and puff, stomp their front feet, and will sometimes run at their opponent with an open mouth.
10.) Tegu lizards are not venomous, but they do have powerful jaws and sharp teeth.
But wait, there's still more on the Argentine black and white tegu!
11.) Juveniles eat insects, arachnids, snails, fruits, and seeds. Adults eat vertebrates, small birds, insects, eggs, and wild fruits.
12.) Breeding season begins just after brumation, in spring.
13.) Females build a nest in which to lay up to 30 eggs that hatch in up to 60 days.
14.) Like other reptiles, the hatchlings are born precocial (totally self-sufficient).
15.) Due to careless husbandry, many black and white tegus have been released into the wild, in the United States. They have since become an invasive species throughout the southeastern states, like Georgia and Florida.
16.) Pumas, snakes, crocodiles, alligators, and birds of prey all hunt Argentine black and white tegus.
Now a Short Argentine Black and White Tegu Video!
Be sure to share & comment below! Also, check out the Critter Science YouTube channel. Videos added frequently!
Want to suggest a critter for me to write about? Let me know here.
Learn more about all kinds of cool critters, right here!