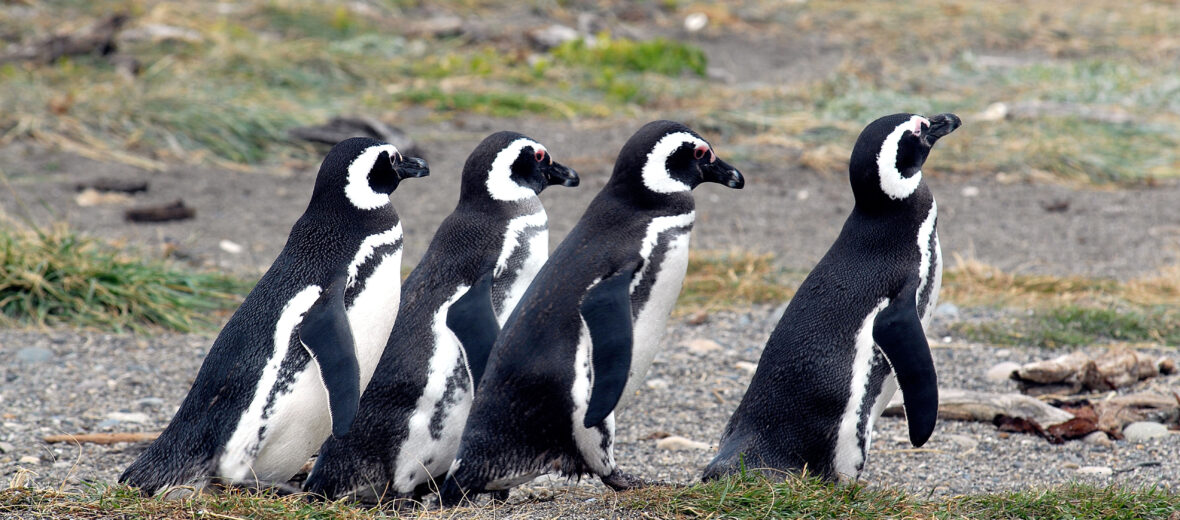 The Magellanic penguin can be found in Argentina, Chile, and the Falkland Islands. These penguins also migrate as far north as Brazil and Rio de Janeiro. They can be found around bare cliffs, forests, grasslands, headlands, and islands. Magellanic penguins number up to 3,200,000 wild individuals. But their numbers are also decreasing. This is due to habitat destruction, human intrusion, invasive species (and with them, disease), pollution, and climate change. But they are still listed as Least Concern by the IUCN.
First the Stats…
Scientific name: Spheniscus magellanicus
Weight: Up to 14 lbs.
Length: Up to 2.5 feet
Wingspan: Up to 88 inches
Lifespan: Up to 25 years
Now on to the Facts!
1.) These penguins are Diurnal (active during the day).
2.) Magellanic penguins are pelagic (spend most of their lives out at sea).
3.) Being very social, these penguins can be seen gathering into large colonies of 200,000 or more birds in a colony.
4.) A group of penguins is called a colony, convent, huddle, raft, rookery, or waddle.
5.) They hunt cooperatively by taking turns huddling fish balls together and then darting through the groups of fish to capture their meals.
But wait, there's more on the Magellenic penguin!
6.) Cuttlefish, sardines, crustaceans, squid, and krill are all on the menu.
7.) These birds are hunted by sea lions, leopard seals, Patagonian foxes, kelp gulls, and lesser grisons.
Did you know…?
Magellanic penguins can swim at speeds of up to 15 mph.
8.) Supraorbital glands are present in these penguins. These glands filter out salt from the food and water they drink.
9.) They are monogamous (mate for life) but only for several seasons. Then they switch partners.
10.) The Magellanic penguin couple will build their nest in abandoned burrows and under bushes, 6 feet apart from each breeding pair.
But wait, there's still more on the Magellenic penguin!
11.) Females lay up to 2 eggs that hatch in up to 70 days.
12.) Both parents participate in incubation duties.
13.) The male and female will both take turns feeding their chicks, every 2 – 3 days.
14.) Adult plumage is developed in about 30 days and in up to 70 days the nestlings are mature enough to join mom and dad for their first migratory journey.
15.) Behavioral adaptations to fluctuating temperatures have been documented. When the temps go up, they will spread their flippers upward to catch a breeze, in order to cool down. They will also molt the feathers around their eyes to expose skin to the breeze.
But wait, there's still more on the Magellenic penguin!
16.) During the Spanish explorer Ferdinand Magellan's South American journey, in 1520, these birds were discovered and first documented.
17.) When searching for a mate, males will often produce a call that sounds like the bray of a donkey.
Now a Short Magellanic Penguin Video!
Be sure to share & comment below! Also, check out the Critter Science YouTube channel. Videos added frequently!
Want to suggest a critter for me to write about? Let me know here.
Learn more about all kinds of cool critters, right here!