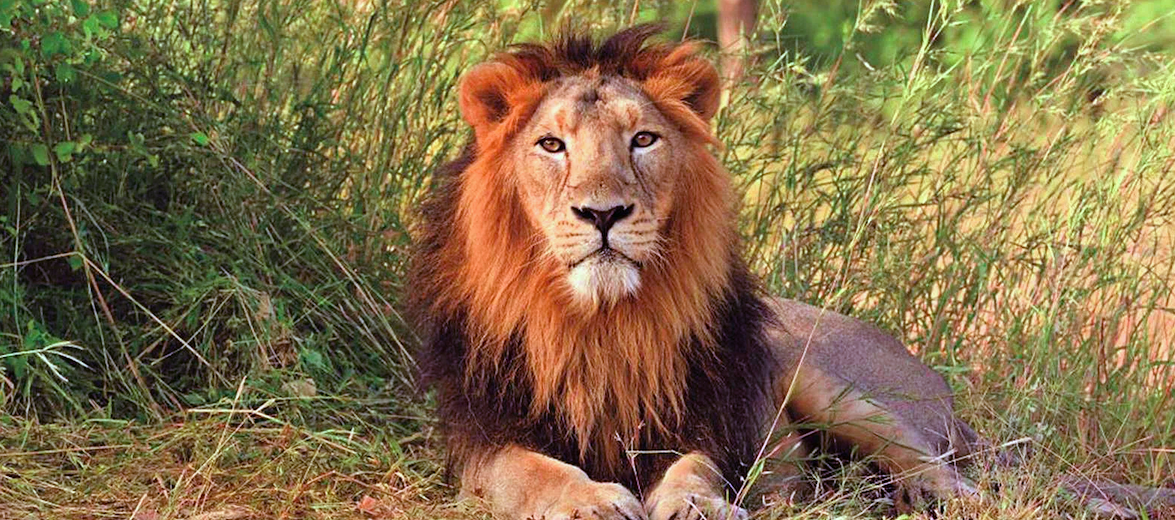 The Asiatic lion, aka Asian lion, Indian lion, or Persian lion, can only be found in the Wildlife Sanctuary of Western Gujarat and the dry deciduous forest of Gir National Park, in India. These lions are smaller than their African cousins. But, otherwise look the same, sans the fold of skin on their belly and smaller manes on males. Due to illegal poaching, and their small overall numbers, these lions are listed as Endangered by the IUCN, with only an estimated 674 remaining. But their numbers have recently been slowly increasing.
First the Stats…
Scientific name: Panthera leo persica
Weight: Up to 419 lbs.
Length: Up to 9.58 feet, plus up to a 41 inch tail
Height: Up to 3.5 feet, at the shoulders
Lifespan: Up to 18 years
Now on to the Facts!
1.) Like their African cousins, these lions form prides, but only up to 2 females.
2.) Males will only join an existing pride to mate and to participate in taking down a large prey animal.
3.) In locations with thicker vegetation and brush cover, these lions will hunt during the day. In areas of sparse brush cover, they will hunt at night.
4.) Asiatic lions spend up to 20 hours a day sleeping.
5.) A group of lions is called a pride, sault, sawt, or troop.
But wait, there's more on the Asiatic lion!
6.) Antelopes, buffaloes, deer, and wild boars are all on the menu. Plus they will also visit dumping grounds, where Maldhari livestock herders dump dead livestock, for an easy meal.
7.) Just like African lions, these critters are polygynous (1 male mates with multiple females).
Did you know…?
These lions can run up to 50 mph, but only for short distances.
8.) Females undergo up to a 119 day gestation (pregnancy) that yields up to 6 cubs.
9.) When the cubs reach 3 months of age, they begin eating meat. They then learn to hunt for up to 9 months. At 1 year old, then become totally independent of their mother.
10.) Due to the excessive heat and ease of catching prey, these lions will typically hunt at night, when they can.
But wait, there's still more on the Asiatic lion!
11.) A lion's mane becomes darker with age.
12.) Even though the males tend to opt out of the hunt, the largest portion of the kill goes to the male, while the females eat the leftovers.
13.) The lion is the national animal of Bulgaria, India, Luxembourg, the Netherlands, Singapore, and more.
Now a Short Asiatic Lion Video!
Be sure to share & comment below! Also, check out the Critter Science YouTube channel. Videos added frequently!
Want to suggest a critter for me to write about? Let me know here.
Learn more about all kinds of cool critters, right here!