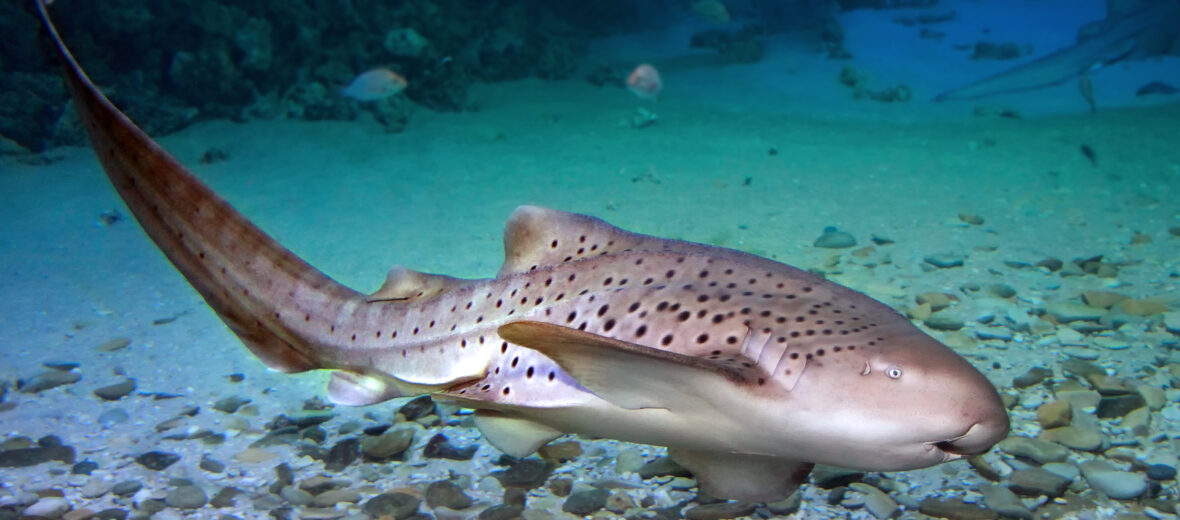 The zebra shark can be found throughout the tropical Western Pacific and Indian Oceans. They prefer coral reefs and sandy flats up to a depth of 200+ feet. These sharks are subject to a wide range of capture methods from inshore fisheries. This, along with general overfishing has caused a decline in this species to the point where they are now listed as Endangered by the IUCN. Their numbers are also decreasing.
First the Stats…
Scientific name: Stegostoma tigrinum
Weight: Up to 11.5 feet
Length: Up to 65 lbs.
Lifespan: Up to 30 years
Now on to the Facts!
1.) Like many sharks, the zebra shark is nocturnal (active at night).
2.) These sharks prey on molluscs, crustaceans, small bony fishes, and sea snakes.
3.) Larger sharks prey on zebra sharks.
4.) Even though they are typically solitary in nature, they have been known to form large seasonal aggregations of up to 50 individuals.
5.) They get their name due to the fact that juveniles are dark brown with white zebra-like stripes. This pattern and coloration changes as the shark matures to tan with brown leopard-like spots.
But wait, there's more on the zebra shark!
6.) These sharks are yet another unfortunate victim of the cruel practice of finning. The shark is caught, its fins ripped from their body, and then the shark is tossed back into the water to die a slow, painful death by bleeding out.
7.) The fins are sold for shark fin soup, a dish that can fetch a $100 price tag for a single bowl. They are also used in traditional Chinese medicine. There are no medicinal benefits to consuming shark fins.
Did you know…?
In an effort to end this senseless slaughter of sharks, the U.S. government passed a law in 2000 that forbids shark finning and/or the possession of shark fins without the shark's body, and prohibits foreign fishing vessels from shark finning in United States' exclusive economic zone (EEZ).
8.) There are up to 33 tooth rows in the upper jaw and up to 32 tooth rows in the lower jaw.
9.) These sharks are in the same morphological group as whale sharks and nurse sharks, called carpet sharks.
10.) Being oviparous (lay eggs), females produce up to 46 large egg capsules that are anchored to reef structures and rocks, with adhesive tendrils.
But wait, there's still more on the zebra shark!
11.) Males initiate courtship by vigorously biting at the female's pectoral fins and tail, intervened by periods of holding onto her pectoral fins and resting on the ocean floor.
12.) Eggs hatch in up to 6 months.
13.) Zebra sharks are typically docile and easily approached by divers. Bites have only occurred as a result of harassment, via humans trying to ride them or by pulling on their tails.
Now a Short Zebra Shark Video!
Be sure to share & comment below! Also, check out the Critter Science YouTube channel. Videos added frequently!
Want to suggest a critter for me to write about? Let me know here.
Learn more about all kinds of cool critters, right here!