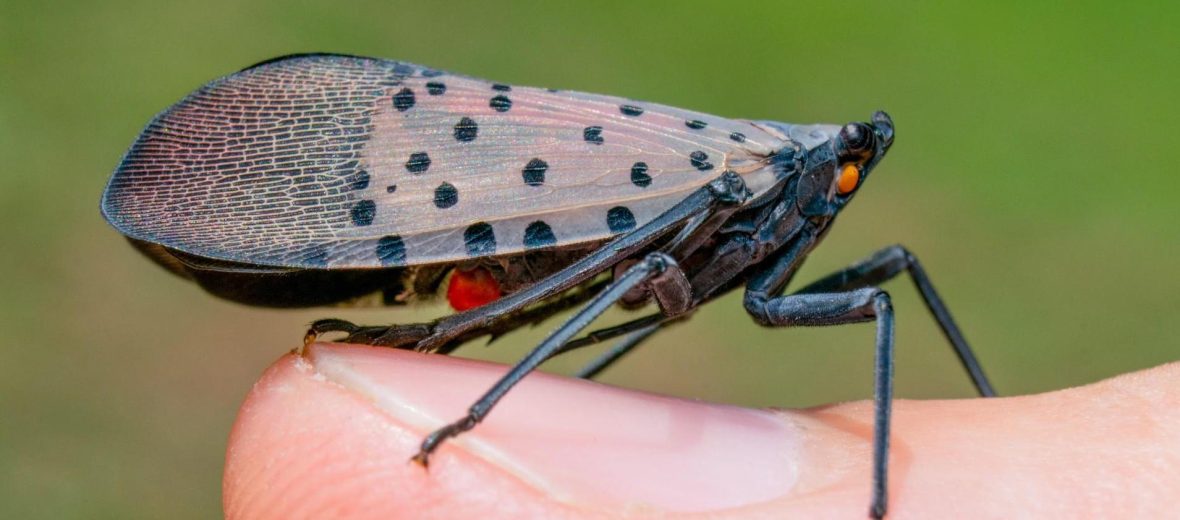 The spotted lanternfly is an invasive species of insect that hails from China and Latin America. They have since been introduced, unfortunately, to various countries around the world, such as the United States. These invasive and destructive insects have a "kill on sight" tag on their heads, due to the extensive crop damage they can cause. Due to their wide spread populations and invasive nature, these critters are not currently evaluated by the IUCN.
First the Stats…
Scientific name: Lycorma delicatula
Length: Up to 1 inch
Lifespan: Up to 1 year, from egg to adult
Now on to the Facts!
1.) First off, lanternflies aren't really flies at all, but rather true bugs; of the order Hemiptera. They are in the same classification as aphids, bed bugs, cicadas, and shield bugs.
2.) In the same fashion that all tortoises are turtles but not all turtles are tortoises, all lanternflies are planthoppers, but not all planthoppers are lanternflies.
3.) A great many lanternflies have evolved a long proboscis, that is used to extract sap from trees and the fluids from plants.
4.) Willows, maples, poplars, prunus trees, apple trees, pine trees, and grapevines are among the numerous host plants and trees. Their favorite to snack on and kill is the tree of heaven.
5.) It was once believed that their famous snouts were bioluminescent. Hence their namesake. This is not the case at all.
But wait, there's more on the spotted lanternfly!
6.) In China, they have a natural Predator. That being a parasitic wasp. Here in the United States, they have no known natural predators. And that is a big problem.
7.) Contrary to popular belief, lanterflies don't bite at all.
Did you know…?
Some people in Latin America believe that lanternfly bites are fatal. If bitten, they have up to 24 hours to perform sexual relations or they'll die. Now that is some pickup line.
8.) Adults live from June – August. They lay eggs in the fall and die at the first frost.
9.) The eggs overwinter and hatch in May.
10.) Even though they have 2 sets of wings, they aren't great at flying. They prefer to walk and hop. When walking they do so, from side to side, like crabs.
But wait, there's still more on the spotted lanternfly!
11.) The best way to eradicate this pest insect is via spraying white vinegar directly on the pests or using neem oil. Both concoctions kill the insects on contact.
12.) They are such successful and invasive pests because they can lay their eggs on anything from plants to cars. They then hitch a ride to a new locale and hatch in spring to begin their reign of terror.
Now a Short Spotted Lanternfly Video!
Be sure to share & comment below! Also, check out the Critter Science YouTube channel. Videos added regularly!
Want to suggest a critter for me to write about? Let me know here.
Think you know a lot about critters? Try your hand at these fun, free quizzes: