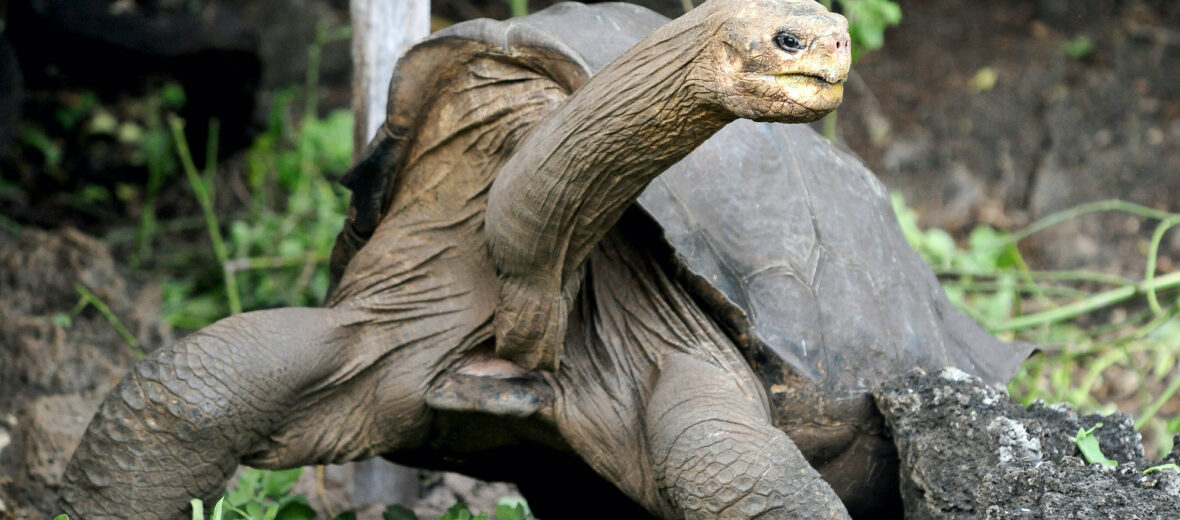 The Galápagos tortoise is the largest tortoise on Earth. Sadly, out of the 15 known subspecies of these tortoises, only 11 remain in the wild. They live in dry lowlands to more humid highlands. Galápagos tortoises were hunted during the 17th, 18th, and 19th century to near extinction. As a result, numerous subspecies went extinct and the remaining subspecies' populations decreased dramatically. All remaining Galápagos tortoises are listed as Endangered by the IUCN! There are only an estimated 15,000 of these magnificent critters left in the world.
First the Stats…
Scientific name: Chelonoidis nigra
Weight: Up to 500 lbs.
Length: Up to 5 feet
Lifespan: Up to 170+/- years
Now on to the Facts!
1.) They may be large reptiles, but their shells aren't solid. They are instead made up of honeycomb structures that encase small air chambers; making the shell much lighter than it appears.
2.) These tortoises lack teeth but have strong jaws.
3.) During a "tortoise battle" the males will stare each other down, open their mouths (called gaping), raise their heads as high as possible and… that's it. The highest head wins. The loser tucks his head back in and slowly lumbers away in shameful defeat.
4.) The dry-land species tend to have a saddle-shaped carapace (shell), which allows them the ability to reach higher levels of vegetation.
5.) In the more humid environments, these tortoises have a dome-shaped carapace that prevents the upward stretching of their necks. They instead graze on grasses and low laying fruit.
But wait, there's more on the Galápagos tortoise!
6.) Galápagos tortoises don't hiss out of anger, they hiss while bringing their head into their shell. They hiss as they release air quickly to make room for their legs and/or head. Only so much tortoise can fit in that shell.
7.) Their primary predators are dogs, cats, pigs, goats, cattle, and rats. They go after the eggs and the young tortoises. Adults have no natural predators, only man.
Did you know…?
Galápagos tortoises can go for an entire year without water or food! They simply rely on their fat reserves to provide the necessary sustenance.
8.) When the female builds the nest she digs a 12 inch hole and then proceeds to pee in the hole to keep the sand from pouring in again and crushing the soft eggs. She lays her eggs, then she carefully fills in the hole with substrate and leaves them to their own devices.
9.) Unlike many other reptiles, warmer temperatures produce more females and cooler temperatures yield males.
10.) The young tortoises can take up to a month to dig their way out of the nest, relying on their yolk sac for nutrition.
Now a Short Galápagos Tortoise Video!
Also, check out the Critter Science YouTube channel. Videos added frequently!
Want to suggest a critter for me to write about? Let me know here.
Learn more about all kinds of cool critters, right here!