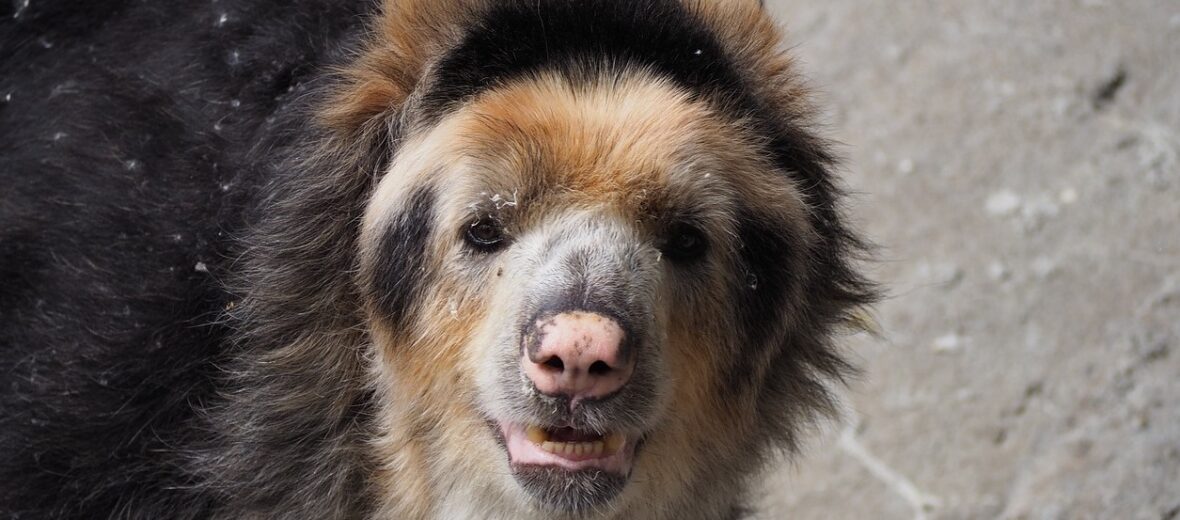 The Andean spectacled bear is the only species of bear found in South America. It can be seen in Columbia, Venezuela, Ecuador, Peru, Bolivia, and Argentina. Spectacled bears inhabit high altitude cloud forests but they can also be found in various other habitats like grassland, scrubland, and humid & arid forests; as well as near coastal regions. Andean bears are believed to use a variety of vocal communications, more so than any other bear, sans the giant panda. They make unique sounds that range from shrill screeches to soft, purring sounds.
First the Stats…
Scientific name: Tremarctos ornatus
Weight: Up to 240 lbs.
Length: Up to 6 feet
Height: Up to 3 feet, at the shoulder
Lifespan: Up to 20 years
Now on to the Facts!
1.) Despite being a large animal, spectacled bears are quick and skilled climbers.
2.) They spend a fair amount of time in trees. They even build nesting areas in trees.
3.) Spectacled bears are diurnal (active during the day).
4.) These bears, like many other bears, are omnivores (eating plant and animal matter). They typically eat palms, bromeliads, cacti, honey, berries, fruit, insects, eggs, small birds, and mammals.
5.) Due to the abundance of food, spectacled bears don't hibernate.
But wait, there's more on the Andean spectacled bear!
6.) Their primary predators are jaguars and mountain lions. They are also hunted by humans.
7.) Mating season of lasts from March – October.
Did you know…?
The children's character Paddington Bear is actually a spectacled bear, famously from "darkest Peru".
8.) The female produces 1 – 3 cubs after up to a 8 month pregnancy.
9.) Cubs are born blind and don't gain sight until they reach 42 days old. They completely depend on their mother during the first few months of life. The female sometimes carries her cubs in her front paws while walking on her hind feet.
10.) They are listed as Vulnerable by the IUCN due to poaching and habitat loss.
Now a Short Andean Spectacled Bear Video!
Also, check out the Critter Science YouTube channel. Videos added frequently!
Want to suggest a critter for me to write about? Let me know here.
Learn more about all kinds of cool critters, right here!