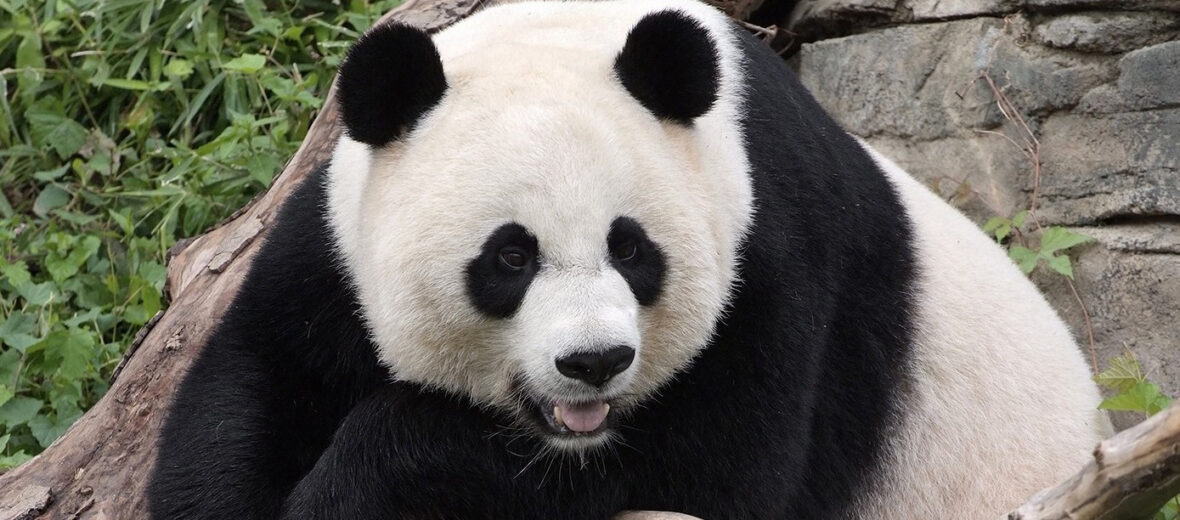 At one time scientists were up in the air about whether or not the giant panda was part of the bear or the raccoon family. They landed, ultimately, in the bear family. What's with the coloring anyway? Well, the white face and body help them to hide in the snow and the black limbs, ears, and eyes help them to hide in the shadows. Oooh, sneaky. As popular as they are, these giant teddy bears are unfortunately listed as Vulnerable by the IUCN due to excessive poaching and deforestation. Giant pandas can be found in south central China, in Shaanxi, Sichuan, and Gansu provinces. They only live in mountainous regions as they have been driven there by land development and agriculture. Enjoy my 500th article!
First the Stats…
Scientific name: Ailuropoda melanoleuca
Weight: Up to 220 lbs.
Length: Up to 6.2 feet
Height: Up to 3 feet
Lifespan: Up to 20+ years
Now on to the Facts!
1.) Pandas don't rely on visual memory (perceptual processing and the encoding, storage, and retrieval of the resulting neural representations), they rely on spatial memory (memory responsible for the recording of information about one's environment and spatial orientation).
2.) Using, in part, their opposable pseudo-thumb (an enlarged wrist bone), they are great tree climbers and can hold bamboo like a human might.
3.) Giant pandas, being bears, are excellent swimmers.
4.) They may have large canine teeth, like a carnivore has, but they are strict herbivores (eat plant matter).
5.) These gentle giants spend up to 14 hours a day eating bamboo and consume up to 30 lbs. a day of the stuff!
But wait, there's more on the giant panda!
6.) They have to eat so much bamboo in order to stay full, as bamboo and some fruit makes up to 99% of their diet. The rest comprises of eggs, small animals, carrion (dead animals), and they also forage in farmlands for kidney beans, pumpkin, wheat, and domestic pig food. They need to eat a lot to get nutrients in order to survive.
7.) Lazy is in their nature, due to their food source being so low in nutrients. Pandas can sleep up to 10 – 12 hours a day.
Did you know…?
Just like a domestic cat, giant pandas have vertical slits for pupils.
8.) Even though they are typically quiet animals they can be vocal when they want. Giant pandas can roar, bleat, growl, and honk.
9.) Fossils of pandas have been discovered that date back to 2 million years old.
10.) These giants mate from March – May and their cubs are born in August.
But wait, there's still more on the giant panda!
11.) Females are only fertile for 2 – 3 days out of each year.
12.) Giant pandas are barely the size of a stick of butter at birth. They are born hairless and helpless.
Did you know…?
Occasionally, in order to leave their scent marking, panda's will climb a tree backwards with their hind feet until they end up in a complete handstand upside down. This allows them to leave their scent higher up on the tree. Clever.
13.) Pandas are solitary creatures only coming together to mate and fight for breeding rights.
14.) Now the messy part… Giant pandas poop up to 40 times a day!
15.) Giant pandas can poop up to 62 lbs. a day!
But wait, there's a little more on the giant panda!
16.) Pandas are one of the few animals in Asia who have not been used in traditional Chinese medicine.
17.) Pandas seem to really like licking iron and copper. It is not known why.
18.) Out of all the bears, only sloth bears have longer tails than pandas.
Now a Short Giant Panda Video!
Also, check out the Critter Science YouTube channel. Videos added frequently!
Want to suggest a critter for me to write about? Let me know here.
Learn more about all kinds of cool critters, right here!