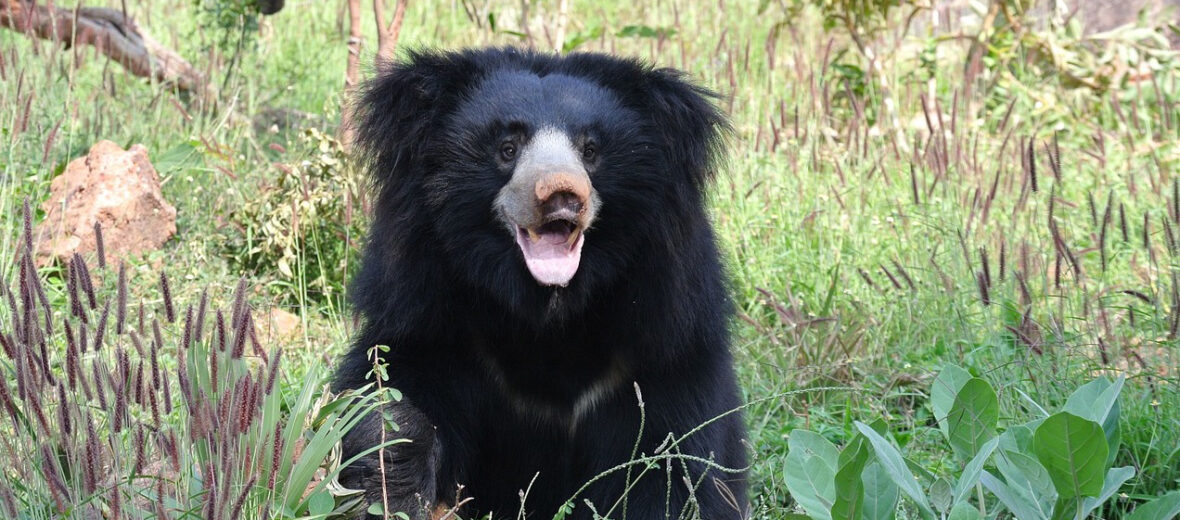 The sloth bear is native to India, Nepal, and Sri Lanka. They are primarily myrmecophagous (eat mostly ants and termites). They have even been termed labiated bears, due to their long lower lip; used for sucking up insects. Sloth bears, like sun bears, have a prominent marking on their chest. Unlike the sun bear though these bears have a Y or V shaped marking, furry tufts around their ears, and a mane. Their preferred habitats are savannahs, scrublands, wet & dry tropical forests, and grasslands. Unfortunately, due to habitat destruction, poaching, general human interference, and climate change, these beautiful bears are listed as Vulnerable by the IUCN; and their numbers are decreasing.
First the Stats…
Scientific name: Melursus ursinus
Weight: Up to 300 lbs.
Length: Up to 6 feet
Height: Up to 3 feet (at the shoulder)
Lifespan: Up to 40 years
Now on to the Facts!
1.) Even though they have 3 inch long claws and hang out in trees, 50% of the time, they are not sloths.
2.) Their long fur lacks an undercoat, keeping them cool on hot days and helping to keep insects from biting or stinging them.
3.) With their snout, tongue, and lips they form a sort of sucking tube that is used like a vacuum to siphon out termites and ants, right from their tunnels. They can also close their stenotic nares (the nostril flares on each side of their nose) to keep out bugs.
4.) Half of their diet is solely comprised of termites and ants. The other half is made up of vegetation, fruits, seeds, and carrion (dead animals).
5.) Like other bears, they love honey. When feeding her cubs, mom will regurgitate a concoction of partially-digested wood apples, jack fruit, and pieces of honeycomb that hardens to a dark yellow, circular substance called bear's bread. This "bread" is considered a delicacy to some of Indian natives.
But wait, there's more on the sloth bear!
6.) They are typically nocturnal (active at night) but females become diurnal (active during the day) when she has cubs.
7.) Once mom enters a den to give birth she will stay there, without food or water, for up to 3 – 8 weeks. Once born, she will leave the den to grab a quick bite and some water, then return to the den.
Did you know…?
You can hear the bear's slurping up food from 300 feet away! Like my kids.
8.) Sloth bears carry their 1 – 2 cubs on their back for the first 7 – 9 months of their lives.
9.) The sloth bear is an excellent swimmer, like other bears.
10.) Sloth bears communicate via scratching trees and rubbing their scent against trees and rocks. They are also very vocal animals that make barks, whickers, roars, snarls, screams, grunts, and woofs. When threatened they will emit a yelping sound. When hurt or scared they make yowls, shrieks, or whimpers.
Now a Short Sloth Bear Video!
Also, check out the Critter Science YouTube channel. Videos added frequently!
Want to suggest a critter for me to write about? Let me know here.
Learn more about all kinds of cool critters, right here!