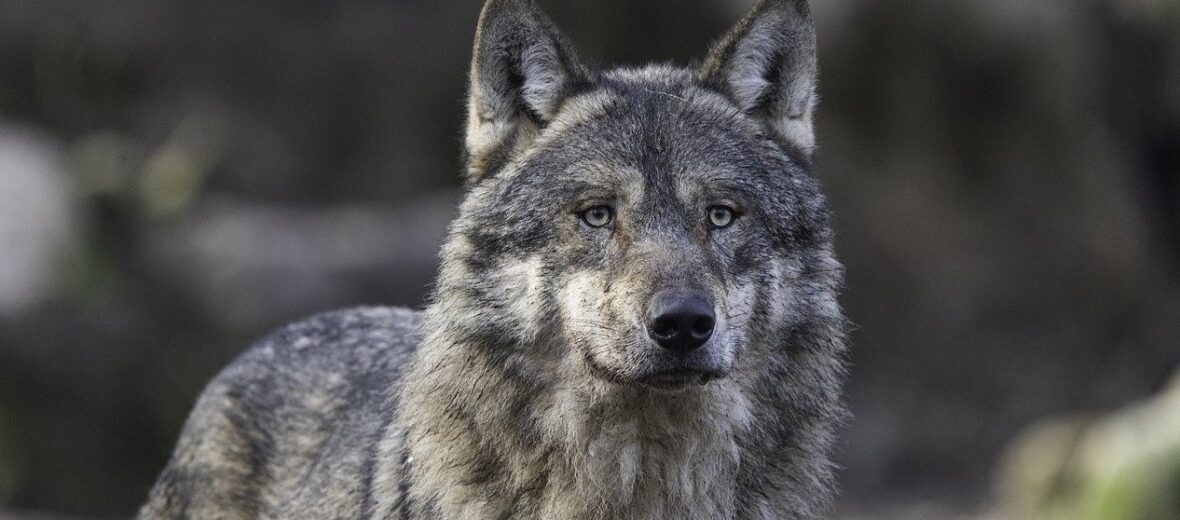 The grey wolf is the largest member of the wild canid (dog) family. These beautiful and family oriented wolves can be found throughout North America, Eurasia, and even Africa. They prefer forests, arid terrains, arctic tundras, and prairies. Just the mere sight of them sparks thoughts of the wilderness and the great outdoors. Even though they are sometimes hunted and suffer at the hands of habitat destruction and human interference, these magnificent creatures are still listed as Least Concern. This is due to their stable, global numbers. Wolves have also been demonized throughout history, but they need to be revered and respected, not feared. This is the 1,000th Critter Science article! Enjoy it!
First the Stats…
Scientific name: Canis lupus
Weight: Up to 180 lbs.
Length: Up to 5.2 feet, plus up to a 20 inch tail
Height: Up to 2.8 feet, at the shoulder
Lifespan: Up to 16 years
Now on to the Facts!
1.) At one time, grey wolves were the most widely distributed mammal. But their populations have been reduced by 1/3. This is due to revenge killing for eating livestock and culling for fear of human encounters.
2.) They prey on caribou, elk, deer, moose, beavers, rabbits, rats, mice, voles, lemmings, and occasionally livestock like chickens, sheep, and cows.
3.) A single wolf can consume up to 30 lbs. of meat in a single sitting!
4.) These canids are crepuscular (active at dawn and dusk).
5.) There are 5 known subspecies of grey wolves in North America.
But wait, there's more on the grey wolf!
6.) They travel in family packs of up to 7 individuals.
7.) It was recently discovered that wolves actually form packs based on a family dynamic, not an alpha, beta, omega dynamic. They hunt and play together as a family unit. Not a military-based structure. It was previously thought that there is an alpha wolf that dominates over the subordinates. This isn't true in nature, at all. See the video below for more details.
Did you know…?
These survivors can go up to 14 days without food, with no real ill effects! But they do need water.
8.) After a kill, the dominant pair get to eat first, then the rest can join in.
9.) Grey wolves are monogamous (mate for life).
10.) Greys communicate via howls, barks, whines, and growls; as well as various body languages, and scent marking.
But wait, there's still more on the grey wolf!
11.) Wolves don't actually howl at the moon. This is a misconception as they tend to howl on lighter nights (which is typically due to a full moon).
12.) Howling is used as a form of GPS that helps to locate and bring together straggling pack members.
Did you know…?
Due to their water-resistant, thick fur they are able to withstand temperatures as cold as -40ºF, comfortably.
13.) They are both stationary and nomadic. They avoid migrations during the spring, when they're raising their young. From autumn to winter they are nomadic.
14.) During their nomadic phase, they can travel up to 124 miles in a single day!
15.) A group of wolves is called a pack, rout, or route.
But wait, there's still a bit more on the grey wolf!
16.) Females undergo up to a 63 day gestation (pregnancy) that can yield up to 14 pups!
17.) Pups are born altricial (born in an undeveloped state and requiring care and feeding by the parents).
Did you know…?
Grey wolves can sprint at up to 35 mph! But only for short distances.
18.) These wolves are also called the common wolf, timber wolf, and the white wolf.
19.) They have incredible endurance and are able to pursue prey all day and night, if necessary.
20.) Pups are fed by the dominant female, via regurgitation. Mom eats food, then vomits it up for the pups to eat. This is part of the weaning process, as the pups move away from their mother's milk and onto solid foods.
But wait, there's just a bit more on the grey wolf!
21.) Their family bond is so strong that they have been documented sacrificing themselves to save the rest of the pack.
22.) Being highly territorial, wolves will sometimes kill other pack's young, weak, or sick if they wander into their territory. Coyotes also hunt young and sick wolves. Golden eagles and bears will sometimes prey on pups. Other than that, humans are their only primary Predator.
Did you know…?
After the last wolf was killed in Yellowstone National Park in 1926, a wolf reintroduction program was kicked off in 1995. With much success, the program has yielded around 100 grey wolves in the park.
23.) Just like every fingerprint is unique, each pack's howls are also unique to that particular pack.
24.) A pack can have overlapping territories of up to 1,000 square miles!
25.) You can "adopt" a grey wolf via organizations like Predator Defense, Defenders of Wildlife, and the National Wildlife Federation. These organizations help by fighting on behalf of grey wolves and have numerous, ongoing efforts to protect them.
Now a Short Grey Wolf Video!
Alpha Wolf Theory Debunked Video!
Be sure to share & comment below! Also, check out the Critter Science YouTube channel. Videos added frequently!
Want to suggest a critter for me to write about? Let me know here.
Learn more about all kinds of cool critters, right here!