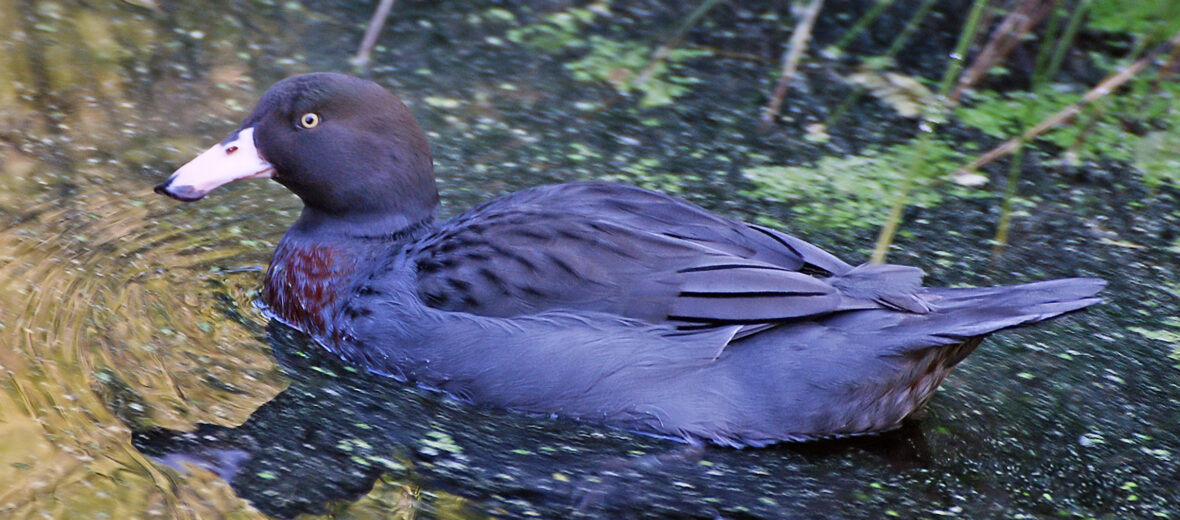 The blue duck, aka whio – pronounced "fee-oh" (Maori name), hails from the North and South Islands of New Zealand, in the west of the South Island, in Otago and Southland, and in the central North Island within certain national parks. They prefer alpine river habitats; cascading, bush-lined rivers, streams in gorges, and fast flowing rivers. Due to habitat destruction, recreational activities, and invasive species, these cool ducks are listed as Endangered, with only a estimated 1,200 remaining. Their numbers are also decreasing.
First the Stats…
Scientific name: Hymenolaimus malacorhynchos
Weight: Up to 2 lbs.
Length: Up to 1.7 feet
Wingspan: Up to 28+ inches
Lifespan: Up to 10 years
Now on to the Facts!
1.) By dipping their head and neck below the water's surface, these ducks feed while swimming.
2.) The other method of searching for food is via diving and dabbling. They are often seen upending, with their head below the water's surface, looking for aquatic insects.
3.) These ducks are crepuscular (active at dawn and dusk) but can also be seen active at night.
4.) Blue ducks are terrestrial and territorial. They are often seen chasing away intruders, on land.
5.) They have a wide binocular field of vision that also allows them to see straight forward.
But wait, there's more on the blue duck!
6.) Blue ducks are not migratory and will often times spend their entire lives in the same stretch of river.
7.) Males produce a high-pitched whistling call, whereas females make a guttural, rasping growl.
Did you know…?
Blue ducks are pictured on the New Zealand $10 note.
8.) These ducks are monogamous (mate for life).
9.) A group of ducks is called a bunch, flock, paddling, badelynge, brace, or raft.
10.) Food items include: aquatic insects, caddis-fly larvae, fallen grubs, algae, and berries.
But wait, there's still more on the blue duck!
11.) Breeding season is from August – December.
12.) Females lay up to 5 eggs that hatch in up to 35 days.
Did you know…?
Contrary to popular belief, a duck's quack does echo. It's just so faint that the echo is very difficult to hear.
13.) Ducklings are independent in up to 80 days.
14.) The ducklings are born precocial (self-sufficient) and are able to swim and dive soon after hatching.
15.) Ducks have waterproof feathers due to their waxy coating and interlocking feature.
Now a Short Blue Duck Video!
Be sure to share & comment below! Also, check out the Critter Science YouTube channel. Videos added frequently!
Want to suggest a critter for me to write about? Let me know here.
Learn more about all kinds of cool critters, right here!