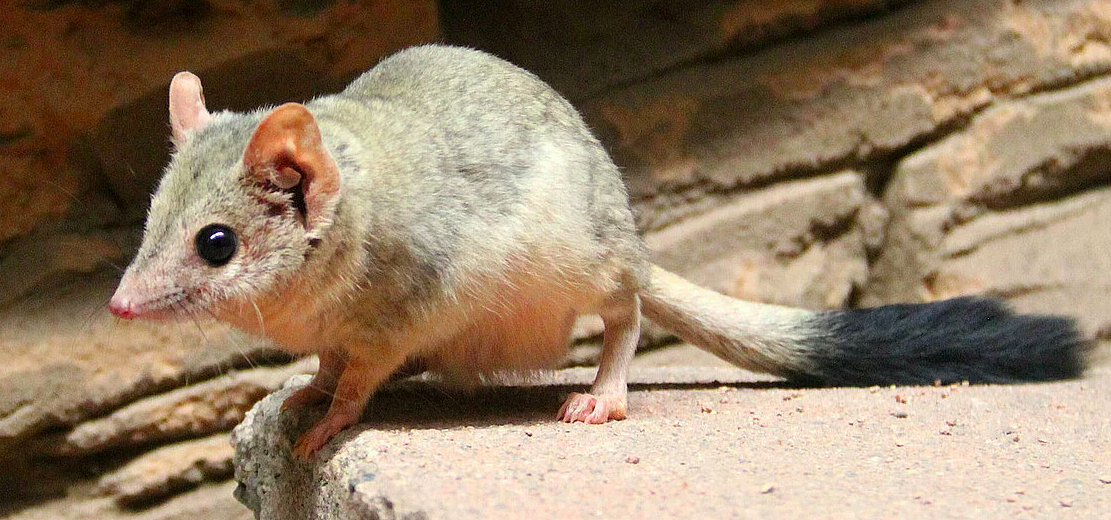 The kowari, aka kariri (Diyari name), Kayer rat, brush-tailed marsupial rat, bushy-tailed marsupial rat, kawiri, and Byrne's crest-tailed marsupial rat, is a small carnivorous marsupial that can be found in the gibber deserts of central Australia. Due to there only being an estimated 5,000 wild individuals and their limited range, these critters are listed as Vulnerable by the IUCN. They face the threats of habitat destruction at the hands of farming & ranching, and climate change. Their numbers are also decreasing.
First the Stats…
Scientific name: Dasyuroides byrnei
Weight: Up to 6.17 ounces
Length: Up to 7.08 inches, plus up to a 6.29 inch tail
Lifespan: Up to 6 years
Now on to the Facts!
1.) These marsupials are the lone member of genus Dasyuroides, making them monotypic (containing only 1 species).
2.) In 1896 these critters were first described by Sir Walter Baldwin Spencer.
3.) It was once thought that there were 2 subspecies, but these were later revoked.
4.) They have 4 toes on their hind feet.
5.) They burrow into small sand mounds. This forms small depressions throughout the gibber plain.
But wait, there's more on the kowari!
6.) Kowari are nocturnal (active at night).
7.) During the day, they hide in their burrows, but may occasionally bask, on cooler days.
Did you know…?
Captive kowari are known to acquire oral squamous cell carcinomas (SCCs). The SCCs cause tumors that can invade the oral cavity and begin to cause swelling in the gums. If left untreated, the SCCs will ultimately kill the creature.
8.) Long-haired rats, house mice, geckos, insects, and other arthropods, including centipedes, and sometimes even birds are all on the menu.
9.) Breeding season lasts from May – December.
10.) Females undergo up to a 35 day gestation (pregnancy) that yields up to 6 young.
11.) Foxes, dingoes, cats, and raptors all prey on kowari.
Be sure to share & comment below! Also, check out the Critter Science YouTube channel. Videos added frequently!
Want to suggest a critter for me to write about? Let me know here.
Learn more about all kinds of cool critters, right here!