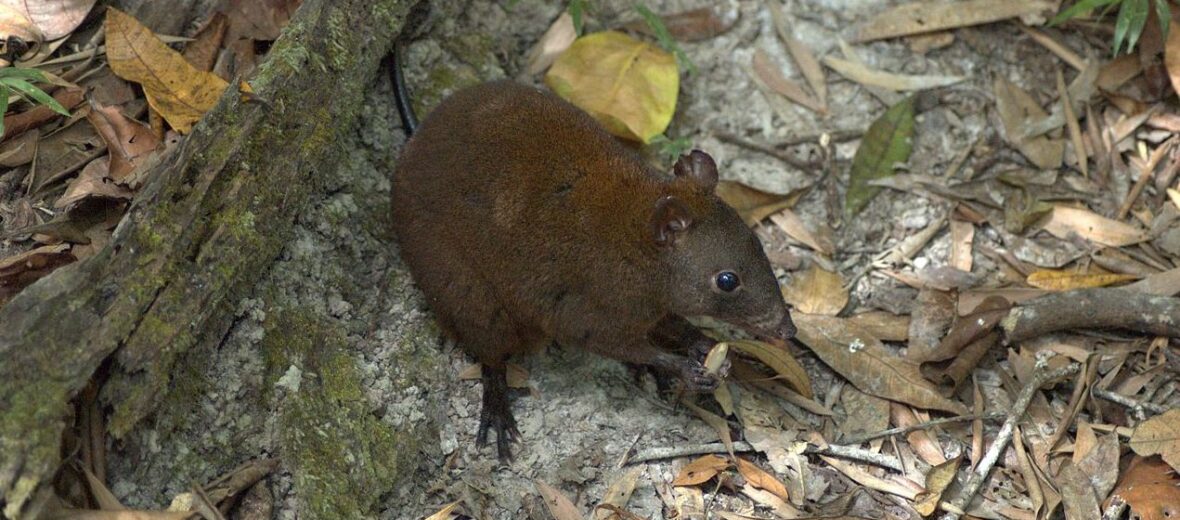 Ranking as the smallest macropodid (marsupial mammal) in the kangaroo family, the musky rat kangaroo hails from the tropical rainforests of north-eastern Queensland, in Australia. They prefer habitats with dense vegetation near lakes and streams. These creatures look like a cross breed between a kangaroo and a rodent. Due to their stable numbers, these odd critters are listed as Least Concern, with their only real threat being habitat destruction.
First the Stats…
Scientific name: Hypsiprymnodon moschatus
Weight: Up to 1.5 lbs.
Length: Up to 19.7 inches, plus up to a 4.72 inch tail
Lifespan: Up to 4 years
Now on to the Facts!
1.) These critter move about slowly, via a hopping motion. But they can move with the quickness, when necessary.
2.) Musky rat kangaroos have 5 toes on their hind feet.
3.) Because they are so quick and shy, they are notoriously difficult to spot.
4.) They are solitary, unless there is an abundance of food. In that scenario they can gather into small groups of 2 – 3 individuals.
5.) These kangaroos are Diurnal (active during the day).
But wait, there's more on the musky rat kangaroo!
6.) Nests are made in plank buttresses of big trees or in lawyer vine clumps.
7.) Although typically Terrestrial (spend their lives on the ground), they have been spotted in trees. Which indicates they are good climbers too.
Did you know…?
Musky rat kangaroos are a link between ancestral Arboreal opossums and macropods. They are the most primitive member of the kangaroo family.
8.) These clever critters utilize their prehensile tails to collect nesting materials, like dried grass, ferns, and lichens, and scurry back to their nest on all fours.
9.) Insects, worms, fruits, tuberous roots, seeds, and palm berries are all on the menu.
10.) The musky rat kangaroo has no known predators, sans potentially larger birds of prey.
But wait, there's still more on the musky rat kangaroo!
11.) Breeding season lasts from February – July.
Did you know…?
They get their name, in part, due to the musky scent they give off.
12.) Females undergo up to a 19 day Gestation (pregnancy), like other kangaroos, that yields up to 2 joeys.
13.) Once born, the joeys will crawl into their mother's pouch to continue developing for an additional 21 weeks.
14.) They are differentiated from other kangaroos, due to their scaly tail and the clawless, non-opposable first digit on their hind feet.
15.) These critters can really gallop fast, if the need arises, using all 4 limbs.
Now a Short Musky Rat Kangaroo Video!
Be sure to share & comment below! Also, check out the Critter Science YouTube channel. Videos added frequently!
Want to suggest a critter for me to write about? Let me know here.
Learn more about all kinds of cool critters, right here!