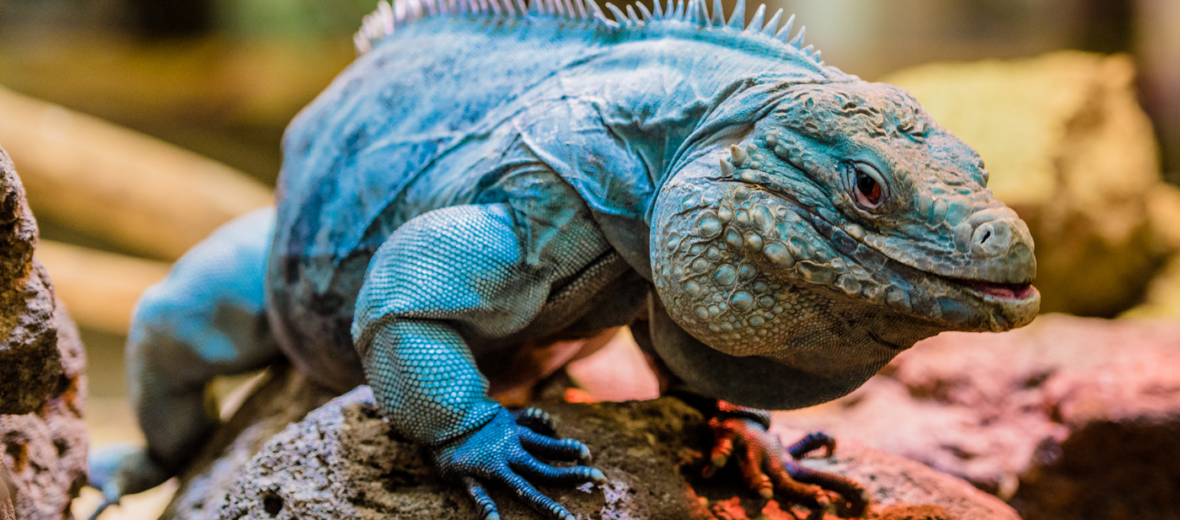 The Grand Cayman blue iguana, aka Grand Cayman ground iguana or Cayman Island rock iguana, is native of Grand Cayman island. They prefer xerophytic shrublands (plants that can survive on little water), and rocky, open areas in dry forests near the shoreline. These critters tend to shy away from urban areas. With less than 500 known wild individuals remaining, these fascinating lizards are listed as Endangered. Their numbers are increasing, but they are still under threat from habitat destruction, pollution, hunting, trapping, invasive species, and climate change.
First the Stats…
Scientific name: Cyclura lewisi
Weight: Up to 31 lbs.
Length: Up to 2.5 feet, plus up to a 2.5 foot tail
Lifespan: Up to 40 years
Now on to the Facts!
1.) Equipped with articulated toes, these lizards are excellent climbers and can dig burrows with the greatest of ease.
2.) Like many other lizards, they are solitary. They only come together to breed.
3.) As is the case with other iguanas, these blue iguanas are Diurnal (active during the day).
4.) The younger iguanas tend to be more Arboreal (spend their lives in trees).
5.) They are Herbivorous (specifically Frugivorous and Folivorous) reptiles that feast on flowers, leaves, and a variety of fruits. On occasions they may also dine on insects, slugs, crabs, and various types of fungi.
But wait, there's more on the Grand Cayman blue iguana!
6.) Breeding season lasts from May – June.
7.) During courtship, the male will approach a female and perform a series of iguana typical head bobs. If the female is receptive, the male will circle behind her, grab the nape of her neck with his teeth, and copulate.
Did you know…?
Although the Grand Cayman iguanas are primarily Terrestrial, they are able to scale trees up to 15+ feet high!
8.) Females lay up to 22 eggs that hatch in up to 90 days.
9.) Like all lizards, the juveniles are born Precocial (totally self sufficient).
10.) I about 3 months, the young become solitary and highly aggressive towards one another.
But wait, there's still more on the Grand Cayman blue iguana!
11.) These iguanas rank #8 among the largest lizard species in the world. With the Komodo dragon being #1.
12.) Another reason for Latin scientific names of animals, the green iguana has a blue phase of the species that is also called the "Blue iguana". Basically common names can cause a lot of confusion.
Did you know…?
Like all iguana species, these critters have a perietal eye (a third, rudimentary eye) that aids in light and dark detection, and is associated with the pineal gland (the gland that produces melatonin – which aids in feeling sleepy), regulating circadian rhythmicity (sleep patterns) and hormone production for thermoregulation (heat regulation).
13.) The schlera (the normally white part of the eyeball) is bright red in this species of iguana. This aids in protection from the sunlight.
14.) The eggs laid by the females of the Grand Cayman blue iguana are among the largest of any lizard species in the world, in comparison to body size of the female.
Now a Short Grand Cayman Blue Iguana Video!
Be sure to share & comment below! Also, check out the Critter Science YouTube channel. Videos added frequently!
Want to suggest a critter for me to write about? Let me know here.
Learn more about all kinds of cool critters, right here!