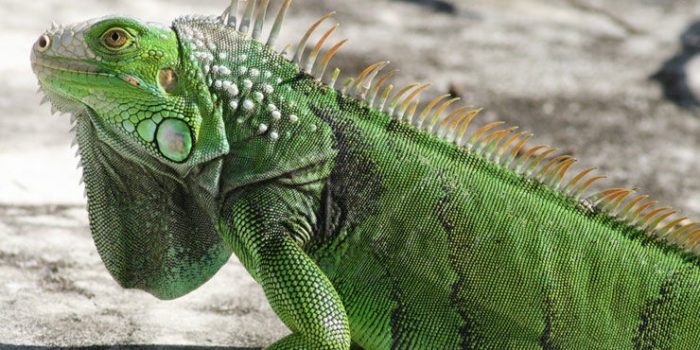 The green iguana is among the largest of the iguana species. They inhabit many locales and are real survivors. They have even been documented as having migrated from island to island via debris rafts. The males engage in fierce battles that can leave severe injuries. Females dig burrows to lay their eggs. To top off how strong they are, the babies are born totally self sufficient and are on their own as soon as the eggs are laid.
First the Stats…
Scientific name: Iguana iguana
Length: Up to 24+ inches plus up to a 36+ inch tail
Weight: Male: 8.8 lbs (Adult), Female: 2.6 – 6.6 lbs (Adult)
Lifespan: Over 20 years
Now on to the Facts!
1.) Like other reptiles, the green iguana is ectothermic (they are cold blooded and need outside temperatures to help control their heat).
2.) Iguanas are excellent swimmers and will often dive into the water to avoid predators. They can also swim for long distances.
3.) The green iguana is an omnivore (eats both plant and animal matter), but they prefer vegetation.
4.) These iguanas can lay up to 60 eggs! The female will dig a burrow and lay her eggs. Once the eggs are laid, she will leave them and they are left to incubate and hatch. The babies are totally on their own at that point.
5.) Throughout Latin America, this iguana is hunted for its skin, meat, and eggs. This has caused a decline of the iguana population in certain parts of the world. But they are still going strong.
But wait, there's more on the green iguana!
6.) Green iguanas are very territorial during mating season and fights break out for dominance and breeding rights.
7.) The green iguana has a very large dewlap that is used as part of a dominance ritual and to impress the females.
Did you know…?
A green iguana can survive a fall from up to 40 feet!
8.) Like all iguanas, the green iguana is diurnal (active during the day).
9.) Adult iguanas have a very strong, painful, non-venomous bite.
10.) Green iguanas use their tail as a whip for a defense mechanism and are very accurate with regards to aiming.
Now a Short Green Iguana Video!