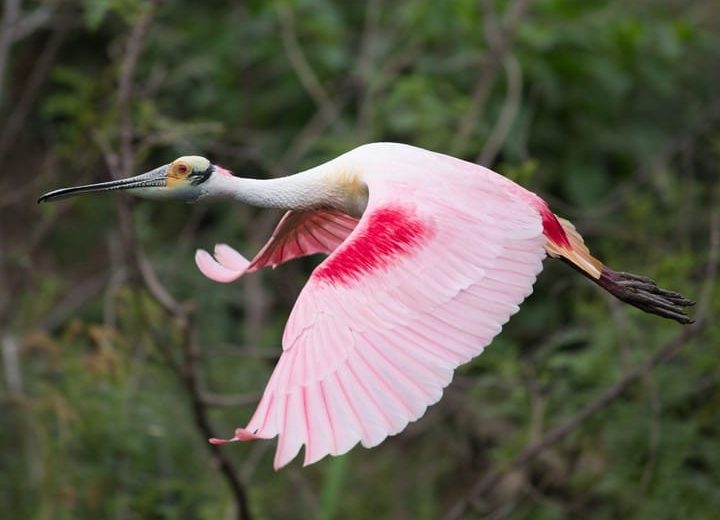 Odd looking yet beautiful at the same time, the roseate spoonbill is a sight to see. Spoonbills feed in shallow water, walking slowly forward while swinging their head from side to side, sifting through the mucky water with their wide flat bills; catching fish as they go.
First the Stats…
Scientific name: Platalea ajaja
Weight: 2.3 lbs
Length: 28-32 inches
Wingspan: 50 inches
Lifespan: 10 years (in the wild) | 15 years (in captivity)
Now on to the Facts!
1.) Roseates eat minnows, insects, small crustaceans, and small plants.
2.) Spoonbills feed in the early morning and evening hours in both fresh and saltwater wetlands.
3.) Like the flamingo, spoonbills get their bright color from the crustaceans they eat.
4.) The spoonbill is a social bird that is found in groups of other spoonbills and other wading birds. They nest in colonies and fly in flocks.
5.) Roseate spoonbills don't mate till they reach 3 years of age.
But wait, there's more on the roseate spoonbill!
6.) To impress a female, the male will dance, exchange nesting materials, and clap.
7.) The female will lay between 1 – 5 eggs and both the male and female incubate (warm) the eggs. The eggs hatch in 22 – 24 days.
Did you know…?
Baby chicks can fly within just 6 weeks!
8.) The parents feed their chicks by dribbling regurgitated food into the baby's mouth.
9.) The spoonbill sleeps standing up on one leg!
10.) There are six known species of spoonbill in the world; the Roseate Spoonbill is the only one with pink plumage.
Now a Short Roseate Spoonbill Video!