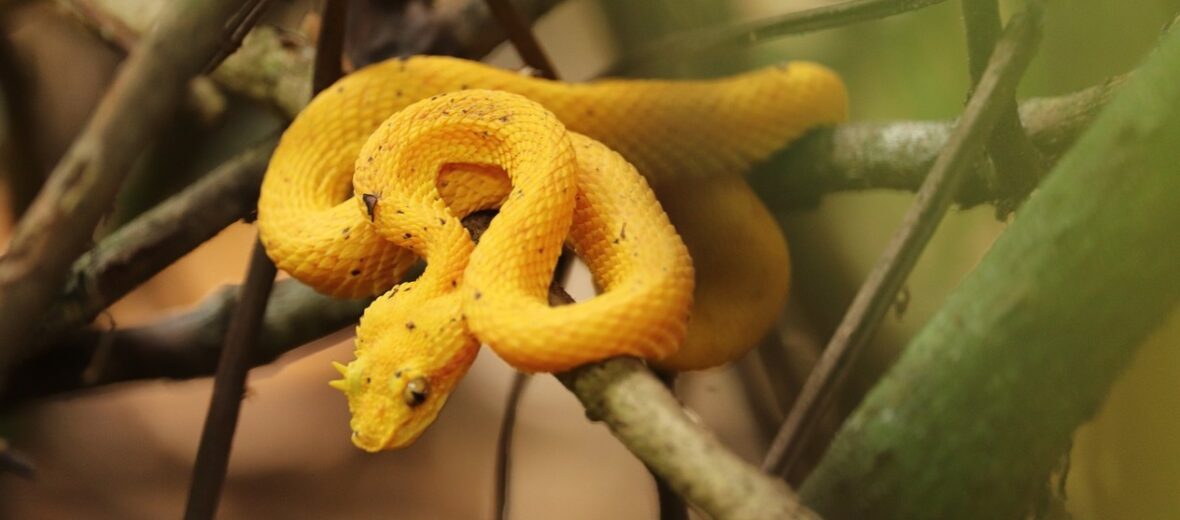 Not only is the eyelash viper fast (among the fastest strikes of any snake) but they can be deadly! They Range in color from red, yellow, pink, green, and brown – sometimes with specks of dark coloration, these snakes can blend in with their colorful environment and await their unsuspecting prey. While they are threatened by habitat loss at the hands of logging and agriculture, these snakes are listed as Least Concern by the IUCN.
First the Stats…
Scientific name: Bothriechis schlegelii
Length: Up to 3 feet
Lifespan: Up to 20+ years
Now on to the Facts!
1.) These vipers are nocturnal (active at night).
2.) The eyelash viper is arboreal (spend their life in trees).
3.) Like all pit vipers, these vipers have 2 pits on the frontal sides of its head. These pits are used to detect heat and assist with hunting its warm-blooded prey.
4.) This viper's venom contains hemotoxins and neurotoxins, containing hemorrhagic and procoagulants compounds (this causes massive blood clotting). It affects both the cardiovascular system and the central nervous system, making it highly toxic, and sometimes fatal to humans. It also has a digestive enzyme which aids in the digestion of its prey.
5.) The natural enemies of eyelash viper include foxes, falcons, hedgehogs, badgers, cats, and larger snakes.
But wait, there's more on the eyelash viper!
To view more facts on this and many other critters, purchase my book Rainforest Critters. It's only $17.99 for an 84 page book! Available now through Amazon. Click the logo to purchase your copy now:
Now a Short Eyelash Viper Video!
Want to suggest a critter for me to write about? Let me know here.
Learn more about all kinds of cool critters, right here!