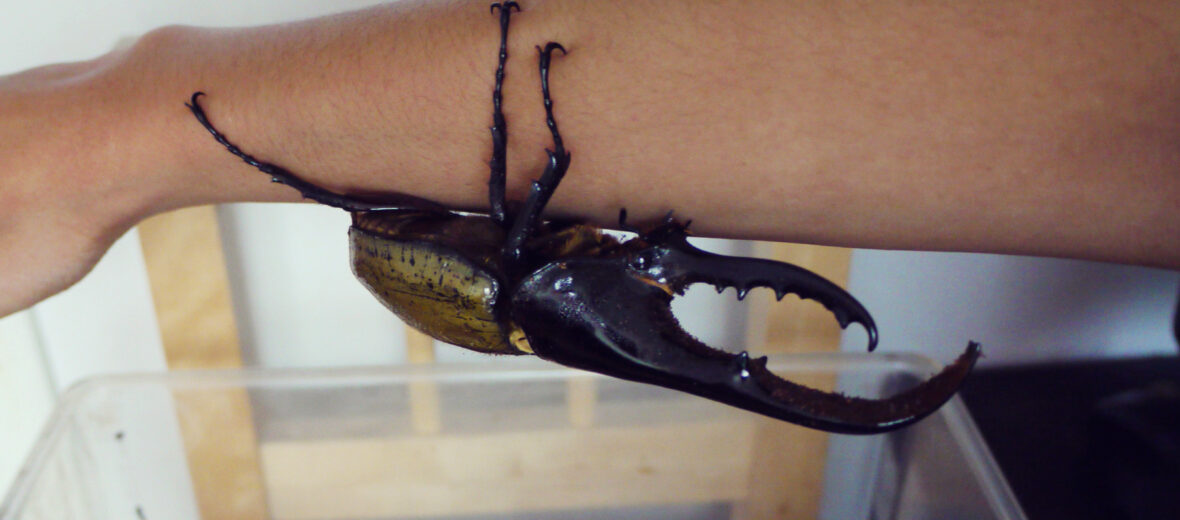 Among the largest known insects and the largest known beetle, by mass – next to the Titanus giganteus, the Hercules beetle slowly moves into today's article. They have been touted as being able to lift 850 times there own weight, but this was later found to be an exaggeration. These critters can lift quite a bit though (up to 100 times their own weight)! They may be large, but the title of largest flying insect actually goes to the giant dobsonfly, in the Sichuan province of China.
First the Stats…
Scientific name: Dynastes hercules
Weight: Up to 3.5 ounces
Length: Larvae: Up to 4.5 inches | Adults: up to 7 inches long – including the horn
Lifespan: Pupae: Up to 3 years | Adult: Up to 3 – 6 months
Now on to the Facts!
1.) The long horns of the Hercules beetle are used for battling other males and for digging.
2.) The diet of this beetle consists of decaying wood and leaf matter. As adults, they consume fruit.
3.) During their mating ritual, the males will grab, throw, and slam their opponent onto the ground! The winner gets the girl.
4.) Hercules beetle has a lot of predators along every step of the way. Mites and maggots eat the eggs, raccoons and skunks eat the larvae, and bats, birds, rats, and monkeys eat the adult beetles.
5.) The female will lay about 100 eggs in leaf litter. When the eggs hatch, the larvae will burrow into the soil to begin fattening up on decaying leave matter and roots of dying trees.
But wait, there's more on the Hercules beetle!
6.) The Larvae can live up to 3 years in the ground. They begin to pupate during the beginning of the rainy season.
7.) The Hercules beetle can fly, but they do so rather awkwardly, due to their immense size. Imagine one of these bad boys flying at you.
Did you know…?
It was long touted that these beetles could lift 850 times their own weight. It was later documented that they can lift 100 times their own weight. Still impressive!
8.) Hercules beetles are capable of creating a 'huffing' sound, generated by stridulating (rubbing) their abdomen against their elytra (wing casing) to serve as a warning to predators.
9.) They call the rainforests of Central America, South America, and the Lesser Antilles their home.
10.) Some people keep these beetles as pets.
Now a Short Hercules Beetle Video!
Also, check out the Critter Science YouTube channel. Videos added frequently!
Want to suggest a critter for me to write about? Let me know here.
Learn more about all kinds of cool critters, right here!