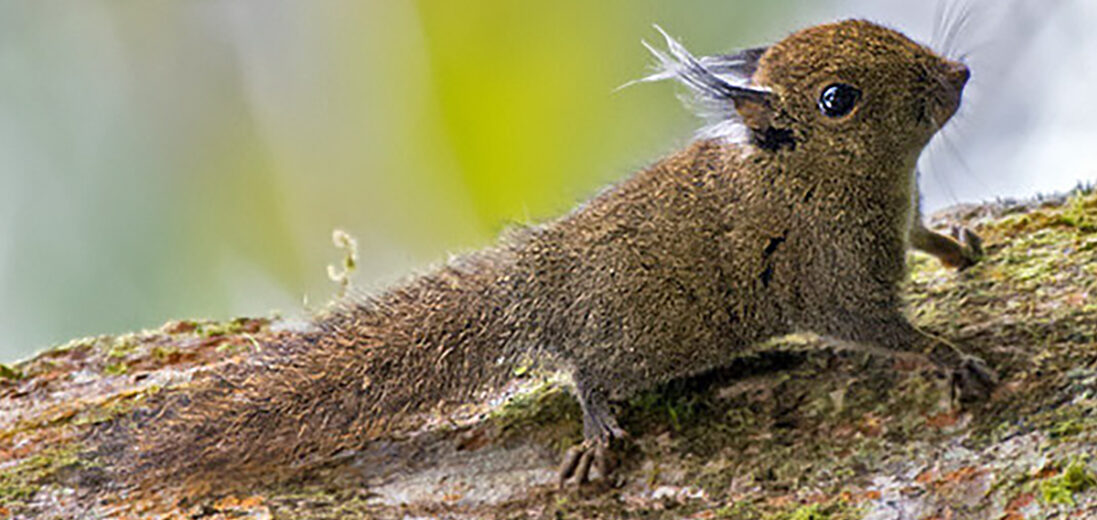 The whitehead's pygmy squirrel, aka the tufted pygmy squirrel, can be found on the islands of Indonesia, Malaysia, and Brunei. They prefer highland montane forests with plenty of trees. These diminutive rodents can be spotted at elevations of up to 9,843 feet. With a stable and abundant population, these pygmy squirrels are listed as Least Concern by the IUCN (International Union for Conservation of Nature).
First the Stats…
Scientific name: Exilisciurus whiteheadi
Weight: Up to .88 ounce
Length: Up to 3.3 inches, plus up to a 2.6 inch tail
Lifespan: Up to 6 years
Now on to the Facts!
1.) Seeing as they are rodents, their teeth never stop growing and thus they have to constantly gnaw on tough substances to wear down their incisors.
2.) Like many other squirrels, these critters are solitary. They only come together to mate.
3.) Although typically solitary, a group of squirrels is called a dray or scurry.
4.) They communicate similar to other squirrel species, with chirps, scent marking, and tail twitches.
5.) Like many others of their kind, whitehead's pygmy squirrels are arboreal (spend their lives in trees).
But wait, there's more on the whitehead's pygmy squirrel!
6.) The female will release a scent when she is in heat, which precipitates a chase by the males in the area. Only the fastest male gets to mate.
7.) Females undergo up to a 6 week gestation (pregnancy) that yields up to 9 young, called pups, kits, or kittens.
Did you know…?
These tiny critters can reach running speeds of up to 20 mph!
8.) Tufted pygmy squirrels eat mosses and lichens. They will also eat tree bark and occasionally other vegetation.
9.) Wild cats, foxes, weasels, minks, and birds of prey all hunt these tiny creatures.
10.) There are 3 known species of pygmy squirrels in southeast Asia: the Philippine pygmy squirrel, least pygmy squirrel, and the whitehead's pygmy squirrel. There is also 1 species in western Africa, known as the African pygmy squirrel. The African species is the world's smallest known species.
Now a Short Whitehead's Pygmy Squirrel Video!
Be sure to share & comment below! Also, check out the Critter Science YouTube channel. Videos added frequently!
Want to suggest a critter for me to write about? Let me know here.
Learn more about all kinds of cool critters, right here!