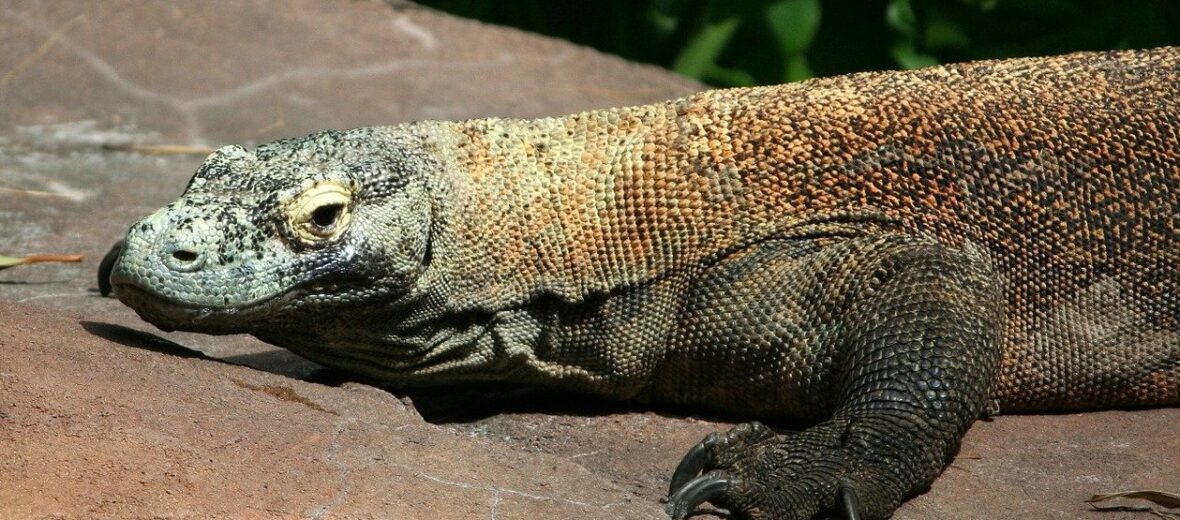 They are the largest living lizard species on earth, they rob human graves, and can kill with a single agonizing bite. Enter the Komodo dragon. These giants are very clever, strong swimmers, and can even give birth via a method called parthenogenesis. Komodos live on 4 islands in Indonesia: Komodo, Gili Montang, Rinca, and Gili Dasami. The preferred habitat is dry tropical forests, savannas, and deciduous monsoon forests. One thing is for certain… they like it hot! These giants are listed as Vulnerable by the IUCN, due to habitat destruction from climate change & land development, loss of large prey, and illegal hunting.
First the Stats…
Scientific name: Varanus komodoensis
Weight: Up to 200 lbs.
Length: Up to 10 feet
Lifespan: Up to 30 years
Now on to the Facts!
1.) Locals have given them the name "ora" which means "land crocodile".
2.) Being excellent swimmers, they are sometimes seen swimming in between the islands in search of food.
3.) Due to their keen sense of smell and eye sight, they can spot carrion (dead animals) or an injured animal from up to 2 miles away. Their sense of smell also comes from their tongue. They stick their forked tongue out, collect microscopic particles from the air, bring their tongues back into their mouth and glide their tongue over their Jacobson's organ (sensory organ located at the roof of their mouth).
4.) Their prey includes, but is certainly not limited to: deer, water buffalo, carrion, pigs, and even us humans. They are also cannibals. 10% of their diet consists of their own young!
5.) They have such strong stomach acid that they will even eat bones and hooves!
But wait, there's more on the Komodo dragon!
6.) They may be a lumbering beast, but they can run up to 12 mph if the need arises.
7.) The saliva of a Komodo dragon contains up to 50 different types of bacteria. But that's no more than most meat eating animals. So, nope, it's not their saliva that can kill you; it's their venom.
Did you know…?
Their venom glands are located in their lower jaw and a bite causes paralysis, tissue damage, extreme blood loss, inadequate clotting, excruciating pain, and even death!
8.) George H. W. Bush received a Komodo dragon as a gift from the Indonesia government. But rather than let it wander the White House grounds, he donated it to the Cincinnati Zoo. This critter, named "Naga" fathered 32 young before passing away in 2007.
9.) Komodos can consume up to 80% of their body weight in food in just 1 sitting! Om nom nom!
10.) Komodo dragons are also known for raiding human grave sites in search of an easy meal. Hence why people will stack heavy stones on top of graves to deter the dragons.
But wait, there's still more on the Komodo dragon!
11.) To avoid being cannibalized, the young will climb trees to avoid larger lizards. If this method doesn't work, they will roll around in feces (poop) to make themselves as unappetizing as possible. This typically does the trick, but not always. Yummy!
Did you know…?
Like some other species of lizards, they can reproduce via a method called parthenogenesis. This is where a female can give birth to healthy young without the aid of a male. It has been recorded that females have given birth without ever being introduced to a male. "Life finds a way."
12.) Sometimes, females will create dummy or decoy nests to confuse adult Komodo dragons and give her clutch a better chance of survival.
13.) Females lay between 15 – 30 eggs in a hole in the ground. The parents don't rear their young. They are left to their own accord. But they will incubate the eggs for about 3 months.
14.) Breeding season lasts from May – August.
Now a Short Komodo Dragon Video!
Now a Short Video About The Komodo Dragon Venom!
Also, check out the Critter Science YouTube channel. Videos added frequently!
Want to suggest a critter for me to write about? Let me know here.
Learn more about all kinds of cool critters, right here!